By Airwaves writer Taylor Penwell
June 10-11 –Susquehanna Yacht Club
The 2017 Comet North American Championship was held on June 10 & 11 at the Susquehanna Yacht Club. It was a big success with fourteen Comets coming from Ohio, Pennsylvania, Maryland, New Jersey, Connecticut and Massachusetts.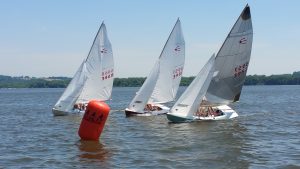 The conditions were challenging with the winds fluctuating between five and fifteen knots, with substantial wind shifts over the six races scored.
Needless to say the lead boats were never in a safe position until crossing the finish line. Those who missed the first shift or had a poor start always had a fighting chance to catch up. It made for exciting racing with the final scores always in doubt.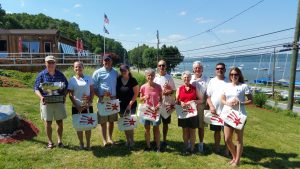 The winning team was Elliott Oldak and Barbara Best from Severn Sailing Association. Second place went to the young couple Kevin and Ashley Buruchian from Massapoag Yacht Club in Massachusetts. Third place was taken with the consistent sailing of Dick and Judy Harmon from Leatherlips Yacht Club in Columbus, Ohio.
Credit for a successful regatta goes to Joe and Tina Lauver, who arranged all the meals, the race committee and the handcrafted trophies. Many thanks go to the PRO Scott Kulp and the Race Committee, who superbly managed all aspects of the racing.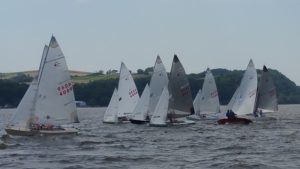 Another great Comet regatta!
Click here for the Comet North American Results –
www.regattanetwork.com/clubmgmt/applet_regatta_results.php?regatta_id=14728
www.CometClass.com