The College Sailing Nationals concluded at the beginning of this month. The event was hosted by Old Dominion University in Norfolk, Virginia. Starting on May 22nd and finishing on June 1st, teams from across the country gathered to compete in the three events. The first event was the Sperry Womens National Championship with 36 teams represented. The second was the Laser Performance Team Race National Championship with 16 teams competing. Lastly the Gill Coed National Championship had 36 teams sailing in the event. Sailors from each of the events championships took the time to answer questions about their teams and nationals for this piece. Take a look at what they had to say!
Sperry Womens National Champions: BOSTON COLLEGE
Here is what sailors Lily Magrath Class of 2018, Isabella Loosbrock Class of 2019, Emma Perry Class of 2019, and Sophia Reineke Class of 2021 had to say about this season and nationals.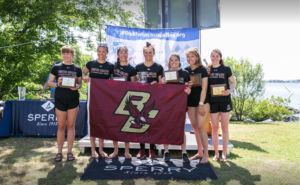 Q. What were your team goals going into the start of this sailing season?
A. Every year during the off season our whole team sits down together and comes up with a list of goals and steps on how we plan to achieve these goals. This year, winning a national championship was on the top of the list of goals, but it was the little goals working up to the championship that helped us win. It was the extra workouts, time spent together as a team, and pushing each other hard every day at practice that helped us reach our larger goal. – Isabella
Q. How has the program changed in the years you've been attending Boston College?
A. Our team was much smaller this year than in past years, which has brought us all closer and the reason we consider each other family. This year I've seen so many of my teammates step up as leaders and push everyone around them to strive for excellence. – Emma
Q. How do your teammates push you to be better?
A. My teammates challenge me on and off the water, which is why this championship is truly won by the whole team. Whether it is the person next to me in the weight room lifting more, or getting burned off the start line, I am constantly pushed to be better by my teammates. We hold each other to extremely high standards on and off the water, which is what helps us continuously improve. – Isabella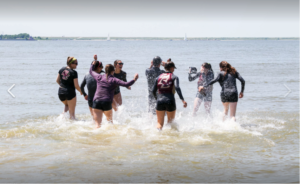 Q. What are some of the most important lessons you've learned from your coaches?
A. What our coach, Greg Wilkinson, really hammered into our heads throughout the year, especially at nationals, was that the only thing that mattered at any event was the next race. What happened the race before was irrelevant. Whether you won, got last, were first off the line, hit a mark, or got a flag, it was already over and in the past. The only thing that could improve your performance was doing your homework before the next start. Overall, I think we've all learned that letting your thoughts and feelings stand in the way of doing your job is detrimental to your performance. -Sophia
Q. How can you describe to readers how the nationals went and how you guys came out on top to take the Womens National Title?
A. Our focus going into semi-finals was to qualify for finals and to understand the sailing venue/conditions. Our focus during finals was to fight for every point. We only thought about the next race and instead of imagining what winning would feel like, we imagined what sailing the boat perfectly would feel like. We knew that if we sailed the boat perfectly and did our jobs well, the results would follow. – Lily
Q. What does this title mean for your team, your school and your sailors?
A. This title is obviously a huge accomplishment for the team. It would not have been possible without the hard work and dedication of all 26 teammates and coaches. Talent and individual skill are not the deciding factor on who wins an event like this. It is the strength of a team and how well teammates can put aside their individual goals to try and achieve something bigger than themselves. Every person on our team was able to do that so we were able to come home with the win. This title is a tribute to our motto, "26Strong." – Lily
The Laser Performance Team Race Nationals Title was claimed by the COLLEGE of CHARLESTON. Carter Cameron Class of 2019 and Alie Toppa Class of 2020 answered some questions for us.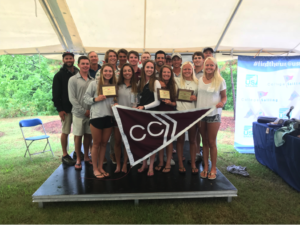 Q. What were the team's thoughts at the start of the spring season?
A. We were looking forward to a productive spring season. Our ladies had been sailing as fast as they had been, and we were excited to prepare for a competitive team racing season. We knew there'd be a lot of good teams and that we just had to work harder than the rest of them. – Carter
Q. Tell us about some goals that were set at the start of the season?
A. Based off the fall season, we knew we had some fast sailors on our squad, so we wanted to focus on being a more cohesive unit on the water, especially in team racing. Luckily we have a lot of fast sailors on our team, so we were able to mix it up with starting team race group and make them work together more. Also, we wanted to win another national championship. – Carter
Q. How did the team strive to achieve those goals?
A. We sailed a lot. I mean almost whenever a group of us had free time to get a group of boats on the water. We also met on shore a lot of times to watch videos, talk team race strategies, and get speed tips from each other. – Carter
Q. What were some of the highlights for you two during the season prior to Nationals?
A. Winning multiple regattas in the women's circuit during the spring season was definitely a highlight us, setting the pace going into nationals. – Alie
Our team had success throughout the season, with multiple podium finishes in the men's and women's singlehanded and a second in match racing. It was also exciting to see some of our backup sailors go to regattas and do well too. – Carter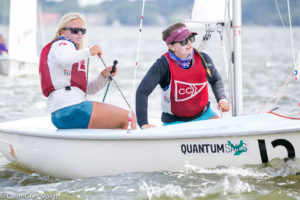 Q. What would you say the team improved most on during this season?
A. I would say that our team has really improved in working together in everything we do. Training with 18 competitive boats on the water everyday at practice to get our starters as ready as they can be is a huge team effort. Sailing with such a large and talented team at every practice is really what makes the difference for us, and gives us the ability to perform well at regattas, especially nationals. We take full advantage of the depth that we have on our team and I think it really pays off. – Alie
Q. Tell us about how your coaches helped improve the team this year?
A. I really do believe that we have the best group of coaches anyone could ask for. Ward, Mitch, and Greg all do the best job of any coach that I have ever had in fostering a culture of excellence within our team. With all that they do for us, they each have their own strong point, and it all comes together perfectly. – Alie
Q. What expectations did the team have going into Nationals?
A. Going into this year's nationals, we had very high expectations after having a successful season. We knew that we could be very competitive in all three events. After finishing the nationals with a 1st in team racing and 2nd in both women's and coed, we succeeded in standing out as the best overall college sailing team. – Carter
A. Finishing in second place in the women's after losing the tie breaker for first was tough to swallow at first, but then I can only think of how hard we worked to perform at such a high level and to be so competitive, and it makes me proud to say I am a part of that team. – Alie
Q. Tell us in your own words how the team grabbed the Team Race Title and what it means for both of you?
A. Knowing that this would be a very competitive nationals, we tried to stay calm and focused. Knew the preparation we did throughout the season was enough for us to do well, we just needed to perform. Being able to do that was what we needed to win. While I never got in the boat, watching them from shore was just as exciting for me as if I was on the water. For our hard work to pay off for us was extremely special to me. I couldn't hold in my excitement as I ran off the end of the dock. – Carter
A. Winning the event and defending our national title was so special, especially since all of the other teams are so competitive which made for very tight racing. To come out on top really proved how much making the most of our time on the water paid off. – Alie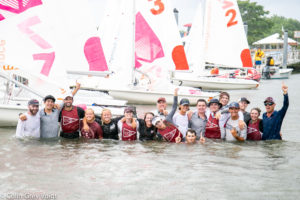 Q. What are some things the team will work on next season?
A. While we lose our College Sailor of the Year and a few other of our starting sailors, we aren't rebuilding, we're only reloading. We have so many fast sailors and young talent on our team that can step up to the plate. We're going to work on continuing teamwork in the team race sector, and keep pushing each other to work as hard as we can and sail as fast as we can. Don't count us out next year. – Carter
MIT took home the Gill Coed National Championship. Rising seniors Trevor Long and Sameena Shaffeeullah had this to say about their year and nationals.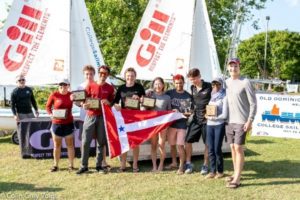 Q. What were the goals of the team going into this season?
A. I think it would be a bit naive to say our goal was to win nationals. Ostensibly, it's every team's goal to win. I think we took a bit of a different approach at the beginning of the year. We were lucky that both Ty and I returned as a team, it gave us very concrete goals and skills to work on having already known what our strengths and weaknesses were as a team.
Our primary goal would be to get our new crews up to speed since we had lost a lot of them to graduation last year. This was our goal for the first half of the fall. That said a huge shout out to Julia Cho, Marcus Abate, John Ped, and Michael Mastrandrea for jumping into the fire this year for being either freshmen or new to this level of racing in general. For the second half, I would say we focused a lot more on consolidating our racing strategy and removing the small gaps in our sailing ability and errors in our racing strategy.I think accomplishing all of these little goals was the primary driver of our season, and not the "winning nationals" bit. It was each small accomplishment and each little victory that made up the whole and led us to winning. Big goals are flashy, but small ones are much simpler to accomplish and add up very quickly with the right focus. – Trevor
A. I was also lucky in that I was able to return as Ty's crew. After spending all of last year learning how to sail with him boat handling-wise and learning where I was most needed in terms of strategy, this year we were able to build on that foundation together and had a head start in becoming a faster boat.
Going into this season the team knew that we were capable of doing really well and our goal was just to do our best. Regardless of what that meant in terms of results, if we all believed that we worked as hard as we could and put in our full effort, we would have been happy. – Sameena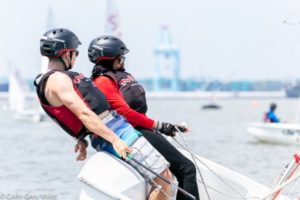 Q. How did the season go prior to Nationals?
A. I would say that we overall had a pretty good season prior to nationals. While we had our bad regattas, we also had our fair share of good ones. One really disappointing moment for us was when we did not make it to team race nationals, especially having made it the year before. However, we did not let this failure phase us and we shifted gears into fleet racing really quickly, putting our maximum effort into doing well there. – Sameena
Q. Tell us about some of the challenges the team faced this season?
A. We had some great seniors graduate last year, so at the beginning of the season one of our challenges was finding people to fill in for that role. The whole team worked really hard, driving others to perform at their best. This challenge made everyone a better sailor. The team remained flexible, and many sailors, Greta especially, balanced multiple roles. This season, Greta was skippering for women's team racing and crewing for both the women and coed teams. – Sameena
A. I think confidence was a huge challenge for us. We hadn't made it to Nationals for a while, so it was like a big ominous cloud hanging over us. I can't speak for Ty and the others, but I was certainly uncertain in my ability to perform. I've really only started competing on this level in college, and on few if any occasions sailed with this much pressure to bear. I think the big hurdle for myself and others was certainly going into the event knowing we were ready to take it head on. – Trevor
Q. What can you tell us about how your coaches prepared you for Nationals?
A. I really wouldn't say that we changed anything we did to prepare for nationals, at least not in the big picture. The coaches are always pushing us to practice like we're trying to win nationals and we were able to carry that through into the postseason. I think the best preparation we got from the coaches was on the mental side of it all during the last half of the spring. We talked a lot about the mental game within the racing itself. Matt's constant nagging of "only you can beat you" stands at the forefront of my mind, and really that's the mentality we went with going into Nationals. We took each race as it came and just tried to sail our own race when we had the ability to, and if we had a bad race, we just thought about the next one. – Trevor
A. I agree with Trevor. The coaches constantly worked with us on our mental game. In times of frustration it is easy to fall into the mentality of needing to do something magical to win, like getting a personal puff on the complete wrong side of the course. The coaches constantly reminded us throughout the season that as long as we did the small things right–focus on good boat handling, sail the lifts, be on the line–everything else would fall into place. – Sameena
Q. Going into Nationals what were some of things you knew the team had to do?
A. To be honest, I think most of us had no idea what we were doing. To point out the obvious, this was the first time any of us had made it to Coed Nationals and we didn't exactly know what to expect. I think the biggest challenge we had to overcome was keeping our energy up and focused. We came out of New England qualifiers excited, but a little deflated having not had the finish we thought we were capable of. We came into nationals with the intention of proving that we belonged there, this kept us practicing hard in the postseason and kept our energy up for nationals itself. – Trevor
A. At semis, we also did not have the finish we were hoping for, as we let some frustrations get the best of us. Going into finals we were once again reminded that our focus should be to keep our mental energy and calm. When we are relaxed, we sail well naturally and when we are frustrated we typically think too much and often over-complicate simple decisions. – Sameena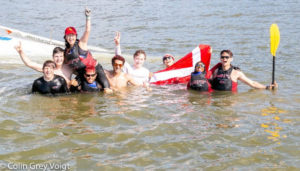 Q. Tell us in your own words about winning the title
A. Winning the title was really exciting. It worked out that we were doing well in both A and B division, which made it a lot less stressful. At times when Ty and I were doing poorly, we'd look over at our B division boat and more often than not, they would be somewhere in the top 10. If we messed something up, our teammates were doing well enough to make up for it. There was a point in the racing where Ty and I were winning our race and Trevor and Julia were winning their race– we passed right by them on the course as we were going upwind and they were going downwind and gave a little MIT cheer to each other. This is one of my favorite college sailing moments. -Sameena
A. Winning the title was a huge cathartic experience. It really felt like all of the work and stress from last season and the previous seasons was finally lifted off my shoulders. I was actually petrified up until the last race: I distinctly remember looking down at my hands on the last day and seeing them trembling from nerves knowing that the next few races could make or break the title for us. But as the scores and the day settled, and it became clear that we were going to win it just felt like a huge rush of relief washing over me. We've been through huge ups and downs together as a team. It was just incredible to share that huge release with everyone. – Trevor
Q. How are you both and the team going to improve for next season?
A. Next season, I will be sailing with someone new, as I primarily sailed with Ty and he has now graduated. I will have to learn how to adjust to a new sailing style and in doing that I will become a better crew. Also, I will be able to draw on past experiences and apply solutions that Ty and I have previously determined. – Sameena
A. For me I think there are two paths of improvement for next year. For myself I think that building the confidence to successfully fill Ty's shoes will be my biggest growth point. I've grown pretty comfortable in B-division, building confidence in my abilities, Next year will put that confidence to the test. Second, and probably more importantly, I want to start diffusing the experience I've gained over the last two years of racing to the upcoming members of our team. I have a lot of competition yet to go, but it's definitely better for the next generation to build off our learned experience rather than start fresh and erasing the progress we've made. – Trevor