We are hiring Sailing Instructors! To learn more and apply, click HERE.  Camp Laurel was founded in 1949 in Lake Awosting, New York and has been in continuous operation ever since.   During this period, the camp was under the co direction of Mel and Bette Archard and John and Alice Harrison. In the fall of 1965, the camp moved to its present site on Echo Lake in Mt. Vernon, Maine. Camp Laurel opened at its new site on July 1, 1966. In 1974 Ron Scott began working for Camp Laurel, and in 1978 Ron and Mel and Bette Archard's daughter, Ann, began as Directors. In 1979 Ron and Ann purchased Camp Laurel. In 1994, after spending three summers as Co-Director, Keith Klein purchased Camp Laurel and has served as Owner and Director since that time. Jem Sollinger, a long-time camper and counselor, joined Keith as Co-Director in 2002. In 2007, Jem and his wife, Debbie, assumed the directorship of Camp Laurel. Keith maintains an active role at camp and spends his summers on Echo Lake, along with Jem and Debbie.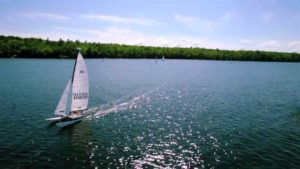 We are seeking sailing instructors with a strong background in sailing and paddling who are interested in working with children for the summer. Our top-notch boats include Hobie Cats, Sunfish, Lasers, a Vanguard 420, kayaks, canoes and SUP's. The ideal position for anyone interested in spending their summer on the water working with children.
If you love children and believe in their incredible potential, if you feel good about yourself and the talents you offer, if you thrive on healthy outdoor surroundings and believe in an active, enthusiastic approach to life, then Camp Laurel may be the perfect place to call your summer home.
Sending a child to summer camp is a tremendous act of faith by parents. At Laurel, we take that responsibility very seriously and maintain an environment that encourages both safety and health and reinforces a positive self-image. We provide campers with opportunities for emotional and physical growth, encourage their natural abilities and instill the benefits of group living. Our goal is to provide an enjoyable, exciting summer experience that motivates our campers to approach life with courage, confidence and a feeling of self worth.