Editor's Note: Sail1Design is thrilled to introduce Rachel Bennung, our newest Airwaves writer and member of the Sail1Design team. Rachel is not only an experienced sailor, but she's also a fitness expert; someone who practices what she preaches! We hope you find these articles helpful, and we also hope they inspire you to improve your sailing by making fitness an integral part of your sailing regimen. Sail1Design now has a new main menu bar category, Sailing Fitness, dedicated to helping sailors reach their athletic potential.
Check out our 3-part series, "Sail Stronger, complete with video tutorials!:"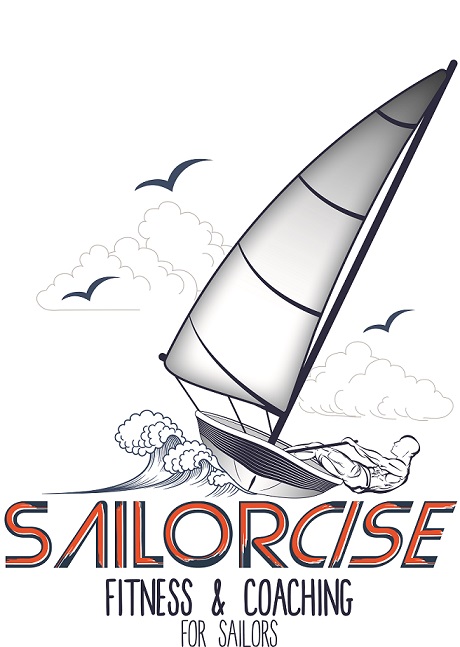 Sail1Design is excited to announce its addition of Fitness to the website. This section will be covered by Rachel Bennung, Co-Owner of Sailorcise LLC. Rachel is a National Academy of Sports Medicine personal trainer as well as an AASDN nutrition specialist. Rachel has a huge passion for fitness; she has ran several half marathons and two full marathons. Along with fitness, sailing is Rachel's other passion. She is a US Sailing Level 3 instructor. Rachel decided to combine her two loves together and create the business Sailorcise with her boyfriend Matt Goetting. Fitness in sailing is something the top sailors are doing, but not really talking about. Rachel hopes to share how everyone can maximize their performance with their physical fitness.
Fitness in sailing is something that is very important, but not talked about enough. Some people still see sailing as not being a real sport, basically because we don't run around on a field to play, but more because they don't understand it. However, sailing not only challenges your body physically, but mentally which may make it one of the most challenging sports out there. For sailors to be at their best, they need to implement fitness into their daily living. Fitness other then just sailing will help to maximize your performance while out on the water helping you sail longer, stronger, and smarter.
We will be bringing you all the latest in fitness and sports nutrition to help you feel better and sail faster. We will feature fitness videos of different workouts that are sailing specific. This section will help make working out fun and give you the tools to help you to maximize your performance on the water with your physical fitness.
Check out our first Sail Stronger article, focusing on the core.
Sailorcise LLC is a new business based in New Jersey that combines fitness, nutrition, and coaching to improve sailors performance on the water.
Sailorcise's Mission Statement:
Sailorcise is a unique fitness and coaching program tailored towards young active sailors. At Sailorcise we combine nutrition, a sailor focused fitness routine, and high end coaching to overall enhance the sailors performance. With a fitness professional and sailing coach we make getting results fun and exciting while maximizing performance.
We look forward to sharing this new section with you. For more information on Sailorcise check out www.sailorcise.com. If you have any questions regarding this new section email rachel@sail1design.com. Get ready for some great information to help maximize your results and help you better executer your skills on the water!
Check out Sailorcise on Facebook, Twitter, and Instagram for daily tips on fitness, nutrition, and sailing.