August 5, 2018
Arnone and Reynoso best a large field at 2018 Club 420 Association North American Championship and win the Triple Crown
Buzzards Bay, MA — The Club 420 Association 2018 North American Championships was held at Fort Tabor Park August 2-5 by the New Bedford Community Sailing Center in New Bedford, MA
Consistency, risk management and experience played huge factor in the first two days of North Americans in Buzzards Bay. Big breeze of 15-22kts from the SW along with solid waves and chop met the 346 sailors through the two days of qualifying for Gold and Silver. Arnone and Renyoso led from the start, posting bullets for five of the first six races.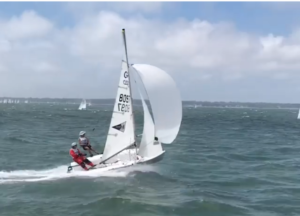 Fleets split after two days and the first day of Championship racing was canceled due to a front with lightning, squalls and torrential downpours moving through the area. The final day brought clear skies and the nice SW breeze famous to Buzzards. The placing for the top spot never changed with the New Jersey team finishing the championship round with 5, 2 and 1 places (13). Rounding out the top five were Jack Murphy and Tommy Szymanski from Chatham, MA (37); Ansgar Jordan an Patrick Mulcahy from California YC (40); Benton Amthor and William Quinn Keernan from Christschurch School in Virginia ((48); and Rayne Duff and Savannah Young from the USVI (49). Top sailors in the silver fleet were Brielle Willoughby with Madeline Demming from Surf City YC in New Jersey and Alexander Kessler with Mallory Stafford from Edgartown, MA.
After regattas in California, Ontario, Massachusetts, Connecticut and New Jersey, contention for the Triple Crown was tight with less than 30 point separating the top 5. It took the North Americans to decide the winners – Luke Arnone and Noble Renyoso.
TOP FIVE: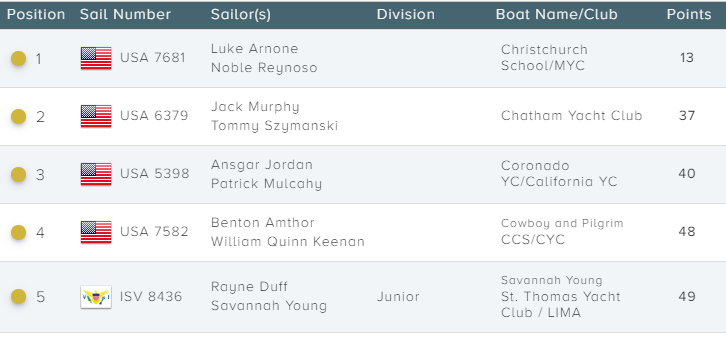 Full results are at https://www.regattatoolbox.com/results?eventID=c9IFNchzqB
Exciting video coverage at https://www.facebook.com/Club420Association/videos/1774660705945722/
About the Club 420 Association – The Club 420 Association was established in 1980 to promote, foster, encourage and sponsor one-design sailing for youth sailors. The Association annually sponsors a North American Championship, US and Canadian National Championships as well as regional and team racing championships across North America while promoting the class to all ability and experience levels of youth sailing. For more information visit www.club420.org
About the Club 420 Triple Crown – The Triple Crown was established in 2013 to honor youth sailors (skipper and crew) for achievement in winning on aggregated points in a series of designated championship races in the Club 420 sailboat throughout the course of a single year. Events which count toward this point series include the Club 420 US Nationals, Club 420 Canadian Nationals, Club 420 North Americans, the Buzzards Bay Regatta, and other significant events designated by the class. This series championship recognizes the top teams and the top individual skippers and individual crews accumulating the most points at the conclusion of these high-level competitions.