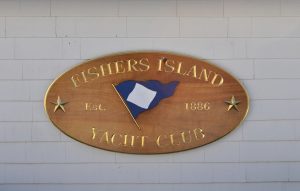 The Island:
Fishers Island Yacht Club is located on Fishers Island in West Harbor. Fishers Island is located at the eastern entrance to the Long Island Sound. It is about two miles off the southeastern coast of Connecticut opposite Stonington. The island is about 9 miles long and 1 mile wide. Ferries run year round back and forth from New London, CT which is a 45 minute boat ride and during the week from Noank, CT which is a 20 minute boat ride. There is a low population during the fall, winter, and spring, however, the population rises to several thousands in the summer months.
The Yacht Club:
Fishers Island was founded in 1886, and it has always provided simple facilities for yachtsmen. As well as a club conducting a series of races and yachting events during the summer season. The club is relatively small with about 475 member families. The facilities include a 100+ slip marina, quant clubhouse, and marina facilities.
The Sailing:

Fishers Island Yacht Club has a very active fleet of racers competing amongst 6 classes; IOD, J70, Bullseye, Club 420, Laser, and Open Bic. Sailors of FIYC compete not only at Fisher Island, but have represented Fishers Island in the IOD and J70 classes nationally and internationally. FIYC has numerous world and national sailing champions as well as prior olympians. The club has a very active instructional junior sailing program offering novice through advanced coaching throughout the summer months. The keelboat class is especially inclusive of the junior sailors, offering them numerous opportunities to sail larger boats on the weekend. FIYC strives to create high level sailors, along with supporting adventure sailing and a love of the sea.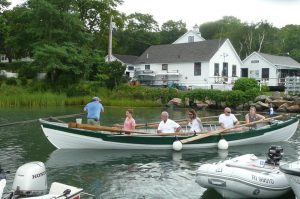 The Marina:
As mentioned before FIYC includes a 100+ slip marina and marina facilities. They welcome transient yachts up to 150' and 9' draft. The marina is centrally located and you can easily walk to several shops making it a great starting spot to explore the island. Fishers Island Yacht Club also welcomes other yacht clubs to use their facility for club cruises. Recently, the New York Yacht Club hosted their Annual Summer Cruise at FIYC. Nearly 1000 yachtsmen embarked on Fishers Island for a full day of activities including golf, tennis, and whale boat races.
Fishers Island Round Island Race: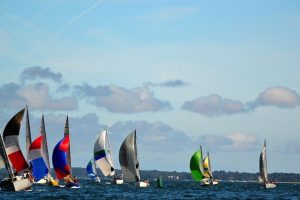 Recently FIYC just held its 60th Fishers Island Round Island Race. This race takes place over Labor day weekend, and draws sailors from all over New England. Recently, over 80 boats competed in the race, including all the local one design boats as well as big boat classes. The race offers several challenges with navigating the treacherous currents of the "Race," and numerous obstacles in the Fishers Island Sound. Following the racing competitors enjoy a stellar party back at FIYC to celebrate the race, and the ending of the summer sailing season.
For more information on Fishers Island Yacht Club check out their website: https://fiyc.net