By Chris Klevan
William Smith College won the Women's Showcase Semifinals at St. Mary's College of Maryland decisively over second place MIT, 56 to 82 points respectively. William Smith, the third place finisher at last year's Gill Women's National Championship, is led by A-Division skipper and senior, Bailey Carter. Ms. Carter, who walked away with the regatta, winning A-Division by 30 points after 9 races, finished with 17 points. Carter, sailing primarily with a freshman, Sarah Smith, bested Isabella Loosbrock of Boston College and Louisa Nordstrong of Yale which puts Carter at the top of the extremely premature watchlist for this year's Quantum Women's Sailor of the Year.
Carter finished with only one race outside the top-3 and finished first in 4 of the 9 races. Her average finish was less than 2 points per race.
Emily Haig '21 of MIT, sailing with Sarah Caso '19 won B-Division finishing with 29 points in 9 races, helping MIT squeak a narrow edge over third place finishing Yale, 82 to 83 points.
The top- 9 finishing teams at this regatta will move on to the Showcase Finals at Brown University, October 13-14. Finishing 4th through 9th respectively, after third place Yale, was the University of Pennsylvania, University of South Florida, Boston College, George Washington University, Stanford University and Tufts University- the ninth and final team to qualify for the finals.
Neighbor to William Smith, Cornell University won the Jen Harris Women's Regatta, held at the Naval Academy. The other half to the Semifinal Regatta held at St. Mary's, this regatta was sailed to decide the other 9 team moving on to the Showcase Finals at Brown.
The Big Red of Cornell surprised many in beating preordained contenders Brown, Dartmouth and College of Charleston. What was clearly a team effort, Cornell sailed with the disciplined consistency of a team who was been here before, finishing 3rd in A-Division with two different skippers splitting the regatta and first in B-Division the same way, splitting Saturday and Sunday between two different helmswomen. Saturday's choice for B-Division skipper, Daisy Holthus '21 sailed seven races, none of which were outside the top-6 and 5 races inside the top-3.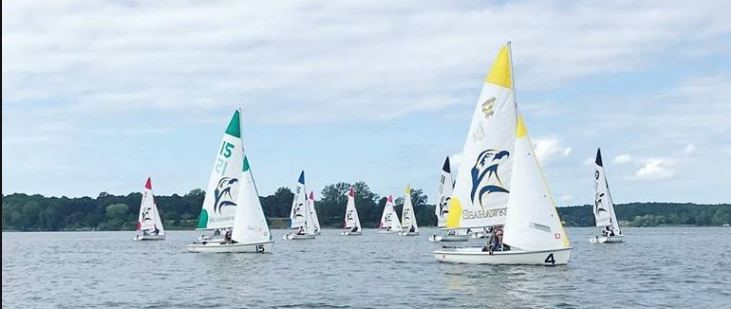 "It's a big event," said Cornell Head Coach, Brian Clancy "The leaders of the ICSA put in a lot of energy to change the scheduling format of the fall. They call these events the showcase regattas, putting a lot of emphasis on them, taking the place of the major interconference event of the past".
"To win the showcase semifinals this early in the season gives us a lot of confidence moving forward," continued Clancy. "We finished 7th at Women's Nationals last year with the same group and they clearly care about each other. They work well together and are extremely supportive of one another. Our two senior crews, Diana Otis and Kimberly Wong, who sailed the entire event, are unbelievable crews and their input cannot be overlooked as they play a critical role getting through challenging events like this one."
A-Division skippers Gabby Rizika '20 and Sebby Turner '20 sailed with Diana Otis '19. B-Division winners, Daisy Holthus '21 and Brooke Shachoy '22 sailed with Kimberly Wong '19.
"Winning such an event is always fun," continued Mr. Clancy. "But we have larger aspirations moving forward so we must continue to work hard."
Brown University finished second with 97 points (9 points behind Cornell) and Dartmouth finished with 108.
The remaining teams moving on to the finals are University of Rhode Island, College of Charleston, whose Alie Toppa '20 and Annabel Carrington '19 won A-Division with 27 points in the 10 races, Navy, Boston University, Coast Guard and Harvard finishing 4th through 9th respectively.
Notably, Toppa and Carrigan's A-Division win starts to affirm what many suspect will be a great season for the Cougar as she joins Carter atop the far too early shortlist for Quantum Women's sailor of the year.
Stanford University won the Danmark Trophy, a ten race regatta sailed in light and variable conditions at the United States Coast Guard Academy. The Cardinal sailed impressively despite starting a freshman and a sophomore in A-Division and two freshmen in B (The majority of Stanford's experience was split between the Women's Showcase Semifinals at St. Mary's and the US Sailing Hinman Team Race National Championship in Cleveland, Ohio.)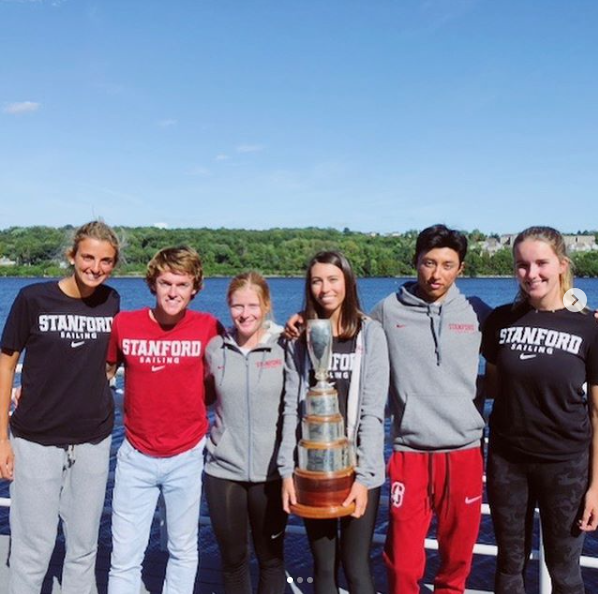 Despite the group's inexperience at college sailing events, Stanford's team showed incredible depth, winning the regatta by 5 points over Yale, 63 to 68. The Bulldogs of Yale sailed what is presumably their top team, Nicholas Baird '19 and Sonia Lingos-Utley '21 in A-Division and Shawn Harvey '21 with Claudia Loiacono '21 and Anisha Arcot '22 in B.
Stanford's Wiley Rodgers '22 and Victoria Thompson '21 won B-Division with 17 points over Baird and Lingo-Utley's 32 points. Rodgers and Thompson finished in the top-3 in 4 of the 5 races sailed in the division.
Connecticut College finished 3rd with 78 points.
Nicholas Karnovsky '19 and Jessica Williams '20 won B-Division with 26 points.
SUNY Maritime College and University of Pennsylvania will represent the Mid-Atlantic at this year's Match Racing National Championship held in Marblehead, November 2-4. The two qualifiers finished the regatta in a four team tie with Hobart and Williams Smith and Georgetown on the outside looking in.
Light winds dictated the MAISA Match Race Championship, held at the Merchant Marine Academy at Kings Point as postponements forced much of the daylight hours to be spent on shore. While all four tied teams finished with a record of 5-4, the eventual regatta victors, SUNY Maritime College finished with a 2-1 record against the tied teams. University of Pennsylvania also finished with a 2-1 record against the three other tied teams but lost to SUNY. Both HWS and Georgetown were 1-2 against the two eventual qualifying teams.
SUNY's boat saw Kyle Comerford '19 at the helm and Kaitlin Brzostek '22, Christian Neuman '21 and John Lawless '19 serving as crew.
UPenn was skippered by Porter Killian '22 with Tanner Probst '21, Kelly Hanlon '21 and Nicholas Floyd '19 serving as crew.
College of Charleston won the SAISA Match Race Championship held at the University of South Florida in St. Petersburg. Despite tying with University of Jacksonville, the Cougars of Charleston managed to sail well when it counted, beating the up-and-coming Fins 2-0 in their two head to head matchups. Charleston's effort was led by William Curtiss '20 at the helm and Oliver Parsons '21, Robert Porter '19 and Laura Masterson '20 in the front of the boat. Charleston finished with a 7-2 record.
Jacksonville University finished second with the same record as Charleston, capturing the second a final qualifying slot allocated to the conference. Critically, the Fins stepped up at defeated 3rd place Miami in both head to head matchups. Jacksonville sailed Alfonso Garcia Bringas '20 as helmsman and Andre Duaragna '20, Telmo Basterra '21 and Ana Carrasco '21.
Gabriella Savage '18 of the University of British Columbia won the NWICSA Singlehanded Women's Qualifier with a total of 14 points in 13 races. Ms. Savage dominated the 4 boat regatta and, in doing so, earned a spot at the Laser Performance Women's Singlehanded Nationals.
Michael Levy '19 of Oregon State University won the NWICSA Singlehanded Men's Qualifier with 25 points in 15 races. Mr. Levy won six of the first seven races to build a lead that the competition was unable to overcome.
Now all but the MCSA berths are spoken for despite what was posted in  last week's press release.