By Airwaves writer Pearson Potts
Sailing is one of those sports where if you truly love it, the hook embeds deeply, and you're a sailor for life. For others, sailing may simply be an enjoyable hobby.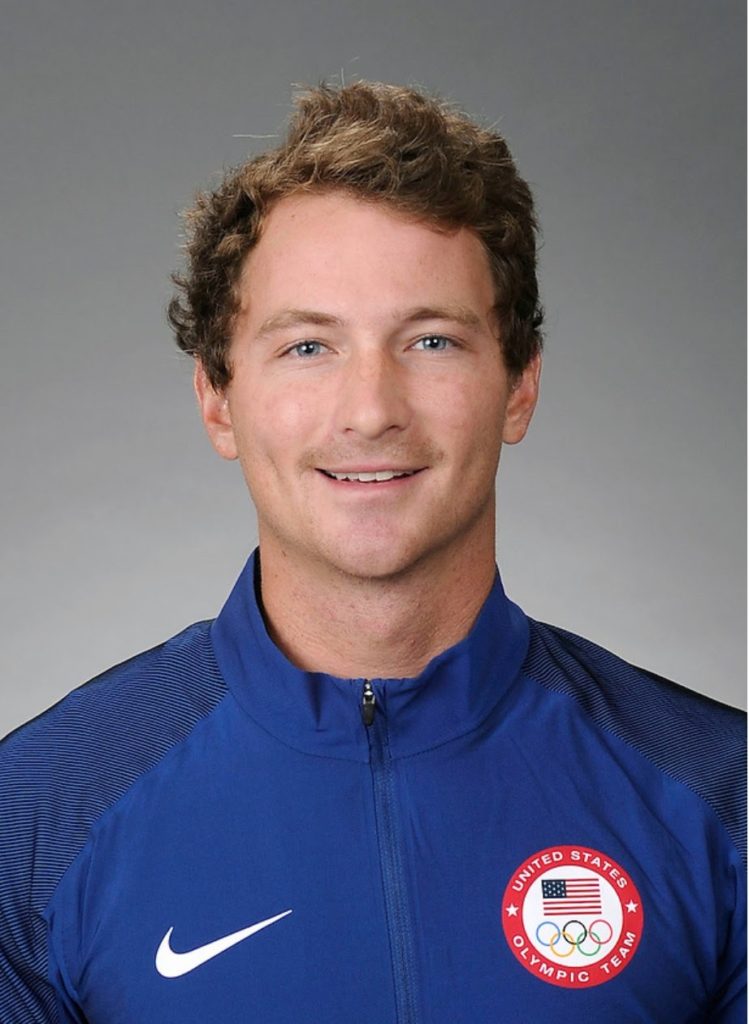 Some sailors come and go quickly because they just like the rush of competition instead of the actual sailing itself. I believe the ones that sail forever love sailing itself; what's more, they love the process of improving. It's liberating, as there is no pressure to perform and achieve at any given event, for any specific result. Some people are forced into the sport of sailing at a young age whether they like it or not. However, the ones who sail competitively their entire lives are the ones who enjoy the process of incrementally improving on a frequent basis, including their boat-handling maneuvers, tactics and whatever else the current challenge may be. Joe Morris is one of those guys. He's had his fair share of ups and downs –from a 4-time college sailing All-American to an unsuccessful Olympic 49er campaign. Yet Joe continues to be at the cutting edge of sailing competition, despite all the trials and tribulations throughout. This is his story.
Like many of us, Joe didn't love sailing at the beginning. He was not good. However, Joe was not forced into the sport; instead, his love for the sport grew naturally like a seed from the earth. He grew up in the saling hotbed of Annapolis, MD, but chose sailing himself, mostly as a liberating escape: sailing turned out to be a great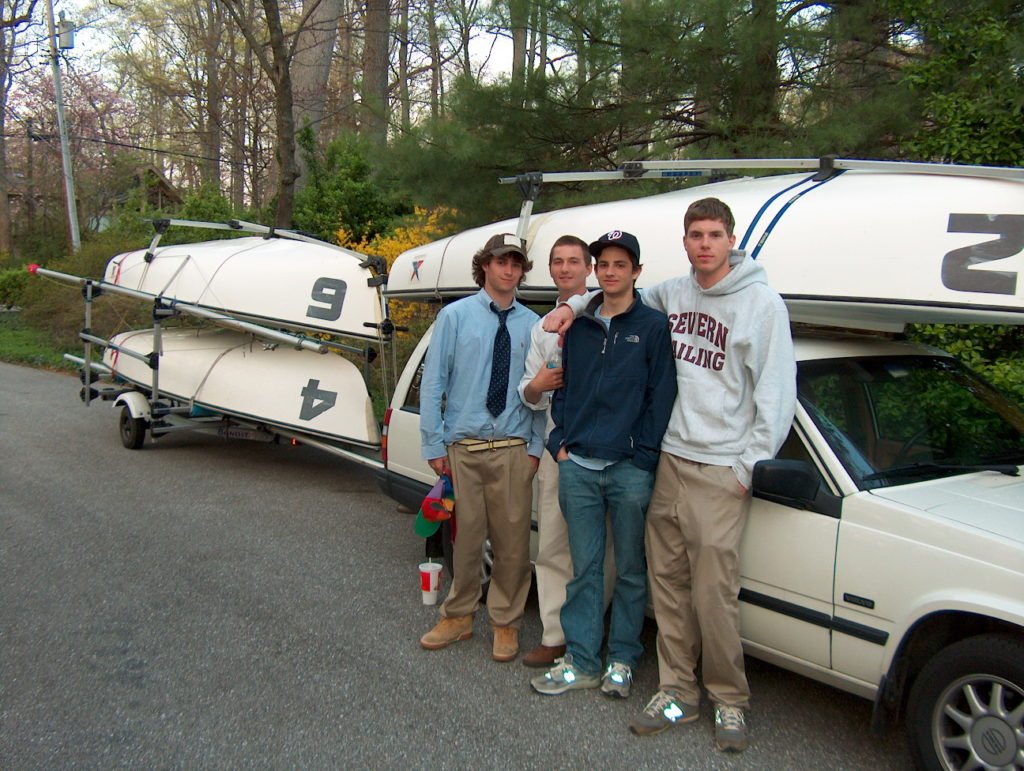 way to get away from his 3 older sisters! Free and independent, he began sailing Optimists on the Chesapeake Bay, at Annapolis Yacht Club. Neighborhood friends brought Joe to a youth program where the only goal on the water was simply to have fun. The daily activities of water fights, exploring the Bay, tiller-towards-trouble and learning basics taught Joe to enjoy sailing itself. Joe's personal curiosity and enjoyment of his days on the water, in fact, has driven him to avoid a desk job to this point in his life. His family was always competitive –Joe's father raced cars and motorcycles and his siblings played lacrosse, but again, it was his own personal choice to pursue sailing. His enjoyment in sailing itself at a young age laid the cornerstone for his life today.
His pure love for sailing inspired his interest in other facets of the sport. Joe didn't even know there was a competitive component of sailing. One day his junior sailing class was introduced to a race day for the first time. Although Joe did poorly, a local hero and professional sailor by the name of Jon von Schwarz came to talk to the group of young sailors. Jon opened Joe to the world of possibilities within the sport of sailing, and as soon as he mentioned Olympic sailing, Joe was hooked, and had his crosshairs on an Olympic gold medal.
He started taking things seriously. Joe bought a laser, taught himself, and sailed alone most times. He was comfortable on the water alone, where he sailed like a basketball player practices free throws in the fading street lights. Joe still believes this was foundational to his love of the sport. He believes that it is important for kids today to practice on their own, and enjoy it on their own. According to Joe, the best thing parents can do for their kids is "not to hire a coach." Rather than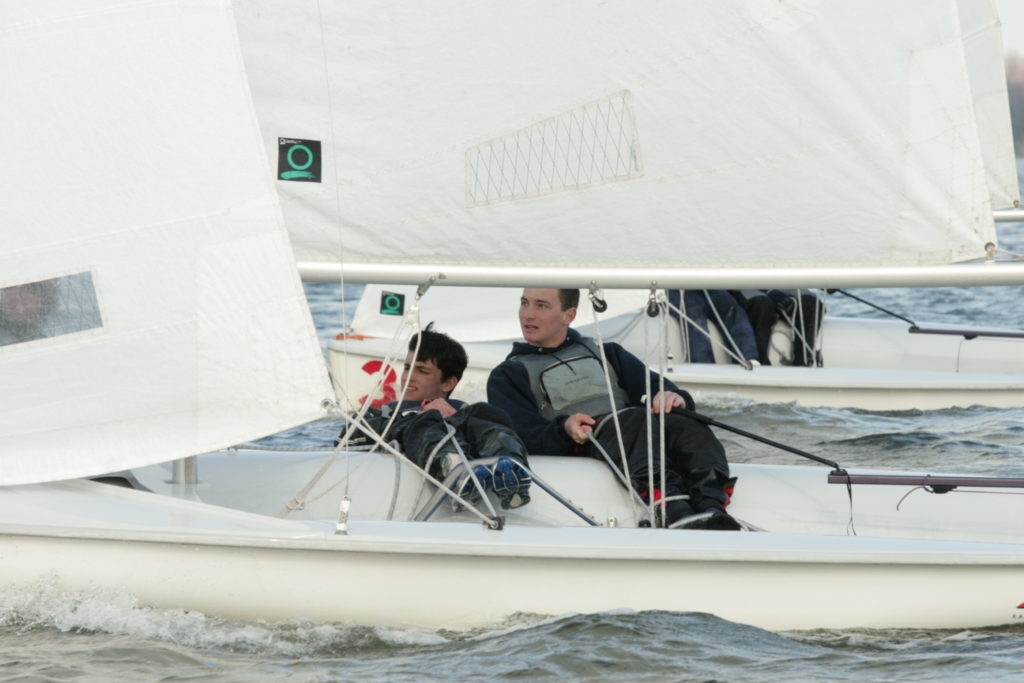 vocational school, Joe believes sailing could be part of a healthy liberal arts introduction into competition and sports. Those that excel will rise to the top.
Such as the nature of our sport, Joe was in the right place at the right time when he met the coach from Yale, Zach Leonard, at the International 420 worlds, who forever shaped his sailing goals for the future. (Much later on, lucky for Joe he only applied to Yale and was accepted.) While Joe was a big fish in his small pond of Annapolis, he found college sailing to be a humbling experience at first. Joe found himself sailing B division for Yale at the grand finale of the fall season where titans of college sailing annually clash at one of the most competitive events of the year. Joe would fire off the starting line, tack for clear air and put his head down for speed. Although he was expecting to round the weather mark in the top group, he found himself in last.  Ouch.

Joe and his team made an incredible push in the spring and found themselves with a chance to win the national championship in the final race. However, he was humbled again, and his team placed second, or otherwise known as first loser at the conclusion of the event. He now understood the difference between good and great sailing.
In his sophomore year at Yale, Joe made a friend that will certainly last a lifetime. Joe met Thomas Barrows, who had the same perspective: play hard, sail hard. Whether it was late at night or practicing late until dark, they always strategized to rise to the top of college sailing. They did just that, and climbed the ladder to the top of the fleet, one boat at a time. However, Joe got caught up in the fame and lost sight of his appreciation for the process when he set his sights on college sailor of the year his Junior year. He put a lot of pressure on himself and made his goal an award rather than the gratifying experience of improvement. Joe experienced frustration on the course from slamming the tiller on the rail of the boat, risking too much on one side of the course and trying to win the start rather than just getting off the line. Strong self-criticism aimed at results rather than enjoyment and improvement resulted in frustration and diminishing results. Ultimately, Joe didn't achieve his goal of college sailor of the year, but came back senior year with a new appreciation for learning and improving. He credits his coach Zach Leonard with a keen sense for appreciating the small victories of improving little by little each day of practice. Joe's renewed appreciation for the successes and failures inherent to competition carried him to the next stage of his sailing career. Despite not fulfilling his goal of college sailor of the year, Joe was a four-time college sailing All-American –an extremely rare feat.
While other students at Yale were busy vying for internships in big cities, Joe always had the Olympics in the back of his mind and spent summers sailing 470s. After he graduated, he tried a desk job in Switzerland, but quit 6 months into it and moved back home. The Olympics were always in the back of Joe's mind and two days after moving back home, as fate would have it, his longtime friend Thomas Barrows invited him to start a 49er Olympic campaign. He didn't hesitate, and his motivation was simply to win a gold medal. He moved to Florida to begin the next stage of his sailing career. They hit the ground running –Joe gained 25 pounds in 6 months.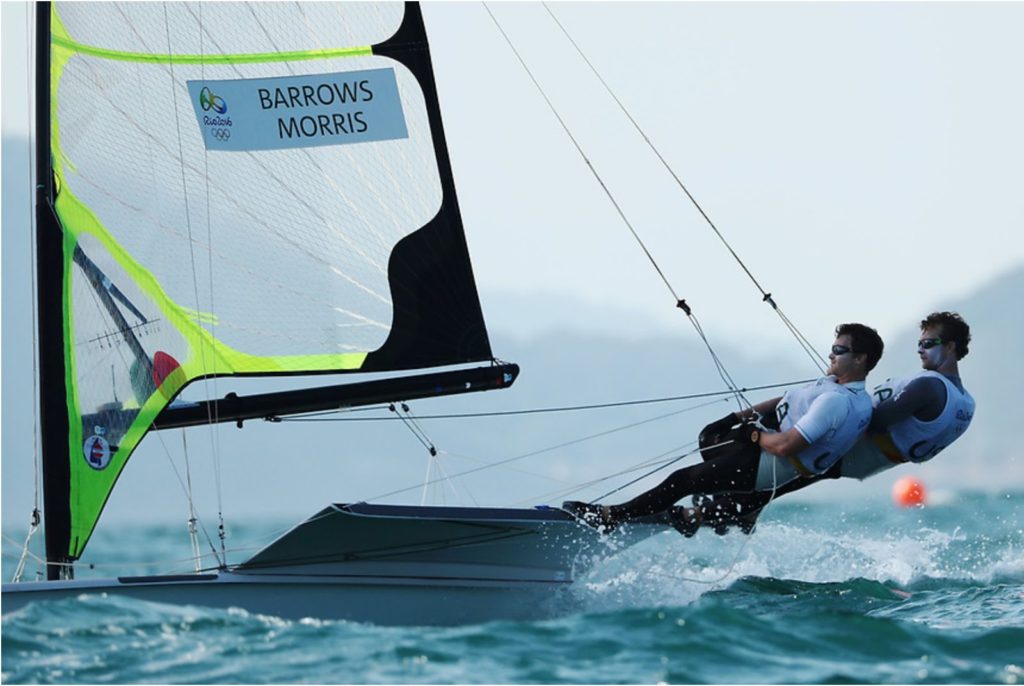 They had both moments of triumph and tragedy. They were practicing in Spain once in brutal weather. Desperate for wetsuits with little money, they luckily found a surf shop selling wetsuits half off. But when they returned from a day on the water, all of their belongings were stolen from their budget Fiat 500. Yet, while every coach in the US dismissed them, they won the Olympic trials to gain the opportunity to represent the US in the 2016 summer games in Rio. Ultimately, they did not decide to continue their efforts after placing deep in the fleet. The decision came down to whether they imagined themselves on the podium at Tokyo 2020. Joe and Thomas were confident in their endless pursuit to improve, but the lack of proper funding made it impossible. Joe is no quitter and the decision haunts him to this day. Nevertheless, he was not about to give up on his passion for sailing.
After the campaign Joe went back to his stomping grounds at Yale to help coach the team and had a short stint at a desk job, but it wasn't long before he traded his computer mouse for a winch handle and got back on the water. He decided to pursue a career as a professional sailor, sailing a variety of boats including J70's, J24s and Etchells. 
The decision to transition to pro sailing was simple like his decision for the Olympics: keep sailing at a high level. When Joe was getting started in the professional circuit, he doubted himself at first, but he pushed through the difficulties and enjoyed the process of making a name for himself. It wasn't until his breakthrough win with Steve Benjamin at the 2019 Etchells US Nationals with a photo finish in the last race that he had solidified himself as a professional sailor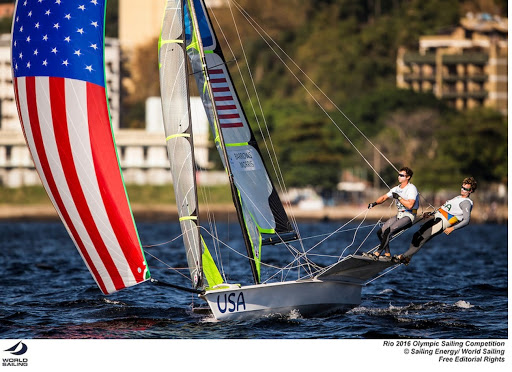 What does it mean to be a pro sailor? Surely by definition one gets paid to sail, but for Joe it means toeing the line between coach and teammate. His job is to win the regatta, but also help teach those around him. He has taken what the average person considers to be a weekend hobby to a professional career. There is no secret to his career. Joe has demonstrated that all it takes is love for the process of improvement and love for the sport of sailing.