April  4, 2019, Written by Chris Klevan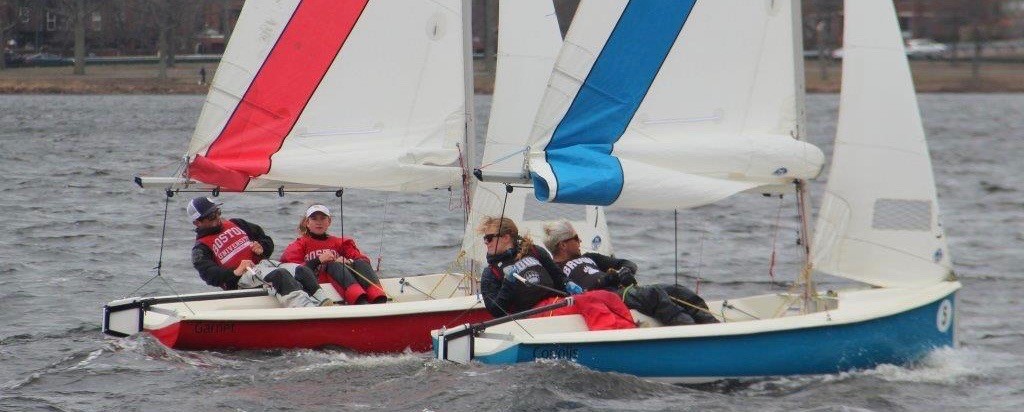 Finally, after an exciting 2 weeks of sailing, culminating with the Marchiando, which shook up the rankings a bit (and temporarily broke our ranking system 😉 ) the S1D ICSA Team Race Rankings Update is HERE!!
The Harvard University Crimson won the 38th Lynne Marchiando Trophy, hosted by Massachusetts Institute of Technology. Harvard finished with a 16-6 record after 2 full days of challenging racing. The conditions were beyond dynamic as some of the best teams in the nation struggled to keep all three boats upright let alone team race at an elite level. After 176 races sailed, uncertainty as to who is bound for nationals in New England is only heightened with conference championships only a week away.
"Champagne conditions for team racing on the Charles River today," said Principal Race Officer and MIT Sailing Master, Franny Charles in his regatta report. "An east wind at 5-8 gave way to a smoking southerly at 12-18 during the afternoon. The color coordinated Fireflies and FJs made for spectacular spectating for the abundant crowd at the pavilion and along the Cambridge seawall."
If the Graham Hall at Navy attempts to emulate the Laser Performance Team Race National Championship, then the Marchiando is college sailing's version of the Wilson Trophy of West Kirby, UK. Whether it was the extreme conditions or the team race sailing, spectators taking a break from their runs down Memorial Drive, Boston College fans and teams enjoying their offsets were frequently cheering for plays attempted (and failed) at mark 3 and 4, positioned a few boatlengths from the docks at MIT, and capsizes, of which there were many.
One witnessing Sophia Reineke interacting with fans from her sail boat between races couldn't help but to think of the grandstand at West Kirby. If only Ken Legler had commentated. The spirit of the College Sailing suggested by the aging photographs and news clipping in MIT's Walter C. Wood Sailing Pavilion- the namesake of the trophy awarded to the winner at the Laser Performance Team Race Championship, was palpable at this event.
"The team race honors a distinguished member of the MIT Class of 1985 who sailed A Division for 3 of her 4 years on the sailing team," continued Franny Charles.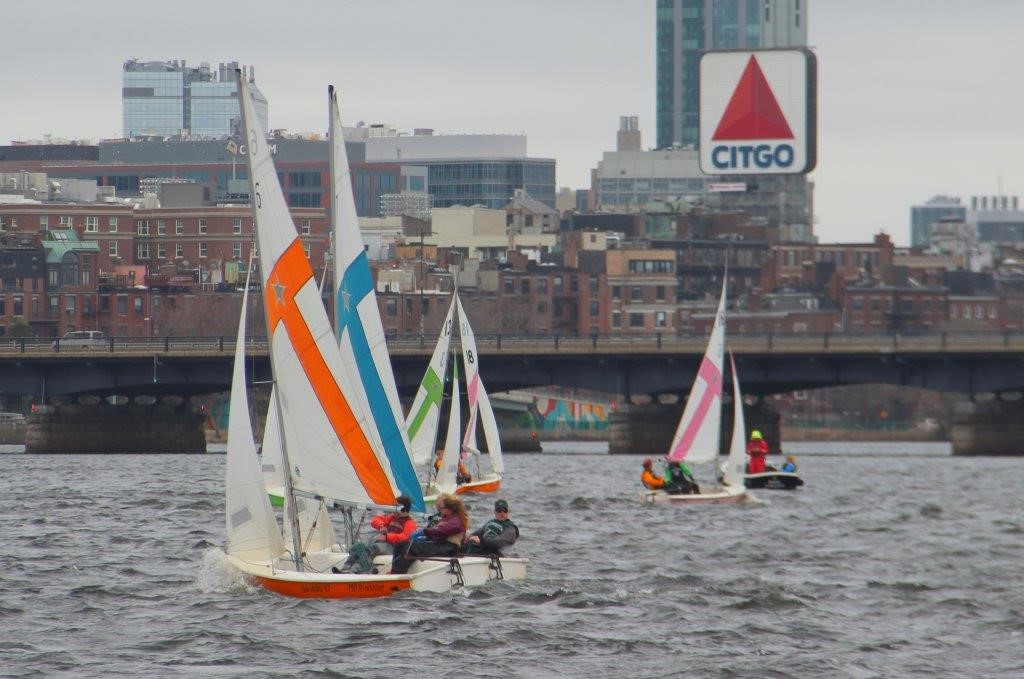 Mr. Charles was able to get off 176 races over the course of regatta even with a delayed start on Sunday due to two re-sailed races. Rolling two minute starts left teams racing from the rotation dock to make their start.
S1D ICSA Team Race Rankings Update, click HERE!!
Harvard won the day on Saturday, only dropping two races to MIT and Roger Williams throughout the first full round robin. Yale and Connecticut College were in second after day one with 4 losses. Dartmouth, Boston College and Hobart and William Smith had 5 in the loss column. While Saturday's racing was exciting, Sunday's forced storm jibs in the FJs and reefed mainsails on the Fireflies.
"We team raced well but we were also quite fast upwind," said Harvard Coach Bern Noack.
Harvard would need the lead they developed as Boston College and Dartmouth made late runs at the regatta win, both sailing towards 5-2 records on Sunday.
"I think we just made some mistakes related to racing in heavy wind and also were working hard on how we sailed the boats but not as good at sailing them as in the light air," continued Coach Noack. Noack went on to say the following:
"It was really tricky to pick the correct crews because the wind was so shifty and up and down. Our smaller crews are more experienced and perhaps better at moving in the boat and downwind but at times were too small. Our bigger crews were clearly faster upwind when the breeze was on. We sailed a lot of crews and they were great team players. It was great to get the bigger crews more experience and they are working hard and improving rapidly."
Harvard sailed Eli Burnes '21, Henry Burnes '21 and Nicholas Karnovsky '19 at skipper and Lena Episalla '19, Eric Hansen '22, Jonas Nelle '21, Catherine Tang '19 and Jessica Williams '20 at crew.
Boston College finished 2nd at 15-7, winning the tie-breaker over Dartmouth, who finished 3rd, due to a 2-0 head to head record in favor of the Eagles.
Connecticut College, a team that received no votes from the panel in the most recent Sail1Design Team Race rankings, finished 4th overall (Harvard is unranked in the Sail1Design Rankings) with a 14-8 record behind Junior standout Carter Pemberton and Cecilia Moreira '20. Pemberton and his classmates, Moreira, Katie Rodger and Paige Dunlevy have managed to pull two freshmen, CJ Mckenna and Thomas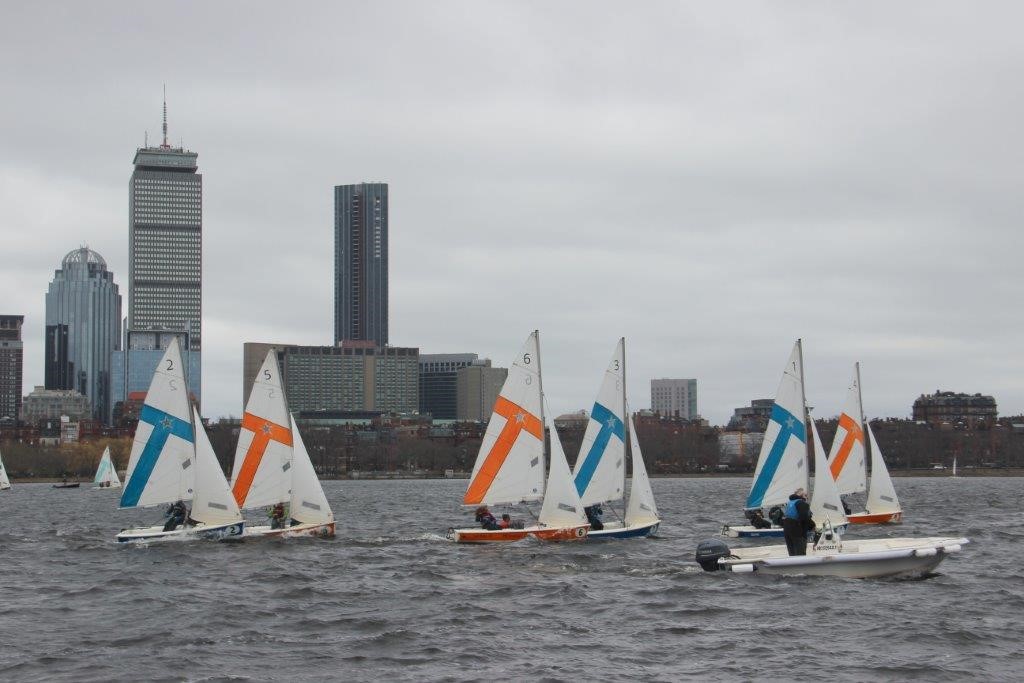 Whittemore within two wins of the premier event in NEISA's regular season schedule.
With next week's Championship at Conn, this Camel team is most certainly a threat. Especially with #1 ranked Yale apparently very beatable in breeze, finishing 7th at the Marchiando.
________________________________________
Yale won the Dellenbaugh Women's Trophy by 67 points over second place Brown. The Bulldogs won both division in full on conditions at Brown University as gusts reached 30 knots on Sunday. Yale showed their ability to handle the breeze better than anyone on the race course.
"We had really good upwind boat speed," said Yale's coach Bill Healy. "All of those races were sailed in classic YCYC conditions. There aren't many other home courts with those conditions."
Louisa Nordstrom '20, a strong Quantum Women's College Sailor of the Year candidate, won A-DIvision for Yale sailing with Helena Ware '22 on Saturday for races one through 10. However, for Sunday's racing, Kathryn Clulo got the call as the breeze piped up and A-Division switched to z420s.

Nordstrom and Ware started the regatta slow, totaling 26 points in the first 3 races sailed. However, the tandem found their stride as, over the remaining 7 races sailed Saturday, Nordstrom and Ware only added 16 points to take the division lead after race 7. Nordstrom would not look back.
Yale seemed to push the right buttons bringing in Clulo as Nordstrom picked up right where she left off Saturday, winning 2 of 4 races sailed on Sunday and winning the division by 5 points over Maia Agerup '20, Emily Croteau '19 and Erica Brown '21 of Boston University.
Those proficient at math must now realize that Nordstrom, Ware and Clulo's performance, while extremely impressive, does not, in itself, account for Yale's 67 point victory.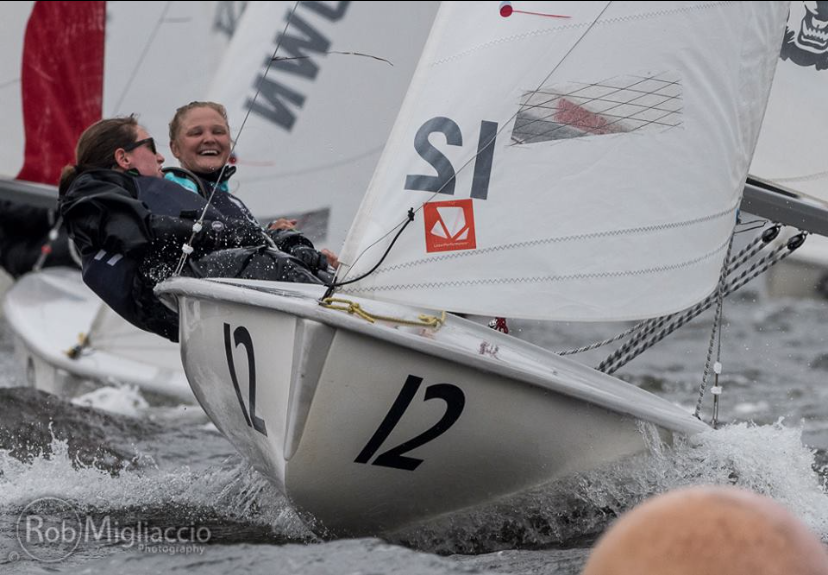 It was Yale's effort in B-Division behind the sailing of Christine Klingler '20 and Kira Woods '19 that eventually led to such a dominant margin of victory. Klingler and Woods were on fire as they failed to score outside the top-6 in all of the first 13 races sailed, including 9 top-3 finishes. Yale's success thus far this season cannot be attributed to any one sailor. When the breeze is up, as it tends to be in May in Newport, not many can hang with this Bulldog team.
"There was also some luck on our side," continued Coach Healy "Chrissy and Kira were over one race and restarted deep. As the bulk of the fleet arrived at the weather mark in adverse current, the fleet all jammed up together allowing our pair to catch right up finishing in sixth. But speed was king. It was also fully hiking and powered up conditions on Saturday for us while many teams were a little smaller and were tiring quickly. Sunday was survival in the A set and we had the correct combo in. B never saw that but still had good speed and starts."
We probably shouldn't hand Yale the trophy quite yet. Brown finished second with 181 points. However, Ragna Agerup '20, Hannah Steadman '20, Emily Ito '19 and Maxine De Havenon '19, typical starters for the Bears' women's team were at the Marchiando, holding it down on the team race circuit. It is incredibly impressive that, without most of the group that won the Women's Showcase Finals last fall, Brown is still able to secure a top-2 finish at a major women's interconference regatta.
Such depth is an asset. The success of Sophie Hibben '19 and Megha Malpani '19 in A-Division and Rachel Foster '20 and Abigayle Konys in B-Division (Annabelle Hutchinson '21 and Emma Montgomery '22 sailed both A and B) should lead to a more daunting Brown team once all women are back on the fleet race circuit.
"We are very lucky to have a strong group of women's skippers at this time, approximately 8 of them at practice every day pushing each other," said Brown Head Coach John Mollicone. "Some of them have also stepped up into major crewing roles and skipper at times as well. We have been fortunate that a lot of strong women's sailors have been coming to Brown and have a strong work ethic and desire to learn and improve."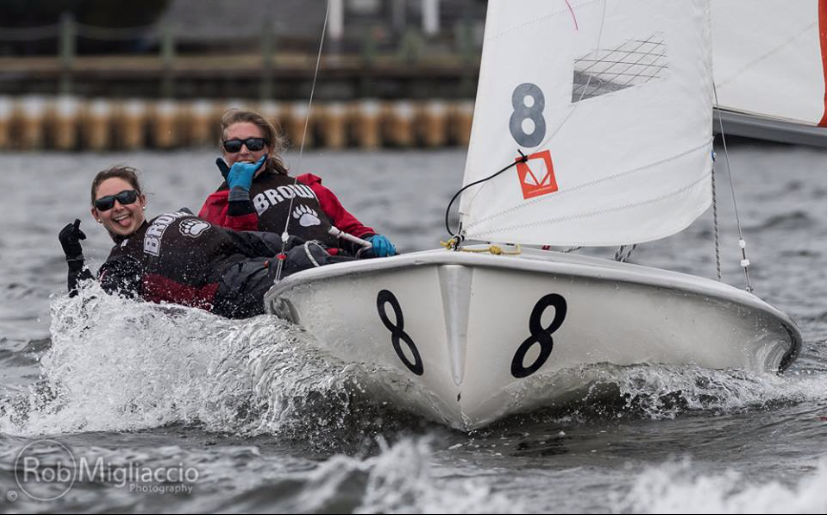 "We emphasize that we are one team and do not have a women's team, just women's regattas," continued Coach Mollicone. "Women have such an amazing opportunity in college sailing and can sail in everything, so there is a regatta every weekend for all of them. We also have a lot of overall team depth right now, with approximately 15 good boats at practice each day pushing each other. Currently two of our females are starting skippers on the interconference coed team race circuit, which has given our other female skippers incredible opportunities on the women's circuit. All of the high level team racing and fleet racing opportunities will help them all develop further as we get into the National qualifying events and Nationals."
Harvard finished 3rd with 196 points, George Washington finished fourth with 199 points and Boston University finished 5th with 200 points.