There may not be a more iconic or well-known sailboat than the Sunfish.  Since 1952, hundreds of thousands of hulls have hit the water in bays, lakes, ponds and rivers around the world. One of, if not the, most popular boat ever built, the Sunfish has provided countless families with hours of summer fun on the water.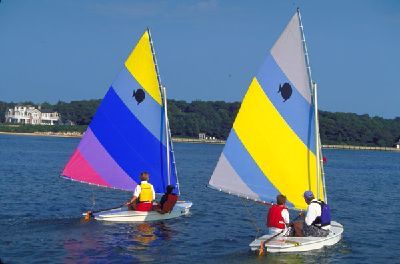 The Boat
Offered initially as a kit boat, the Sunfish grew from the Sailfish design by Alex Bryan and Cortlandt Heyniger.  At 13' 9" long, 4'1" wide and drawing 2'11", the Sunfish weighs in at 120lbs and is easily transported by car top or trailer.  It features a Lateen style rig and shallow v-shaped fully sealed hull.  This makes the boat particularly beginner-friendly because despite fully swamping, it will not sink.  Additionally the low-aspect Lateen rig helps the boat perform well in light air and off the wind.
Roger Williams University Head Coach Amanda Callahan has fully embraced the Sunfish class and thrived with top finishes at local, regional and national events, as well as qualifying for the 2015 Worlds.  "After crewing in team racing for years, I was really looking to get back to driving," says Callahan, "I'm 5'3", and there aren't a lot of affordable boats that I can skipper. I'm on the small side for a radial, and I wasn't too excited about sailing against the Laser 4.7 crowd. I like that I can be competitive in the boat until 14 knots…"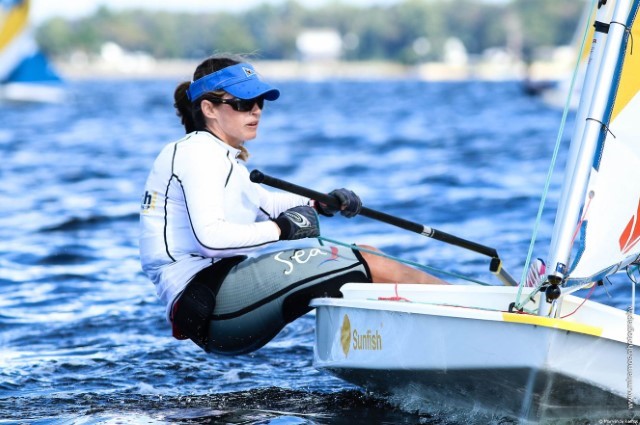 While there is a strong Sunfish racing fleet, it is not the primary use for the boat.  Of the 300,000+ boats that have been produced, there are only fraction (<2000) Sunfish class members.  This is a testament to the flexibility of the platform.  "On Sunfish you can raise your halyard up to get the boom way off the deck and bring 3 of your friends out on the water for a fun afternoon," said Callahan on the recreational benefits of the Sunfish.
Class Association
Everyone everywhere sails the Sunfish.  You are just as likely to find a racing fleet in Peru as you are to finding a relegated hull in a New England back yard.  Internationally the Sunfish is raced across North America, South America and parts of Europe.  Within the US, there are strong fleets in New England, Chicago, Texas, New York, California and the Gulf Coast.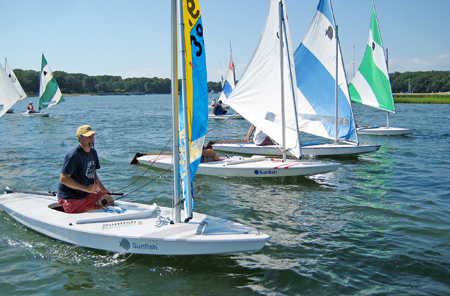 Callahan got her Sunfish start in New England, "One of the members, Jack Willy, of the club where I grew up (Wessagusett Yacht Club), suggested that we (my friend Kate and I) try out the Sunfish. He lent us some boats for a couple of regattas down the Cape."  She now calls it her "retirement boat" (from competitive team racing) and hasn't looked back.
Why Sail?
The Sunfish is a great boat for people of all ages and ability levels.  "You can easily car top a 'fish and go anywhere," commented Callahan, "the Sunfish was a perfect fit for me. Plus, the sunfish class is very supportive, especially my sunfish friends in NE."  She adds, "I would love to see more women get into the class. I was boat homeless for a while, and this class is my new home. Also, I know there are many college grads who don't know where to turn to continue sailing, this is a perfect outlet."  Affordable and everywhere, the hundreds of thousands of Sunfish owners worldwide have to be on to something.  It is an ideal platform for the casual sailor, the "retired" competitive racer, or "boat homeless" college grad.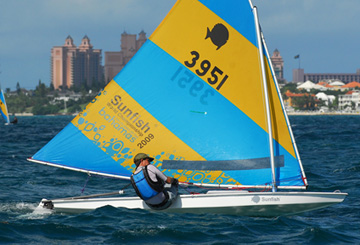 Learn more about the Sunfish Class History