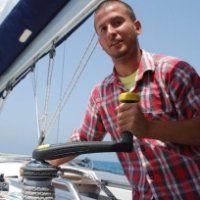 Sail1Design sat down with Lior Lavie, coach of the US Optimist World Champion Team Race Team (see article). This is the first time a US team has won the team race worlds!
Tell us a bit about yourself. Where are you from, how did you start sailing, and how did you begin coaching?
I'm Lior Lavie, born and raised in Israel in a small village name Michmoret. I've started sailing Opti's at age 7 in my local sailing club, and then moved to the club next door Sdot- Yam sailing club, where is sailed 420's and 470.
As you know in Israel after graduation from high school every boy and girl needs to serve 3 years in the Israeli army. I was fortunate enough to be included in a special athlete program that allowed me to continue sailing and representing my country in the 470 Olympic class. After those 3 years, my crew decided to go study and our Optimist coach at the club, Shahaf Amir – former 470 world champion, told me that he want me to become the new Opti coach at Sdot Yam sailing club. And sure enough I agreed and started coaching.
Were you yourself an Optimist sailor, and if so, how far did you take it?
I've been sailing Opti's and was the national champion in last two years of my Opti career. Israel does not have a lot of money to send the team to IODA World championships, but I've represented my country in the IODA Europeans.
How did you become the US Optimist Team Race Team Coach?
At the end of 2012 I moved to the US, and started coaching in Miami. During the summer of 2013 I was chosen to coach my first US international team at British Nationals in Largs, Scotland. I've continued being involved in the Opti class in the states, aka USODA and coached several IODA continental championships. Twice IODA Europeans, and IODA South Americans. This year the committee of USODA picked me to coach the team the will participate at IODA World championship. This was the first time I coach at that event.
Can you introduce us to the team? You had five members, yes? Tell us about them.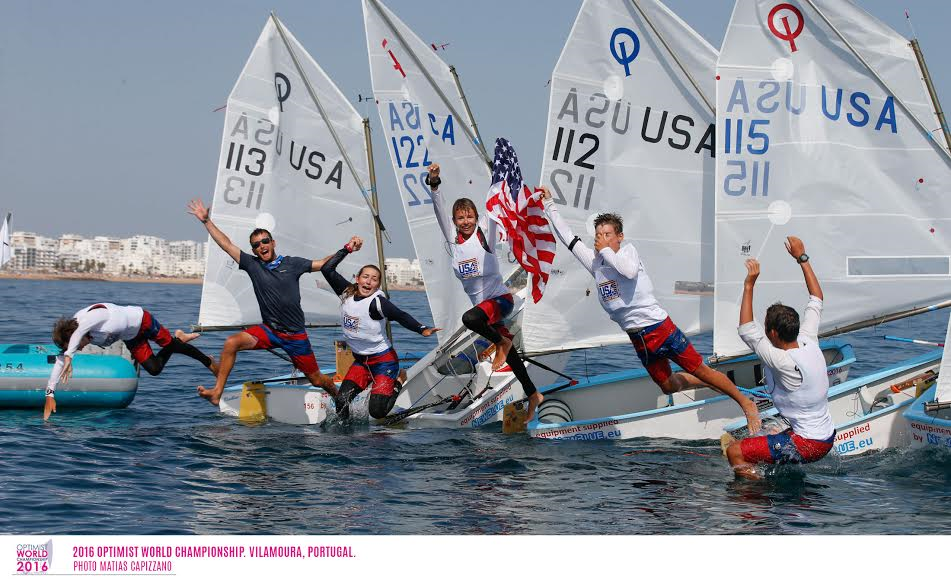 The team is formed based on the results of USODA Team Trails the was held this year in San Francisco. The top 5 finishers get the "ticket" or spot to represent the US at the World championship. Here are the team members by order of finish at Team Trails.
– Justin Callahan: Justin is 13 years old, from Cape Coral FL. Justin has a twin brother Mitchell that is his best training partner and pushes him to his limits.
– Zane Rogers: Zane is 14 years old, from Kemah, TX. Zane is a great Opti sailor that masters the art of efficiency. His equipment is always the best, and his professional attitude and consistent sailing takes him a long ways
– Sam Bruce: Same is 14 years old, from Severna Park, MD. Sam's attitude is quiet, calm and does not let the surroundings get to him. Very mature sailor and also has a twin brother that just couple days ago finished 4th at IODA Europeans championship.
– Thomas Hall: Tomas is 13 years old, from Philadelphia PA. This was Thomas 3rd world championship in a row. And the only sailor in the US history to win the Nations Cup twice! (It has been won only twice, and in both Thomas was part of the team).
– Bella Casaretto: Bella is 13 years old, from Fort Lauderdale FL. Bella is the lady in our team, bringing the feminine spirit and balance to the competitive boys. Bella had demonstrated throughout this event strong mental skills and sportsmanship like no one else has.
Fill us in on the regatta in Portugal. What were the highs, and the lows?
We flew to Portugal 14 days before the first race of the championship. This is a long time to prepare the sailors to peak at the right moment. It takes a lot of understanding of the dynamics of the team, and how the sailors are feeling. To make a note, we've sailed 20 out of 22 days we were in Portugal. Probably the most difficult part for me as a coach was to keep the team focused and sharp. That saying, sleep enough, eat properly, not fight, respect each other and the other competitors and always stay low profile until they cross the finish in the last race of the championship.
The highs of course were winning "Nations Cup" – this trophy is given to the best performance country in the fleet racing championship. They calculate the finishes of top 4 boats of each country and who ever has the lowest points wins. As a coach, and for the country this is the most prestigious trophy. And as well, winning Team Racing World Championship. The race against Singapore (which are ranked number 1 in the world was probably the most intense moment for us as a team). Our sailors were the only undefeated country.
This is an historic achievement. No US team has ever won the Opti TR Worlds. How does it feel as the coach?
It feels great. I'll be honest and say that I come from a country without a big team racing history. And I got exposed in the states to the art of team racing. I was lucky enough throughout those 3 and half years I'm here in the US, to work with great team racing coaches and learned a lot from them. It is an historic event in modern sailing and very hard to achieve.
Where do you go from here as a coach?
As I write this I'm currently in Newport RI, but after IODA Worlds, I flew to coach Antigua and Uruguay at the IODA North Americans where we won first place over all with Uruguay – amazing achievement by itself. And now getting ready to head to Houston for the US Optimist National Championship.
Why is the Optimist such a popular boat for kids? Are there any downsides to the boat and class?
I guess it's cheap, and there are so many boat builders around the world that it makes it very accessible. I think that the Opti is the worst hydrodynamic object to sail on. With its trapezoid hull and flat square bow plus the combination of HUGE foils compared to size of hull is very difficult to sail fast. Saying that if you are able to make it go faster than the boats around you, then there is something special in that sailor. That's my opinion. Speed = able to execute strategy and tactics.
What words of advice can you give to both coaches and young sailors about international team race competition? 
For coaches – be engaged with the team. Coaching is also off the water.
For sailors – respect your teammates, understand that everyone is trying the best they can and might do mistakes. DO NOT criticize your team mates.
Finally, congratulations on this incredible achievement. Do you think this is the beginning of a better presence for the USA internationally, both in Optimist sailing and beyond?
If you look at the last year in Opti sailing at the IODA Continental:
IODA Europeans – Gold Medal
IODA South Americas – Bronze Medal
IODA North Americas – Gold Medal
IODA Worlds – Nations Cup & Gold Medal Team Racing
Bronze medal at the IODA Asians championship.
These are only top 3 finishes without counting others in top 10… but as we know life keeps going on and new generations come forward and do their best 🙂
Thank you very much…
Lior and Maya (my sailing coach dog)