Over a decade ago, Sail1Design was born as a resource & classified site for one-design and performance sailboats, gear, and more. In that time we've grown so much, adding Airwaves® News, and of course our Career Center & Job Board (www.sailing.jobs). But let's go back to the beginning.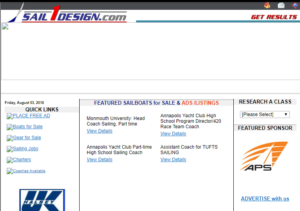 Did you know that S1D is the official classified site of the US Club 420 Class Association, and the US Optimist Class? What's more, we work closely with both US Sailing, the Interscholastic Sailing Association (ISSA), and the Intercollegiate Sailing Association (ICSA) to help programs sell and buy fleets of boats, and more.
Here are some recent postings, which gives a sense of the diversity of our site, and please contact us if you need help selling!!
Our site, was, is, and will remain free for boats under 25′. While we do have a featured ad service which requires a very small investment, it's not a requirement.
Our client and mailing list has grown enormously over the years, and we are directly connected to most every sailing club/yacht club/collegiate/interscholastic program in the country. Using our marketplace is a highly effective and efficient tool to market your sailboat, RIB, powerboat, gear, or want ad. We even have small businesses for sale on our marketplace! Borrowing our old tag line, Get it Seen, Get it Sold: Get Results.


Please consider using Sail1Design as your sailing marketplace. We also offer professional brokerage for larger boats. and we are always looking for new listings. We have an outstanding track record selling RIBS, sailboats, and more!! Want personalized, effective, and dedicated professional service? Email brokerage@sail1design.com