Shelter Isalnd Yacht Club is looking Sailing Coaches for the Summer of 2019. We have a few positions open teaching 420s, Lasers, Optis and Match Racing. For more information and to apply CLICK HERE.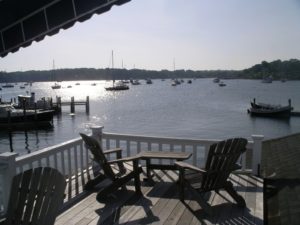 The Shelter Island Yacht Club is situated in Dering Harbor, a sheltered and beautiful harbor on the north side of the island. Designed with boating and racing in mind, the facilities are well suited for all boating activities as well as social gatherings of sailors and their families.
The Club facilities include two buildings: the main clubhouse which houses the dining room, the bar, and on the second floor, club offices. The second floor also has a porch which affords lovely views of the harbor across to Greenport.
The Junior clubhouse sits behind the main clubhouse and, on the second floor houses the Junior Sailing facilities as well as showers for visitors.
Adjacent to the Junior Clubhouse is a hoist which is used for boat launching. In addition, there are two ramps used for boat launching on either side of the Junior Clubhouse.