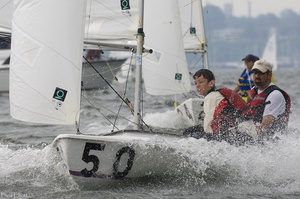 A competitive but friendly and often family-oriented class association, and a long history of great events, what's not to love about the Snipe?
Designed by William Crosby in 1931, the Snipe is simple and small, making it easy to sail and trailer. The boat is recognized by the ISAF as an international boat. It is sailed in 26 different countries. There have been over 30,000 Snipes constructed worldwide.
Although the Snipe Class has some of the best competition in the world, the class has not lost sight of the importance of social events and, in fact, many regattas are as well known for their parties as they are for their racing. The global Snipe slogan is "Serious sailing, Serious fun".
loa 15.5' 
beam 5'
sail area 128 ft²

spinnaker area n/a
hull weight 381
crew 2
# of boats built 30,000 +
active US fleets MD, FL, CA, MA, CT, RI, VA, NY
Class website:
http://www.snipe.org/