College sailing lost a legend last week. Harold (Hatch) Brown passed away last Wednesday and our sailing community is a little less whole. Brown was the Sailing Master and Head Coach at MIT for almost three decades. His contributions to our game live on and his impact can be felt through the spirit of College Sailing today. Brown was 86.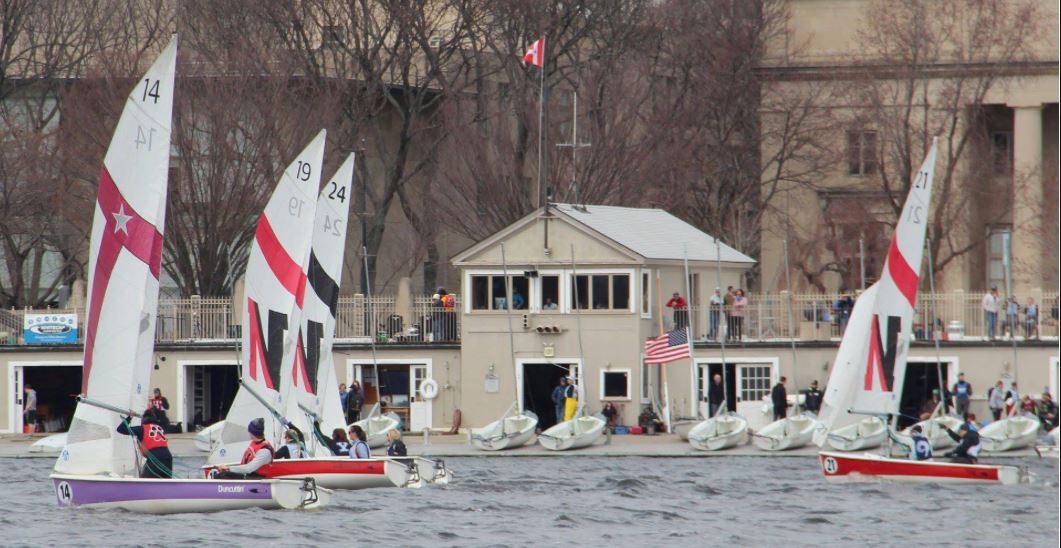 #8 Harvard University won the Thompson Trophy hosted by Connecticut College. The three division, 36 race event was one of two premier coed fleet race regattas last weekend as the ICSA largely switches gears for an abbreviated fleet race focused season. Harvard stepped up and won decisively amid trying conditions. Their 69 point margin of victory was a team effort, but the Crimson's C-Division boat, Eli Burns '21 and Kevin Coakley '18 managed, still, to stand out. The tandem put together a scoreline with 11 of 12 races in the top-3, totalling 32 points, 40 points ahead of second place.
#7 Stanford University finished second with 259 total points.
#18 Coast Guard Academy finished third with 264 points. Coast Guard's Mack Fox '20 and Brian Nelson '21 won A-Division with 70 points through 12 races. The duo for the Bears managed consistency in inconsistent conditions, finishing with only 2 races in the top-3 but also only 2 races outside the top half.
#9 MIT's Trevor Long '19 with Julia Cho '20, Marcus Abate '20 and John Ped '21 won B-Division with 59 points through 12 races. The Beaver's B-Division boat scored only one race outside the top half and totaled 6 races in the top-3. Long, Cho and Ped finished extremely strong with nothing but top-5's in the last 6 races, totaling 14 points in the second half of the event.
"Our results at the Thompson and Owen proved that we several pairs who are capable of fleet racing at the highest level," said Harvard University Head Coach, Michael O'Connor. "After a very disappointing result at the Fowle Trophy, our entire team is determined to qualify for the other two National Championships. We focused all week on getting good starts that enabled us to be in phase at all times. At the Thompson that skill was important."


Photo taken from NEISA's facebook page
#17 Old Dominion University won the Navy Spring hosted by the United States Naval Academy.  After starting slowly, the monarchs of ODU turned it on in the middle of the event and stormed past College of Charleston for the regatta win. After race 7-B of the 36 race regatta, the Monarchs put up 11 top-3's in the last 22 races across both divisions, finishing second in both A and B divisions. The team effort showed the strength of Jeremy Herrin '18 with Carter Little '18 in A-Division and Jack Elkin '19 with Stephen Guglielmo '19 and Gavin Burkhart '20 in B.
College Sailor of the Year frontrunner, Stefano Peschiera '18 with Grace McCarthy '18 and Oliver Parsons '21 won A-Division with 101 points. 9 points ahead of ODU's Herrin and Little, Peschiera, McCarthy and Parsons put together an impressive scoreline of their own with only 3 races outside the top-10 and 8 races inside the top-3.
Lewis Cooper '21 with Kaisey McCallion '18, Lydia McPherson-Shambarger '19 and Thomas Walker '21 of St. Mary's College won B-Division narrowly over Elkin, Guglielmo and Barkhart of ODU.
#6 Charleston finished second with 224 total points, 8 points behind ODU. The home team, #10 Navy finished 3rd with 226 points.
University of Wisconsin won the MCSA Women's Championship hosted by University of Michigan in dominant fashion. The one day, 9 team event totalled 20 races and sent 4 teams to the ICSA Women's National Semi-final regatta hosted by Old Dominion University, May 22-23.
The championship event was intense featuring "gusts up to 20 knots" and "1 to 2 turtled boats per set," according to the regatta report. Racing was cut short due to an even windier and colder forecast for the scheduled day of racing on Sunday.
The Badgers of Wisconsin won both divisions and 14 of the 20 races. The Badgers had no races outside the top 3. Andrea Sullivan '18 and Maggie Houtz '19 won A-Division and Carolyn Keck '19 with Emma Zalog '20 and Rebekah Janssen '21 won B-Division.
University of Michigan finished second with 42 points. Notre Dame finished 3rd with 73 points. Minnesota finished 4th, capturing the final berth to the Women's Semi-Finals with 96 points, 2 points ahead of Northwestern in 5th.
#5 Stanford University won the PCCSC Women's Championship hosted by Stanford University.  The seven team event was sailed with both division competing together on the water. 28 races were sailed over two days. Stanford won big with only 117 points, 70 points ahead of second place UC Santa Barbara. The decisive victory for the Cardinal came behind a dominant effort from Julia Lambert '18 and Christina Sakellaris '21, both sailing with Victoria Thompson '21.
University of Southern California finished third with 193 points and Hawaii finished 4th with 211 points. The top 4 finishers at the event go on to sail the ICSA Women's Semi-Final regatta held at Old Dominion University in Norfolk, VA, May 22-23.
Tulane University won the SEISA Women's Championship hosted by University of Texas. Racing was reduced to just Sunday of sailing due to high winds sustaining 25 and eclipsing 30 knots.  The 12 race regatta fielded 6 full teams and one team sailing only in B-Division. The teams finishing first and second place at the regatta would punch their ticket to the ICSA Women's Semi Final regatta.
Tulane was tough to beat, finishing with nothing but top-3's throughout both divisions. A-Division was won by Mary Berg '20 and Grace Bloomfield- finishing with 9 points in 6 races. B-Division was also claimed by the Green Wave as Catie Cullen '20 and Katherine Robinson '19 beat out the home team narrowly for the division win.
The Broncos of Central Oklahoma finished second with 26 points, claiming the second and final berth to the semi-final regatta.

Photo by Veronica Owen
Western Washington University won the NWICSA Women's Qualifier. The 5 team event was a 2 team battle throughout.  Western Washington's A-Division dominated. Chloe Dawson '20 and Camille Ottaway '20  scored nothing but bullets in the 7 races sailed. B-Division was claimed by University of Washington's Shaan Shridhar '19 with Veronica Owen '18. The B-Division victory by the Huskies made things interesting as Western Washington was only back by 1 point going into race 6A. The Viking took care of business, however, winning all of the last four races of the event. Western Washington finished with 21 points and University of Washington,  26. Both teams will travel onto Norfolk for the Semi-Finals after their performance at the conference championships.
The NWICSA receives one berth to Team Race Nationals which makes the NWICSA Team Race Qualifier an intense event. With 4 teams all vying for a spot at the big dance, the pressure is on. The format was to be a double round robin and the University of Washington Huskies went through its conference twice with only one race dropped.
The Huskies went 5-1 throughout the event, 1 loss ahead of the Oregon State University Beavers. In the first meeting between the two teams, the Huskies won with a 1-2-6, showing their speed. In order for the Beavers to have a chance they would have to take down the Huskies in the second meeting of the teams. The second race was a close battle, finishing in a 2-3-5, about a close as a team race can be on paper. The Huskies took home the narrow victory and an opportunity to compete at a Team Race National Championship.