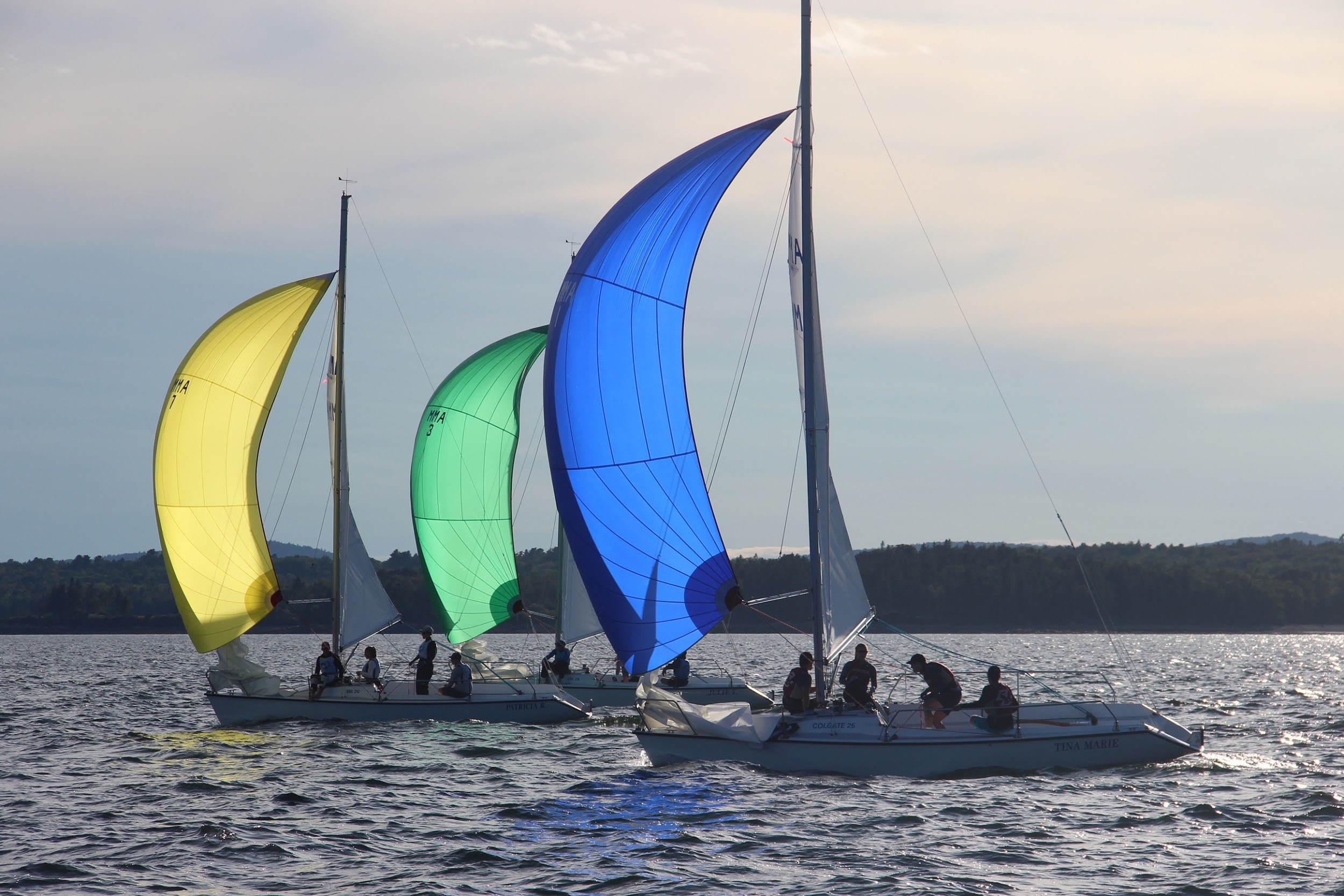 The College Sailing season is upon us and with it came the end of summer as hot, sticky air was replaced by cool conditions reminding sailors of moments preparing in the boat park, listening to halyards rattle as anxieties heighten. Hopefully you are as excited as I am.
This newest edition of the college sailing season comes with a new adjusted schedule that begins with three weeks largely consisting of intra-conference regattas that, perhaps, will make new feel like old.
"Opening weekend provided wonderful conditions at all venues with North or NE winds ranging from five to fifteen both days," said Tufts University Head Coach, Ken Legler, a tenured steward of college sailing. "September in past years often brought one day of nearly calm but a big Canadian Maritime high pressure system ensured great racing both days."
Mr. Legler aptly described the conditions at Yale Corinthian Yacht Club for the Harry H. Anderson Jr. Regatta. The home team, Yale came away with the victory, narrowly beating the Terriers of Boston University, 152 total points to 159 respectively. Yale's victory was solidified by a impressive performance by Claudia Loiacono '21 and Shawn Harvey '21 in B-Division. The tandem won the division by 27 points, sailing the shifty conditions with only one finish outside the top-10 and 6 first place finishes in 16 races.
Robby Gearon '19 and Lexi Pline '19 won A-Division with 65 points. The defending National Champions, MIT finished third at the event with 176 points.
Conditions were decidedly different in New England than they were in St. Petersburg, Florida, where a southeasterly breeze swung to south as afternoon thunderstorms brought some breeze to the SAISA Women's Open. The national runner-up, College of Charleston returned to their natural form as leaders of the Southeastern Conference, winning the event with 41 points, 15 points better than the 56 points by University of South Florida.
Alie Toppa '20 and Annabel Carrington '19 won A-Division handily, stringing together 9 straight first place finishes. Twin sister, Liza Toppa, sailing with Caroline Bracken '19, won B-Division. Jacksonville University finished 3rd with 75 points.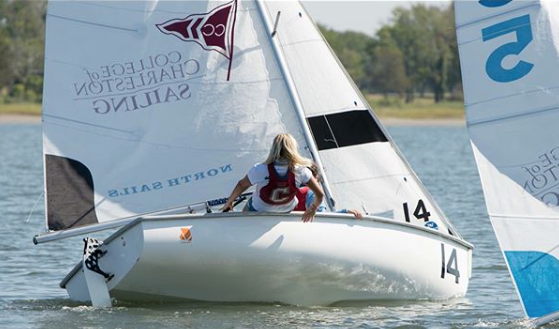 Cornell University won their home event, the Jack Boehringer '52 Memorial Regatta. The best wo teams in the northern region of the Mid Atlantic Conference (MAISA), Cornell and Hobart and William Smith squared off on Lake Cayuga with what looks to be both team's top boats. Cornell was one of the great surprises from last year, qualifying for all three spring national championships and HWS was one of the best teams in the nation throughout the season. Yet, Cornell got it done, winning A-Division decisively behind an impressive effort from Clark Uhl '19, sailing with Adeline Sutton '21 and Becca Jordan '21, who finished with 21 points and only one race outside the top-3.
"It was great to get an early season win," said Brian Clancy, Head Coach at Cornell. "We have a lot of work to do before the Championships in May."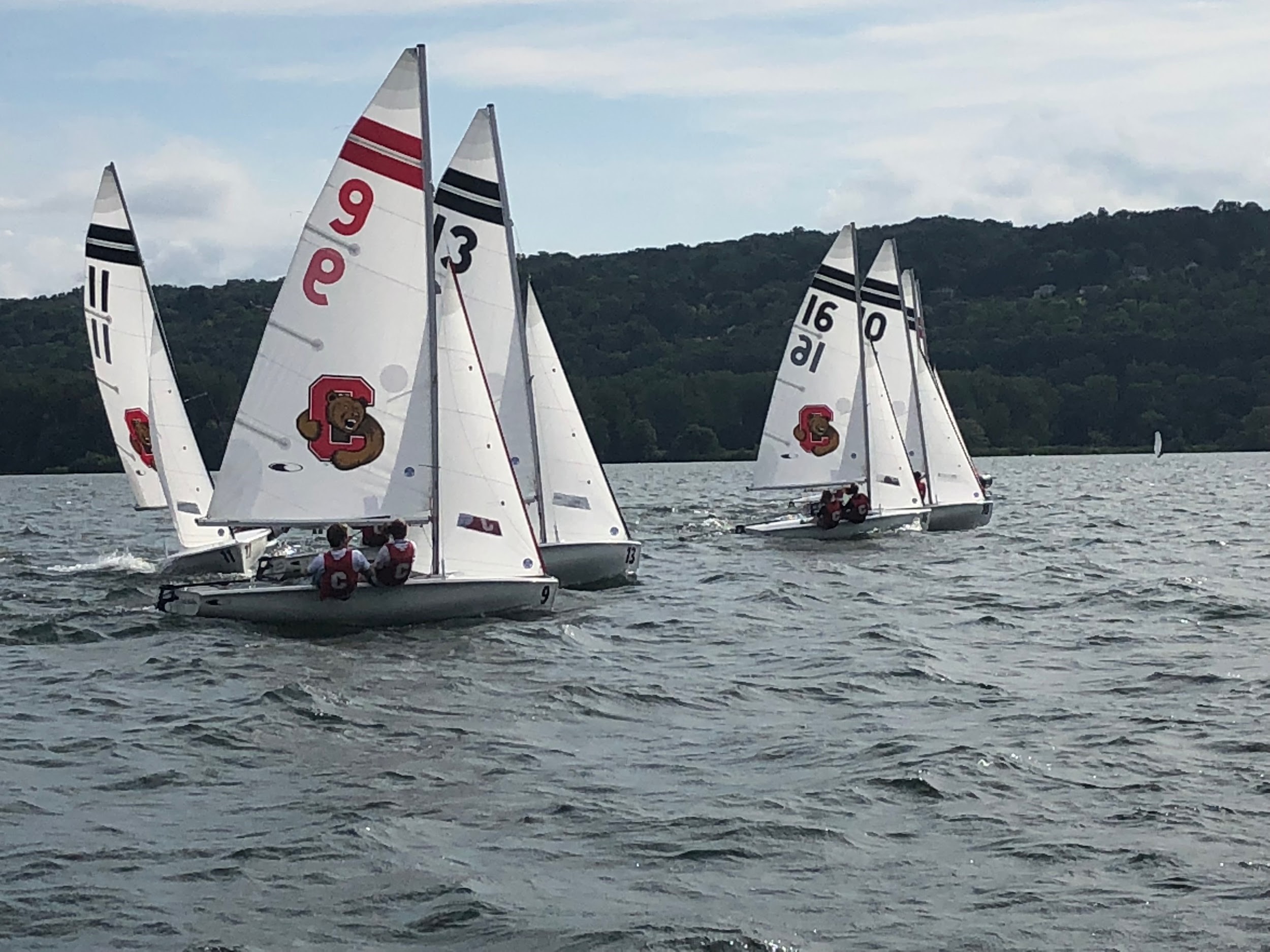 In the southern region of MAISA, Georgetown showed their depth winning both divisions of the Riley Cup with Andy Reiter '19 and Claire Mohun '19 in A and Jack Reiter '22 and Gwynie Dunlevy '20. The quality of competition should improve in MAISA once Cornell and HWS head south to meet the other powers in the Mid Atlantic.
The southern stretch of the Mid-Atlantic and the northern region of SAISA is bracing for a hurricane later this week. Regardless of what that means for racing next week, keep our college sailing friends in mind over the next couple days.
University of Wisconsin won the Fall Fury regatta hosted by Wisconsin. Winning both divisions, the Badgers finished by 30 points, 27 points ahead of University of Michigan. Charlie Kutschenreuter '19 with Olivia Staruck '20 and Peter Sauer '20 won A-Division and Noah Janssen '19 with Maggie Houtz '19 switched with Scott Sullivan '19 and Emma Zalog '20 to win the B-Division.