Sail Sand Point, May, 12 2019 — (report courtesy of the ISSA)Twenty teams competed in the 2019 High School Doublehanded Nationals on May 11-12 in Seattle, WA. With racing out of Sail Sand Point on Lake Washington, defending champs Point Loma HS (San Diego, CA) dominated to win the title, led by A Division winners Jack Egan '20 and Jonah Hatt '19 and B Division winners Diego Escobar '20 and Katie Olsen '21. The Mid-Atlantic conference completed the podium with Severn School (Annapolis, MD) in second and Christchurch School (Christchurch, VA) in third.

The 2019 ISSA Fleet Race National Championships (Mallory Trophy) was hosted out of Sail Sand Point in Seattle, WA this weekend. Thank you to our PRO Jonathan McKee, regatta chair Nino Johnson, and the many other volunteers who donated their time to help run this regatta.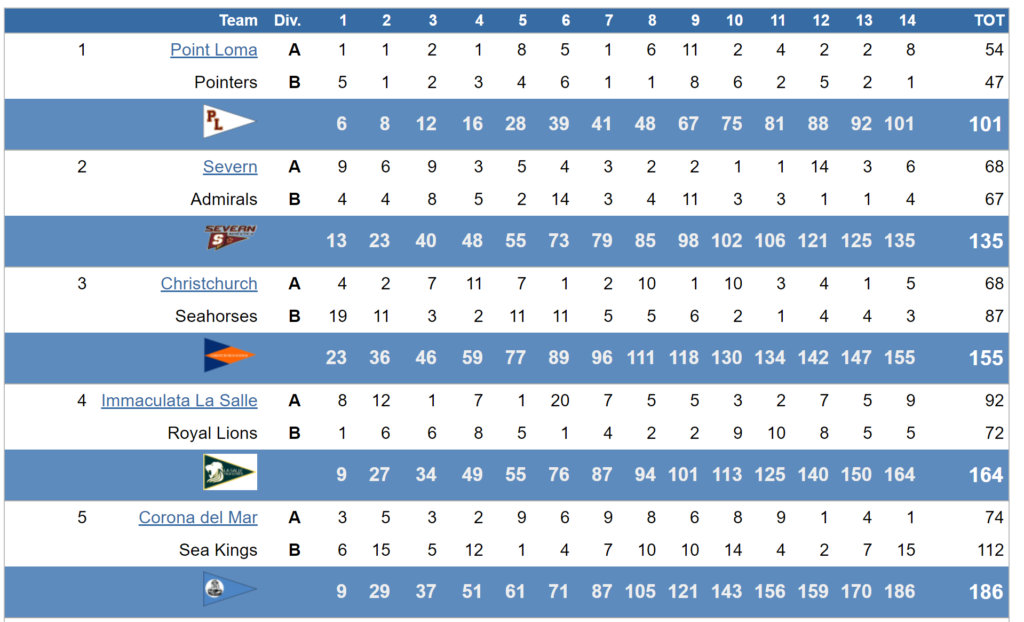 Saturday began with clear, sunny skies, warm temperatures, and a shifty ESE breeze 5 knot that averaged around 5 knots. Courses were adjusted to variable winds. Around 3pm the wind lightened considerably, causing a postponement of race 4B until a 8 knot SW wind filled in. Course was moved to account for new wind, then moved again for race 5B as the wind moved further south. Wind died around 5:45pm, at the end of race 5B, and the decision was made to postpone further races and then eventually call racing for the day. 10 races total were completed on Saturday, 5 in each division.
Sunday was the beginning of a new weather pattern, with overcast skies and cooler temperature. The wind was decidedly southerly, and at 8:30am the decision was made to have the course south, around Sand Point, and into better breeze. Coaches and substitute sailors were loaded onto the Maris Pearl, a tugboat that served as a rotation dock, and moved to the day's new course location. Races were sailed in an 8-10 knot S breeze until around 1pm when the clouds began to lift and the wind died down. The course was moved back to the location of the previous day to take advantage of a shifting 5-7 knot ESE breeze. Around 3:40pm the wind lightened considerably and moved south, causing an abandonment of race 15A and the postponement of 15B. As per the SIs, no races were started after 4pm, so Sunday ended with a total of 18 completed races, 9 in each division.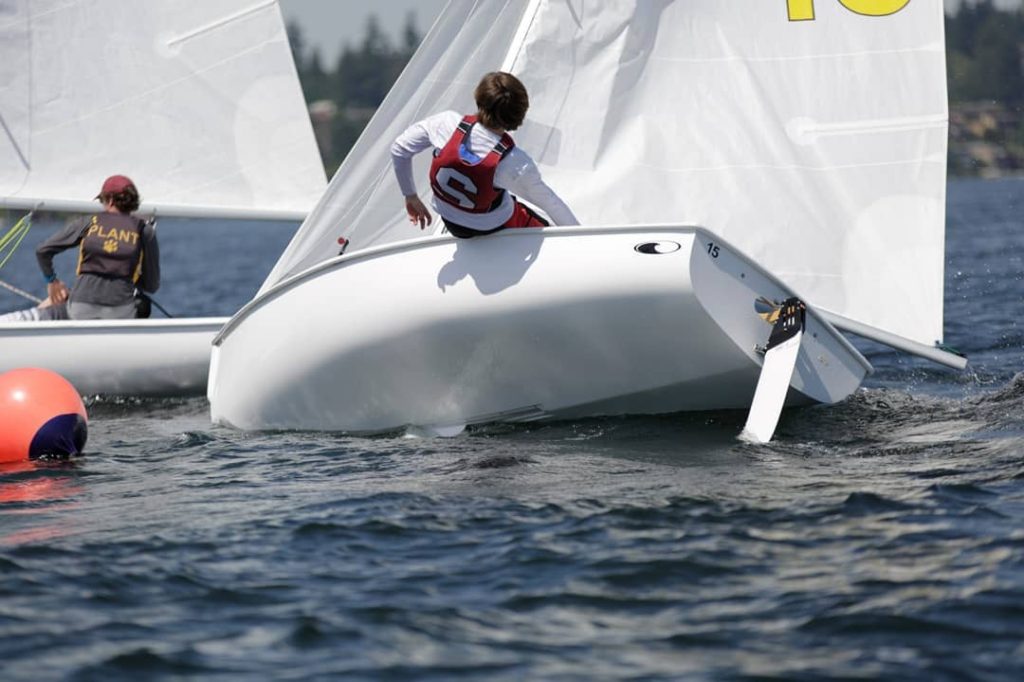 After a total of 28 races, 14 in A division and 14 in B division, Point Loma High School took home first place, followed by Severn School in second place, and Christchurch High School in third. Congratulations to those sailors and to all of the sailors that made it to the 2019 ISSA Fleet Race National Championships! Thank you to our PRO, regatta chair, race committee, and judges, as well as all of parents, coaches, sailors and volunteers who helped make this a great regatta!