BOB LAWRENCE'S NEFARIOUS DOMINATES CASELLA 2022 SONAR WORLD SAILING CHAMPIONSHIPS (June 16-19) ON LAKE SUNAPEE, NH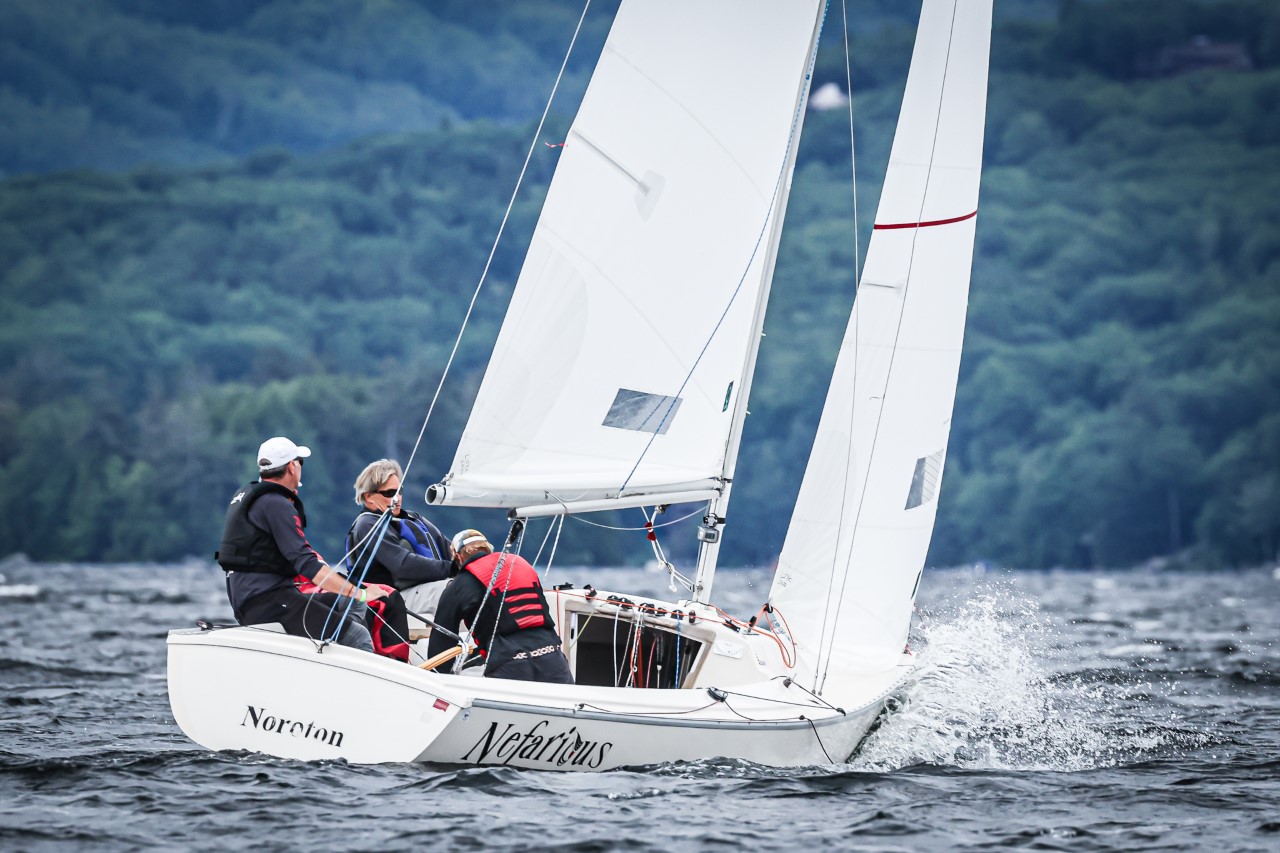 Sunapee, NH – (June 19, 2022) – Nefarious (USA 384), skippered by Bob Lawrence and Paul Sevigny with Victor Diaz De Leon and Willem Van Waay as crew, won six of ten races June 16-18 on Lake Sunapee, NH during the Casella 2022 Sonar World Championships.  Nefarious sails out of the Noroton Yacht Club in Darien, CT.  The regatta was highlighted by strong winds the first three days of racing averaging 15-25 knots.  Racing was cancelled the final day, Sunday, June 19, due to even stronger winds.  Second place went to Ping (CAN 754) from the Lunenburg Yacht Club in Lunenburg, Nova Scotia, Canada, skippered by Andreas Josenhans, and third place went to Resonance (USA 787) from the host Lake Sunapee Yacht Club, skippered by Brian Doyle.  Nefarious finished with 11 points, Ping 26 points and Resonance 27 points.
Bob Lawrence's said about the Championship, "I was fortunate to have been able to team-up with Paul for this regatta and he brought along two sailors, Victor ad Willem, who are no strangers to the podium. And, although the point spread may not show it, the racing was very tight throughout the racing. And, sailing on Lake Sunapee was a joy, with brisk winds making the sailing challenging with gusts into the 30s on Saturday, good sea states, and challenging wind shifts that kept us all on our toes. Our focus on speed, boat handling and minimizing tactical risks resulted in this win. This was team effort and I was thrilled to be part of this team. This was a big regatta for a small club and everyone turned out to help. Many sailors remarked on how warm, hospitable, and welcoming everyone was. It's encouraging to see how this kind of volunteerism continues to exist at this clubs."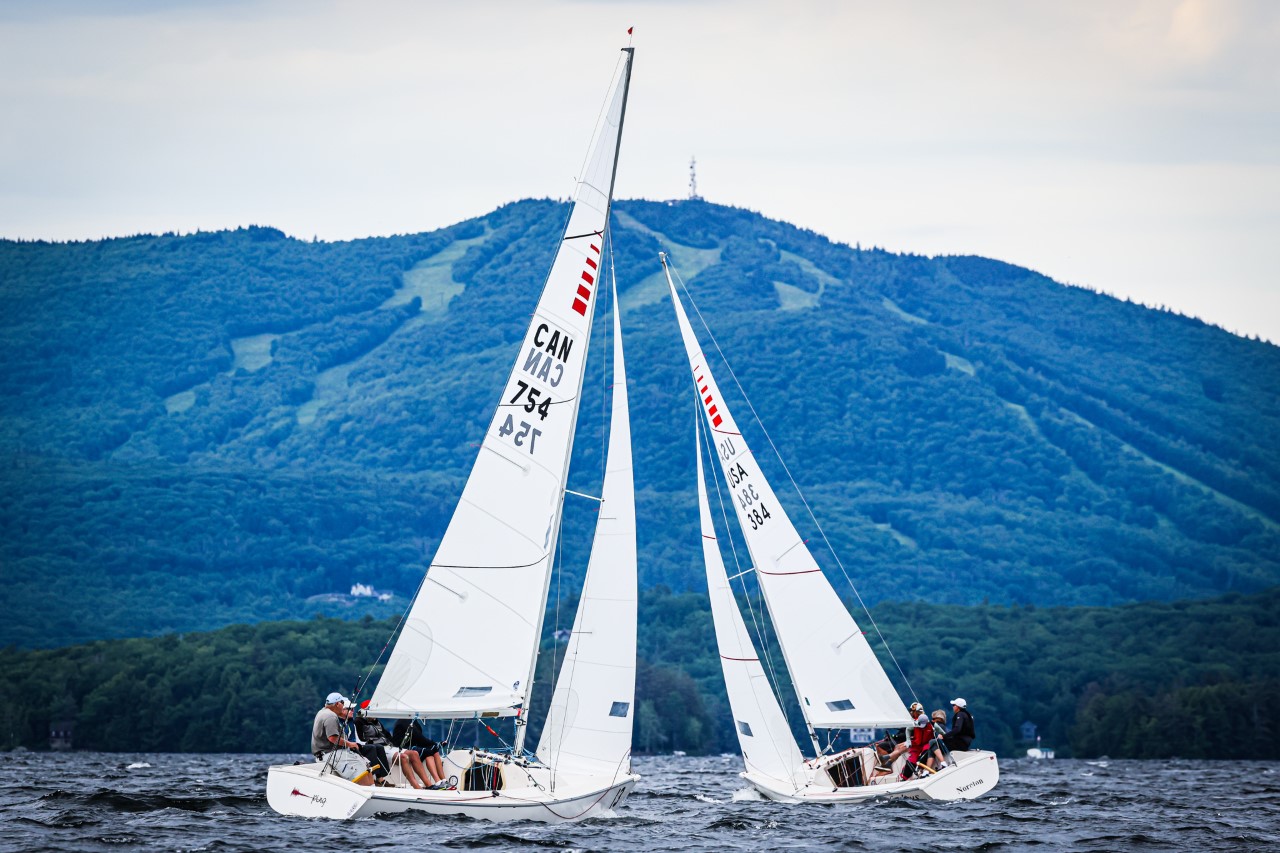 At the debrief after winning the second day, Andreas Josenhans noted, " As a blue water sailor, it's nice to see how challenging lake sailing can be. I have new respect for all those who sail regularly on lakes, especially those who sail on Lake Sunapee."  Noroton Yacht Club's Fleet Captain Jan Raymond said she'd like to see more regattas on lakes."
Dawn Shumway, President of the International Sonar Class Association, continued, "The five teams that came from Rochester, NY, loved sailing on Lake Sunapee. The venue, the club, and the fierce competition were memorable. It was fun to bring everyone together again."
The Casella 2022 Sonar World Championships were presented by the Lake Sunapee Cruising Fleet and hosted by the Lake Sunapee Yacht Club.  Twenty-two Sonar Class sailboats from as far away as Minnesota, Florida, and Nova Scotia sailed in the regatta.
YCN Now, the region's local TV station and network, aired 15-minute daily recaps of the three days of racing on YCN Live.  The recaps are also streaming on the YCN Now website at YCNnow.com.  There is some dramatic drone footage of the racing, beautiful Lake Sunapee and the surrounding mountains including Mount Sunapee Resort. Additional video coverage is available on YouTube.
Bob Lawrence, currently Commodore of Noroton Yacht Club, closed by saying how proud and honored all the Noroton Sonar sailors that this World Championship trophy is returning to the home club of Bruce Kirby, friend, competitor, mentor and designer of the Sonar, within a year of Bruce's death.
Thanks to the support of over 40 local businesses and individuals, including the Title Sponsor, Casella Waste Systems, Inc., the Lake Sunapee Region was able to host this exciting world-class event.
A Sonar is a 23-foot one-design racing sailboat designed by naval architect Bruce Kirby.  Sonars have been an active international racing class since 1980.  Typically, there is a crew of four onboard for racing.
For complete results click on the link below.
2022 Sonar World Championship on Yacht Scoring – A complete web based regatta administration and yacht scoring program
Photo Credit John Quackenboss:
Nefarious (bow# 21) heading windward on a port tack
Nefarious and Ping crossing tacks with Mount Sunapee Resort looming ahead
Nefarious in tight quarters at the start