By Airwaves Senior writer Taylor Penwell
An Interview with Executive Director Brandon Kass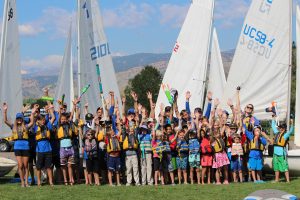 What is the Community Sailing of Colorado?
We are a nonprofit organization committed to make sailing accessible to all in Colorado. Our programs impact the Front Range Colorado communities through a variety of programs including adults classes, youth camps, junior race team, low to no cost adaptive sailing clinics, and free open house sail nights from April-October. In our mountain-based region, water is one of our most valuable resources. We are proud to be an organization that works hard to share a scarce watersport, such as sailing, with everyone we can.
How did Community Sailing of Colorado get its start?
Our founder Steve Frank wanted to provide access to sailing for children in Colorado after transplanting from the Boston area. His idea of CSC came from Community Boating, Inc., in Boston, where he learned to sail and found a passion for the sport. After moving to Colorado, he began soliciting donated boats and received a few old sailboats to run a couple youth sailing camps. This expanded into a full summer programs and eventually grew out of its initial location and moved into the Cherry Creek Reservoir. Community Sailing of Colorado was officially founded in 1994. Since 2010, we added new programs for adults and an adaptive sailing program for individuals with disabilities. In 2014, we added a second location in Boulder, CO and have ultimately doubled our programming.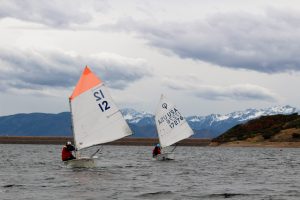 What is CSC's mission?
"Make Sailing in Colorado Accessible to All. Teach Skills, Build Confidence & Have Fun!"
What does CSC offer its members and the community?
Summer camps for kids, adult sailing classes, free weekly open house nights, free weekly adaptive sailing clinics, a beginner friendly competitive social sailing league, low to no cost outreach programs for partner organizations who serve at-risk populations and low to no cost adaptive programs for groups working with individuals living with disabilities,
Who is Brandon Kass and what changes have you made at Community Sailing of Colorado?
I grew up in a sailing mecca in the state of Iowa;). I was fortunate to have a public sailing club on the lake my family had a summer cabin on. At age 8, my siblings and I spent our first summer sailing with the Okoboji Yacht Club Sailing School. Lake Okoboji has a long history of racing scows and I quickly began racing as well. Ultimately, I became an instructor, coach and director of that program. After my first year of college, I had an opportunity to move to Southern California where I immersed myself in the sailing scene. I was fortunate to work with the Long Beach Yacht Club, Lido Isle Yacht Club and ultimately with a public sailing center called the Leeway Sailing Center in Long Beach, CA. This is where my love for a community program really developed by providing sailing for underprivileged youth in the area. After 7 years working and racing in California, I moved to back to Iowa to complete my degree. After that I found myself in Denver working in the hospitality industry when this opportunity of executive director of CSC came about. I jumped at this unique opportunity and haven't looked back. I still race (and own) scows competitively on my home lake when I can and also race keelboats in Colorado and around the country.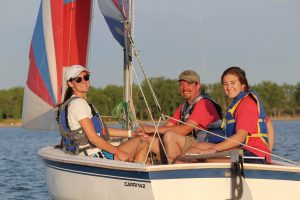 Here is a bit more about Brandon Kass from a previous publication.
At the helm is Iowa native Brandon Kass, who grew up sailing on Lake Okoboji in the "Iowa Great Lakes." He became an instructor at age 15 and had the opportunity to learn under the direction of Rob Coutts, older brother to acclaimed Olympic, America's Cup and professional sailor Sir Russell Coutts. Then at age 20, he relocated to southern California, where he worked for the Lido Isle Yacht Club in Newport, the Long Beach Yacht Club and the Leeway Sailing and Aquatics Center.
After seven years on the West Coast, Kass returned to Iowa to finish college and pursue a career in hospitality with Marriott Hotels, a position that took him to Denver. And in 2010, that's where his passions for sailing, teaching and providing access to the water took hold of him once again: A small local nonprofit was looking for an executive director to help run its summer sailing programs for a couple hundred kids.
Kass seized the opportunity, and under his leadership, Community Sailing of Colorado has experienced startling growth. When he started, the nonprofit served roughly 200 kids each season. Today, it serves almost 3,000 people annually.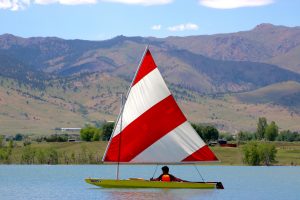 What is the sailing scene at Community Sailing of Colorado?
"Community" is the most important word in our title and it is exactly how we would describe our sailing scene. We are a nonprofit, non-yacht club, and non-membership based organization that truly values our community as a whole and we are incredibly welcoming to anyone and everyone who is even remotely interested in sailing. On any given day you may have a 5 year old out sailing at camp and turn around to see a 15 year old racing mid-afternoon followed by a 65 year old learning how to sail for the first time. One of my favorite things about CSC is when our programs merge and we have some of our Junior Race Team helping with an adaptive sailing night. To watch as perspectives grow and to see an appreciation for sharing a passion with someone new take shape, truly embodies what our community is all about.
Tell us about the Junior Sailing Programs
Our Junior Sailing scene is a combination of a few programs. We run summer camps that during the day for kids 5 – 17 years old. Then a couple afternoon each week we have a competitive optimist race team as well as a high school race team that sail from early April to late October. In addition, during the spring and fall we also offer an After School Adventure Sailing class for our juniors who are interested in learning to sail or even hone their skills.
Where are you located?
Colorado! No really, it's true. Cherry Creek Reservoir (12 miles south of Denver) and Boulder Reservoir (3 miles northwest of downtown Boulder)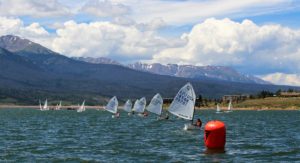 What does Community Sailing of Colorado offer to its members in the winter?
We have a huge gala fundraiser in the spring where we gather about 200 people from our community together for an incredible evening that includes an open bar, plated dinner, silent auction, live auction and fun activities (hint: this year we're getting a mechanical bull!) It's an awesome night and something to look forward to each year. We also have a movie night where we rent out a theater and screen a sailing related movie for our community. In year's past we've had someone involved in the movie Skype in for a live Q&A post screening, which is really fun. This year COYOTE is the film of choice and we're really excited about it. Other possibilities that aren't nailed down yet are a trivia night, and bingo brunch.
What sailing events are on the schedule for the upcoming season?
19th Annual Spirit of Sailing Gala Fundraiser | April 14, 2018 | Denver, CO
US Sailing Rocky Mountain Junior Olympic Festival | August 10-12, 2018 | Cherry Creek Reservoir
Boulder Junior Regatta | August 26 | Boulder Reservoir
Year End Fundraiser & U Gotta Regatta | September 8 | Cherry Creek Reservoir
Is there a weekly race scene?
We have a beginner-friendly competitive sailing league that runs two 5-week series in the summer at our Denver location. This is made possible through our partnership with Play Mile High. In addition, our sister organization, Denver Sailing Association, runs Wednesday night keelboat racing and Thursday night dinghy racing at Cherry Creek Reservoir.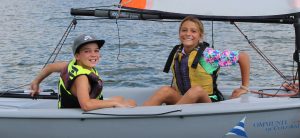 What important values does Community Sailing of Colorado hold?
Everyone should have access to sailing regardless of financial, physical or mental barriers. Community access to sailing is what drives our programs and is something we hold in very high esteem. We feel that sailing should not be an elite sport in which only a select few can participate given the inherent financial constraints. This is why we provide free weekly open house sailing nights for anyone to come out and enjoy. In addition to eliminating financial barriers we work very hard to ensure that our community members living with disabilities have the opportunity to go sailing at low to no cost as well. We host free weekly adaptive sailing clinics for individuals with disabilities and their friends or families to enjoy time on the water.
What would you tell someone interested in joining?
There is sailing in Colorado, and lots of it! If you are interested in learning how to sail, we can take care of that! We have sailing programs for children, adults and individuals with disabilities. Come try out sailing during one of our (12) free sail nights throughout the summer. This is an "open house" style event where one of our staff or volunteers takes individuals and families for a sail while providing some basic instruction. We also offer a junior racing program for those young sailors wanted to take their game to the next level.
Where do you see the organization in the coming years?
We would like to continuing building our adult programs and strengthening our junior programs. The next frontier for us is to continue to offer new adult programs that engage millennials, one of the fast-growing age groups here in Colorado. Eventually we would like to host adult racing classes for our sailors to transition into the local racing scene. Our hope is to also see our Adaptive and Outreach Sailing Programs expand and build new relationships with even more service-oriented organizations. One dream of ours is to host an inclusive regatta where all our sailors (abled and disabled) will race against each other and we don't feel we're too far away from making that happen.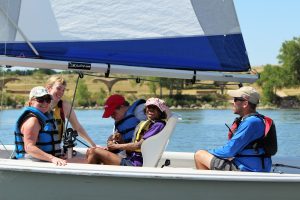 HISTORY OF CSC
Community Sailing of Colorado—CSC—has enjoyed over 22 years of teaching sailing on Colorado lakes. CSC was established in 1994 and soon after began teaching sailing on Standley Lake in Westminster, CO. The organization was created by Steven Frank, who recognized a need for a well-structured program to educate kids in the Denver area through sailing and water activities.
Today, CSC hosts sailing camps and classes for all ages across the Front Range from April through October each year. Throughout the summer, CSC offers weeklong Learn to Sail, Intermediate, and Advanced Sailing Camps along with Little Puffs Camps for first time sailors; allowing youngsters develop sailing skills in fun and challenging ways. Camps are conducted at the Boulder and Cherry Creek Reservoirs. We also host a growing Junior Racing Program to hone advanced sailing skills and techniques for those looking to compete in local, regional and national competitions.
Over the years, CSC has shared the joy of sailing with over 15,000 students since its inception with many of them receiving scholarships to participate in our programs. We pride ourselves on the countless number of community outreach events and free sailing opportunities we've held over the years. These opportunities allow us to partner with community organizations and share the joy of sailing with those who might not otherwise have the opportunity.
In 2011, CSC purchased two Access 303 Wide-Seater Dinghies, boats specially designed for adaptive sailing. This launched our Adaptive Sailing Program for individuals with physical and mental disabilities and set our organization along the path of developing this program to reach everyone in our community. Our Adaptive Sailing program has grown throughout the years to reach over 500 people in Colorado just this season. This is due to the many community partnerships serving individuals with disabilities. Our challenge as an organization is to continue to "Make Sailing in Colorado Accessible to All. Teach Skills, Build Confidence & Have Fun."