J/70
Since being launched in March 2012, the new J/70 'Speedster' has skyrocketed in popularity. Fleets have begun to pop up not only here in the US, but in Europe and Asia as well. This dynamic new racing platform is easy to control and maintain by sailors with varying skill sets. Whether you are looking for a one-design world championship or simply taking your kids out for an afternoon sail, the J/70 is safe, fast, and easy to handle.
The J/70, built by J/Boats and CCF Composites in Bristol, Rhode Island was designed to be the company's first trailer-launchable keelboat and to fulfill the needs of the constantly evolving sailing community. This incredible boat provides a fast, yet stable platform that entices speed freaks and family sailors alike. Although the one-design market is currently flooded with similar twenty-something foot racers, the J/70 stands out from the rest in no small part due to the careful design and planning process by the J/Boat team.
The J/70 is the first small keel boat to be built by J/Boats since the launch of the J/22 nearly thirty years ago. The boat measures 22.75 feet and packs a sail area of 226 square feet. The sail plan is simple; main, jib and a masthead asymmetrical spinnaker attached to a retractable composite bowsprit. The J/Boats design team has incorporated some unique features into their new keelboat. The J/70 features an open transom and spacious cockpit that allows the crew to move about freely and safely.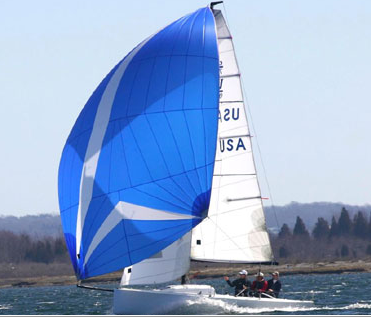 In addition, the lifting bulb keel makes trailering a breeze. This somewhat unique feature is perhaps the boat's greatest draw and broadens the range of events that racers can participate in.
With over 30 boats registered for the 2013 Quantum Key West Race Week, the success of the class appears to have come overnight. The quality of this boat is undeniable and it is likely that the class will grow to be one of the most popular in the coming years.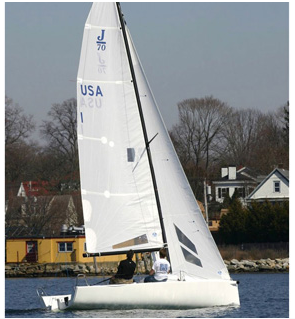 LOA: 22.75'
Beam: 7' 5"
Draft: 4' 9"
Displacement: 1,750 lbs
Sail Area: 226 ft2
Website:  http://www.jboats.com/j70/