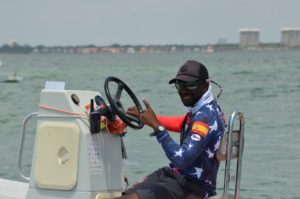 If you have been around the nations top Optimist events in the last few years, chances are you ran across coach Omari Scott. For those of you who know Omari, you know that he is beloved by his sailors and has a remarkable way of connecting with to lighten up the teams vibe. Omari has just wrapped up the Optimist European Championships as the coach for Team USA. The Team did exceptionally well with a top finishers placing 10th and 16th overall. Take a look to get to know a little bit more about Omari!
Q. Where are you from Omari?
A. I am from the beautiful island of Antigua.
Q. How did you start sailing?
A. I started sailing at the tender age of five where I attended a summer sailing camp with my older brother at the Antigua Yacht Club.
Q. What interested you about sailing?
A. Being from the Caribbean my interest was just to be on the water along with the excitement of navigating a boat on my own. My interest now comes down to how complete the sport is. Growing up I competed in many different sports at a high level, but sailing to me was the one sport where a person had to not only be physically and mentally strong, but also calls for an open and creative mind to deal with the ever changing factors. Because of this sailing is considered to me, the most complete and challenging sport in the world. Now as a coach, the interests above all remains the same, only now I enjoy imparting my knowledge of the sport to others and watching them improve using that knowledge. This gives me a real sense of enjoyment and accomplishment.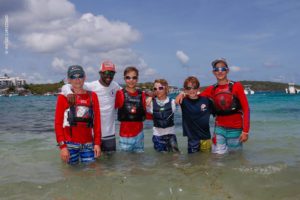 Q. Was junior sailing popular where you grew up?
A. On a small island like Antigua surrounded by water, one may think that sailing would be a massive sport, but believe it or not, many of the locals never even bothered to try the sport. It was also seen as a sport where there had to be a little more financial effort to experience it and because of this many locals would shy away from the sport. Luckily for my brother and I, our dad worked for the club and because of this we were able to experience the sport. Now in Antigua sailing is now the country national sport and is more accessible with the introduction of the national sailing academy that offered sailing as a P.E class to local schools and made the sport more reachable and affordable to all the locals.
Q. What type of boats did you compete in?
A. Growing up I competed in the Optimist and Laser Radials mostly, with the occasional yacht races as well.
Q. What were some of your highlights in your junior sailing career?
A. As a junior sailor some of my highlights include but not limited to, being the Antigua Optimist National Champion for three years in a row, winning the Caribbean Laser Radial Championships a few times, winning the Caribbean Dinghy Championships three times with team Antigua, and consistently placing in the top three at the BVI IC24 Youth Championships with team Antigua.
Q. Where did you go to college?
A. I attended Hampton University in Hampton VA. Here I earned a degree in Sport Management and was a member of the sailing team.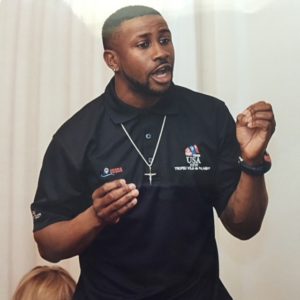 Q. What made your choice to attend Hampton University?
A. I selected this college for a few reasons. Firstly Hampton university was the only HBCU( Historically Black College/University) with a sailing team. Secondly after talking to the sailing coach at the university at the time many of the positives of being a part of the college and the team were highlighted, and thirdly just the idea of getting a higher education while being able to do the sport I love consistently at a high level was intriguing to me.
Q. What values did you learn in college sailing?
A. I learned many values as a student athlete in college. Having natural talent is awesome but having an even better work ethic will push you above the others. I also learned how to be more of a team player in the sport. Before college I only sailed single handed boats, once I got to college I had to learn how to be more of a team player and how to sail with others. I also learned a great deal about the management side of the sport and how to run a sporting program smoothly.
Q. When did you start coaching sailing?
A. To be honest I would always say that I started coaching when I was around thirteen. I say this because as the top optimist sailor in the country my coach will always have me attend the summer camps to teach the sailors and help everyone enhance their skills. As an adult I started coaching at age 20 where I would travel back to Antigua for the summer during my time in college and would coach, travel and sometimes compete with the Antiguan National team.
Q. What clubs have you coached sailing with?
A. I have coached at the Antigua Yacht Club, I was also the National coach of St. Lucia coaching out of the St. Lucia Yacht Club, and I also served as the National Coach of the British Virgin Islands operating out of the the Royal British Virgin Island Yacht Club.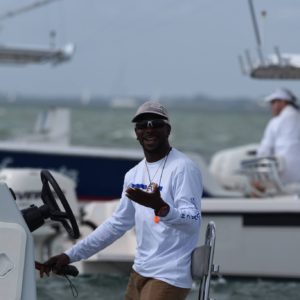 Q. Where are you currently coaching?
A. I currently serve as the Head optimist Coach at Coral Reef Yacht Club in Miami, Florida.
Q. Can you name all the IODA events you have coached at?
A. I have coached a few North American Championships and most recently the European Championships.
Q. What are some of your favorite drills for coaching?
A. I like doing the ordered start drill. This drill focuses on final beats where each sailor will have an opportunity to be ahead where they have to practice covering, protecting and staying ahead of the fleet and then being behind or in the middle where the focus is trying to pass boats ahead while covering and protecting the boats behind and not losing positions. I also enjoy the carousel drill. This drill focuses on the first beat and is design to have some sailors having really good starts, while others will not. The idea is to have sailors with good starts figure out how to stay ahead and extend on the first beat, the sailors with the not so good starts need to find a way back in the race by finding clear air, sailing the lifted tack, and creating some separation with the fleet to get leverage and passing lanes. One of my personal favorites would be double line elimination drill, where you have two start lines and the idea is to find the best starter as sailors got demoted to the second line for bad starts and good starts remained on line one. Each start the start line will get smaller which made starting well even more difficult. Eventually you would end up with only two sailors matching racing each other for the perfect start and the chance to be the winner of the drill. This drill is a great one as sailors are fully engaged and push each other the entire time.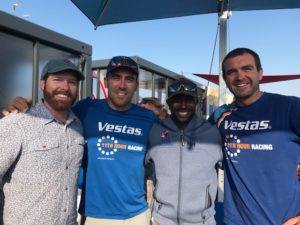 Q. What are some characteristics you look for in successful junior sailors?
A. Some of the major characteristics I always look for in a successful junior sailors are obviously natural talent, making sure that the sailors is doing the sport for fun and for themselves first and everything else afterwards. I look for a sailors ability to be a good sport and be respectful to his teammates. I also look for the sailors ability to be coachable, meaning not only hearing but listening and applying, the sailors ability to self coach, learn from others including the competition. Last but certainly not least the sailors ability to have a massive work ethic and an understanding that they have to work hard to accomplish goals. For me the larger the goal the bigger the commitment.
Q. I know there are a lot of highlights but what is one of your favorite memories from on the water coaching?
A. One of my favorite memories from on the water coaching, happened last year at the 2017 US Team Trials where two of my sailors qualified for the Optimist World Championships. Watching as the final race ended and the joy on the faces of those two athletes knowing that they have accomplished their goal that they worked so hard to attain was priceless. As a coached I shared the same joy and it was amazing.
Q. Now what name of your favorite memories from off the water with your sailors?
A. My favorite memory with my sailors off the water, would have to be the special day of my wedding, a wedding where we decided that we could not accommodate kids. Unknown to me my sailors were not going to take no for an answer and on that special day my sailors decided to crash my wedding sharply dressed in suit and ties. This to me was a really special moment as it really shows how my sailors really wanted to share the special moment of me getting married with me. That is a day I will never forget it was funny they way they did it and a great surprise to see them all.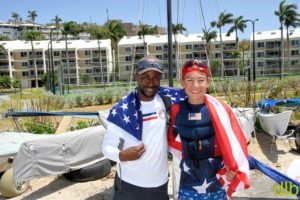 Q. Your sailors made a video for you recently. How did it feel to have them make that video for you?
A. To be honest that video brought a tear to my eye. The video made me feel appreciated and loved and tells me that i am not only affecting these athletes on the water but also as a role model and a life teacher. It really tells me that through all the hard times and lessons that these athletes really respect me and appreciates all I have done for them in the past. That video was by far the best gift I have received from any sailor as a coach and I really appreciate them putting it together. Thank you guys!!
Q. Did you see yourself coaching sailing as a career when you were in college?
A. To be honest while attending college the only thing I knew for sure was that I wanted to do something in the sport field because I knew I would enjoy it. Never thought I would become a sailing coach. It was after graduation spending a few years doing marketing, I found myself being confined more and more to the office space. This quickly became a problem and with that decided that I wanted to do something that does not feel like work, something I enjoy doing and showing up to each day. This is when I decided that a life of coaching was for me and to be absolutely honest it has been possible the best decision of my life.
Q. What goals do you have for this year for your sailors and the team?
A. My goal for my team has always been the same year in and year out and that is to help my sailors accomplish their goals in the sport, whatever that may be. I always push my sailors to believe that they can accomplish whatever they want with hard work and discipline. Each year I speak to each sailor about their personal goals and if I have five sailors say that they want to go to the world championships, my goal for that year would be to help them get there. I strongly believe that my goal as a coach is to provide my sailors with the tools they need to accomplish the goals they set for themselves and I always remind them that the rest is up to them. I enjoy watching sailors joy when they do achieve their goals and because of this take personal pride in their journey to that achievement.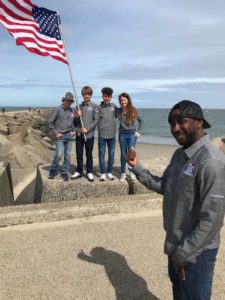 Q. What personal goals do you have for coaching this year?
A. Again, for me my personal goals for myself have to do with my sailors achieving their goals. When sailors achieve their goals then my goals are achieved as well. I believe that my job as a coach is to do just that. Helping the sailors achieve their goals in the sport, being a good mentor, teaching them life lessons through the sport and convincing them that they can achieve whatever they want through hard work, discipline and dedication.
Q. Where do you see yourself in 10 years?
A. As mentioned above working in sport has always been my avenue and I don't think that would change. I know that I want to continue coaching as long as I can, but recently have been thinking of high school and or collegiate coaching. I also see myself some day being the leader of a program, running it the way I think is best and creating the blueprint and structure for a program that would be successful for years to come. As a coach I give up a lot of time helping everyone on their path to achieving their goals. Going forward I see myself making more time to actually sail and compete myself.