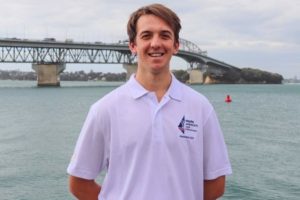 Alastair Gifford is making moves on the New Zealand sailing scene. The twenty-year-old South Island native's name has consistently been atop leaderboards since his days in the Optimist class, where was a member of the country's Worlds Team. Alastair competed in popular NZ junior classes such as the P-Class, the Starling, and continues to compete in the Laser class. He also competed in the Youth Worlds. In recent years he has been heavily involved with Youth Match Racing which helped him land a spot on the highly covenanted Royal New Zealand Yacht Squadron's Youth America's Cup Team. The event has been canceled due to the pandemic but hopes to be reinstated later in 2021.
The RNZYS received eighty-eight applications for the team, which was then reduced to seventeen, and then ultimately to twelve. Alastair and other members of the team had to endure a rigorous selection process that included intense sailing and fitness testing.
Alastair has been stacking up experience and success with match racing, having won the Price Alfred yacht Club's Harken International Youth Match Racing Championship in late 2019 at the skipper position. His team bested the number 20 team in the world.
We caught up with Alastair to hear more about his background and some of his thoughts on his sailing and experiences.
Where are you from?
I am from Blenheim, New Zealand. Blenheim is a small town on the top of the South Island known for its wine.
What is your home yacht club?
My home yacht club is the Queen Charlotte Yacht Club, located close to Blenheim in the town of Picton.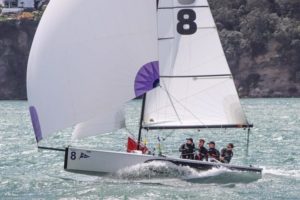 How did you get into sailing? How old were you?
I was 8 years old and my grandma signed my brother and me up to entertain us one summer.
What boats did you sail in your youth?
I started in the Optimist then moved into the P-Class, then the Starling. After those I moved to sailing Laser Radials and then team racing in 420's for the Marlborough Boy College.
What factors do you credit for your success in sailing?
Early on I had good role models that were succeeding internationally in the sport from our club. Taylor Burn was one who was a few years older than me and he was the first South Islander to win the Optimist Nationals. On days that I did not have organized club trainings, I trained on my own. My dad would bring me down to Picton almost every day after school so I could go sailing. This allowed me to develop my skills on my own and value the time with coaches and training partners.
What people played a major role in your sailing career?
My dad, he understood early on what kind of travel and training would be needed to succeed. All my coaches through the years who helped me learn and train to get where I am today and of course the fierce battles I had as a twelve-year-old with teammates from my club.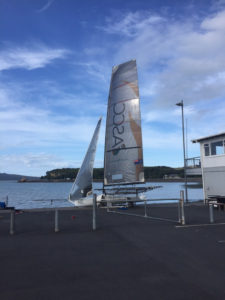 Who are sailors that influenced you?
All of the top NZL sailing team members I've followed over the years, such as Dean Barker and Peter Burling.
What are some goals you have for sailing?
I want to compete against the best sailors in the world in the best teams, whatever discipline of sailing that might be.
What keeps you driven with your sailing?
The opportunities that there are in sailing. The sport has so many opportunities to learn, grow, and compete. All the while doing it against the best sailors and traveling around the world to do it.
How did you feel when you got named for the NZ Youth America's Cup Team?
I was really stoked. The way the application process unfolded I did not think I was going to make the cut. It was extremely difficult and feel fortunate to have been offered a spot.
How are you training for the Youth America's Cup?
The plans are changing a fair bit at the moment. We are keeping fit and trying to race as much as we can domestically. We have adjusted to sailing and the Moth and the 18ft Skiff along with keelboat and match racing.
What is the plan for the team with the postponement of the regatta?
Keep training for fitness, we can always find things to get stronger on. And for me personally to get more experience in apparent wind classes which will transfer to the Youth AC boats.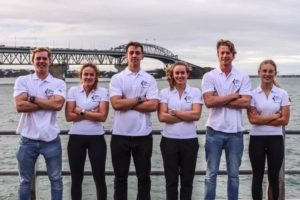 What advice would you give younger sailors?
Be sure to have fun and stick at it. Practice makes perfect.
What is your favorite quote?
"When the going gets tough, the tough get going!"
When you are not sailing, what do you enjoy doing?
I like watching more sailing videos!