Brought to you by Dynamic Dollies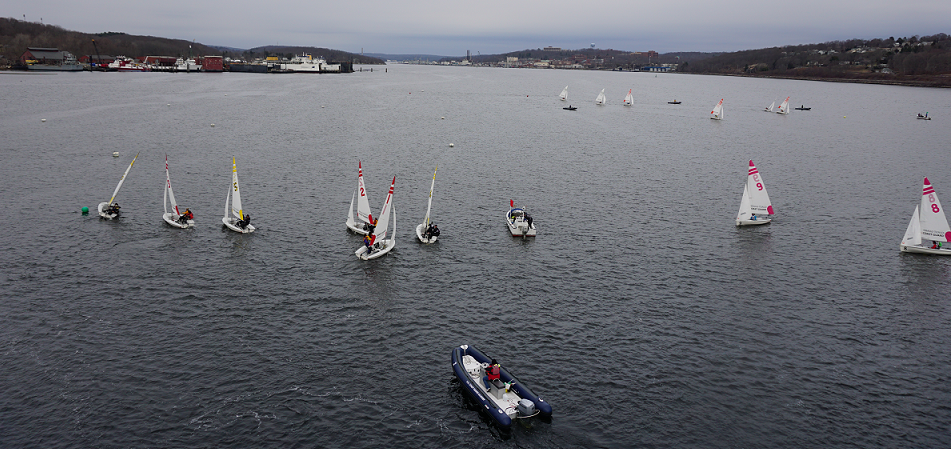 Another two weeks have gone by and another batch of exciting team race regattas.  Since our last rankings, we saw the major regattas: Jan T. Friis Trophy, Admiral Moore, Aaron Szambecki, and Lynne Marchiando.  Things got shaken up at the top, bottom and all in between in this edition's rankings.  This coming weekend, every school in our rankings except Stanford has their conference championship.  We will finally see who is best in their region, and who will make it to the Team Race National Championship hosted by the College of Charleston.  This year, MAISA and NEISA have four berths each to the championship and SAISA has two.  It will be an exciting weekend for sure! Tune in to Techscore to follow along as the racing happens.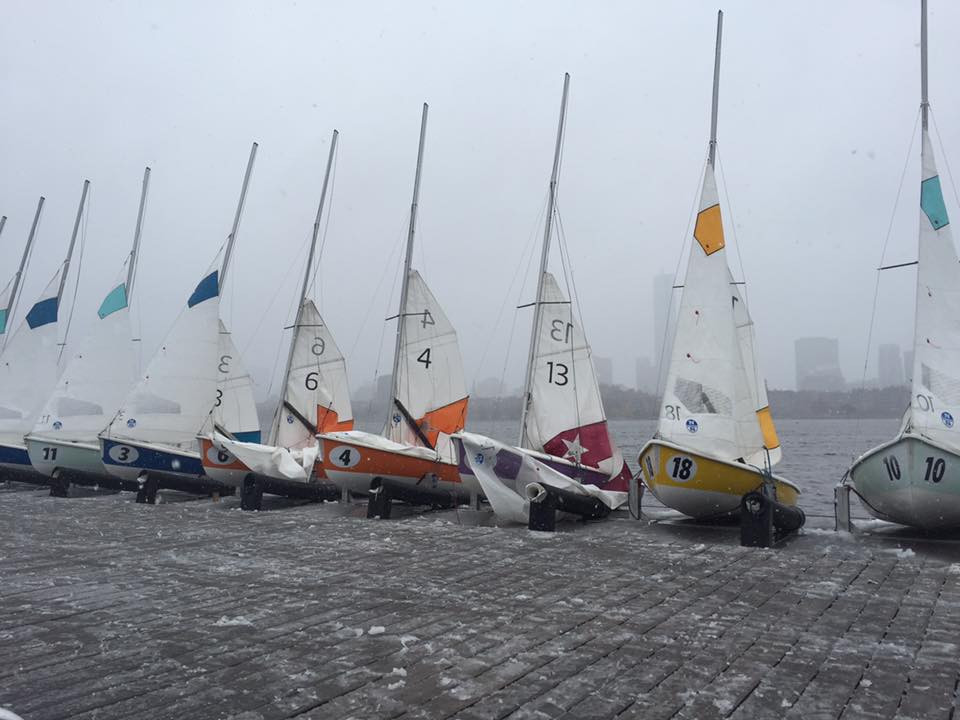 Coaches who participated in the poll ranked their top 15 teams in the country based on results from the previous two weekends and gave comments on each team.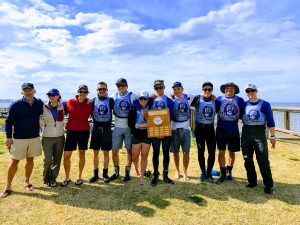 Rank
School
Total
1
Yale
75
2
Dartmouth
70
3
Boston College
64
4
Navy
59
5
Georgetown
56
6
Bowdoin
48
7
Hobart William Smith
45
8
George Washington
43
9
College of Charleston
30
10
Roger Williams
24
11
Tufts
23
12
Stanford
21
13
MIT
15
14
St. Marys
9
15
Old Dominion
8
Also receiving votes: Harvard, US Coast Guard Academy, University of California Santa Barbara
Coaches who participated in the poll: Ken Legler (Tufts), Bill Healy (Yale), Clinton Hayes (Stanford), Johnny Norfleet (Fordham), Dillon Paiva (Navy).
| | | | | | | |
| --- | --- | --- | --- | --- | --- | --- |
| Rank | School | Ken | Bill | Clinton | Johnny | Dillon |
| 1 | Yale | No longer undefeated but still the best | Dartmouth had their number at the cold and snowy Marchiando | Finally lost some races at MIT this past weekend but an undefeated win at the Friis 2 weekends ago keeps them on top | They may have slipped to mere mortal status this past weekend at the Marchiando but they are still the best team when they have their best three boats on the water | Still the best, but the gap between defending champions and the rest of the field has closed substantially |
| 2 | Dartmouth | Steadily climbing to 2nd in the Friis and 1st in the Marchiando | Jumps up the rankings with their performance at Marchiando,  quick to react to to make plays | Looking like a top 3 team these days! Looked better then Yale this weekend. | Came out screaming at the Marchiando and won convincingly. I don't think they're better than Yale but recent results put them as the clear #2 above BC | Huge win at the Marchiando right after a second place finish at the Friis, clearly one of the best in the nation, and will give Yale a run for their money at the Fowle this weekend |
| 3 | BC | Following a miserable Saturday (in more ways than one) huge Eagle Sunday | Things seems to go a little better with veteran Reineke around, 3rd at the Marchiando | A Little up and down this season but still sailing like a top 5 team | Slipping as of late but don't let that fool you. They are still a strong favorite to qualify out of NEISA | Slipped a bit in the last two weeks, not a good time to do so just before the qualifer, but they are still an excellent team with great chemistry |
|   |   | Ken | Bill | Clinton | Johnny | Dillon |
| 4 | Navy | Beat Georgetown at Admiral Moore and MAISA champs are at the same venue | Solid win at the Admiral Moore held at SUNY Maritime.  Also the host of the MAISA qualifiers, great confidence booster | Big win at the Admiral Moore. Navy continues to justify their high ranking | Looking like a clear favorite to qualify out of MAISA. Big win at the Admirals over Georgetown at the same venue as the Prosser Trophy this coming weekend.  | Pleased with a win at the Prosser Venue, this team has proved themselves all season |
| 5 | Georgetown | Still MAISA's best but watch out for Navy | The Hoyas are not the dominant MAISA TR team this year.  Its so close in the Mid Atlantic! | Coming out on the wrong end of a tie break at the Admiral Moore drops the Hoyas a spot | Lost to Navy in a tie at the Admiral Moore but a higher ceiling and better overall season results keep them as my top in MAISA and 4th overall | Still the deepest team in MAISA, expect a strong performance at the qualifier this weekend |
| 6 | Bowdoin | This could be Bowdoin's best team racing unit ever | 3rd and a 5th at the Marchiando and the Friis respectively. Solid and looking good heading to Tufts this weekend for the NEISA qualifiers. | Looking more and more legit as the season goes on | Looking more and more like the 4th best out of NEISA. Their skills will be put to the test on Mystic Lake this weekend. | I'm sure coaches Pizzo and Radtke will tell you they saw this coming, but it has been a shock to me seeing Bowdoin become one of the best team race teams in the country |
| 7 | HWS | Their freshmen is the real deal | Sailed in the Marchiando instead of the Moore.  Hmm.  But sailed to a 5th place at a very difficult event | Continue to perform as expected. Very consistent results this season | They have been consistently in the top but haven't put together a full event to compete for 1st at a major team race. They are a favorite to qualify at MAISA but anything can happen on the East River. | Haven't played against any MAISA teams in the last two weekends, but had two very good regattas in NEISA, we'll see if young star Hector Guzman can perform under pressure |
|   |   | Ken | Bill | Clinton | Johnny | Dillon |
| 8 | GW | Close with Bowdoin but in only head-to-head, GW prevailed | Third MAISA team at the Admiral Moore just ahead of St Mary's. The Prosser Trophy is going to be a nail biter | A little slip against some lower ranked teams cost them a little | Like Hobart, they have had some solid finishes and taken wins off the top dogs but haven't put together a full event. They would appear to be the 4th best team in MAISA. | Only 1 win in the championship round at Admiral Moore hurts them a little, but still proven to be a strong team all season |
| 9 | Charleston | Found some consistency of late and back in my top ten | The Cougars had a tough week last month but seem to be finding their stride again after 6th at the Marchiando and a 4th at the Moore | A little redemption with some better results the past 2 weekends. | Cooper River Cross Current Double Modified Port Triangle. Do you know what that is? Because they do.  | Definitely some redemption over the past two weeks, but not the dominant team they were hoping for at this point in the season |
| 10 | Roger Williams | Nipped out Tufts and MIT last couple weeks | With a 7th at the Marchiando, 5th NEISA team, the Hawks look to improve at the NEISA quals to snag a spot at the nationals | Strong top 10 team. They will definitely be in the fight for a spot at Nationals | The Rog has been looking better in recent weeks but I'm not convinced they can make it out of NEISA. | Made the top group at the Friis and Marchiando, a definite contender for a qualifying spot in NEISA |
| 11 | Tufts | Tough second day at the Marchiando | Home field advantage could be huge for the Jumbos this weekend | Probably the most likely team to upset the favorites and qualify for Nationals since they'll benefit from home field advantage next weekend at the qualifiers. | The results put them firmly outside the top 4 as either the 5th or 6th best team in NEISA but they have a clear advantage in the Larks on Mystic Lake. Will it pay off enough to push them through to nationals? | In similar spot to Roger Williams, but with a big home water advantage with the Fowle on Mystic Lake |
|   |   | Ken | Bill | Clinton | Johnny | Dillon |
| 12 | Stanford | Inconsistent but hot at the Admiral Moore | Should easily qualify for nationals from the west coast, but their young team is a little inconsistent with a 12th at the Marchiando and a 2nd at the Moore | Very mixed results the last 2 weekends. Beat some top 5 teams at SUNY then lost to unranked teams at MIT. | A strong finish at the Admiral Moore but they did not look great at the Marchiando. The field outside the top 5 is so tight that they could really be anywhere from 6th to 15th. | A little inconsistent this season, but a tie for first at Admiral Moore keeps them in top 10 |
| 13 | MIT | Tough first day at the Marchiando | The Beavers could also feel comfy at the shifty Upper Mystic Lake | Another team with an outside chance. Consistent results all season. | Better than their result showed at the Marchiando just barely missing the top group. The Beavers will certainly contend for a spot out of NEISA | In the bottom group at their home event last weekend, but still had 13 wins, don't be surprised if you see this team snag some big wins at the Fowle |
| 14 | St. Marys | Seahawks clawing their way back into respectability | Won their sail-in to the MAISA quals and also decent 6th at the Moore | | Went 16-0 to close the team race challenge after an early loss. They certainly aren't the favorite out of MAISA but anything can happen with 7 of the 8 teams at the Prosser capable of qualifying for nationals.  | Handily won the Team Race Challenge to earn a spot at the Prosser this weekend, we suspected they would get better and they certainly have |
| 15 | ODU | Big win at home earns a spot back on the board | | | On paper the 6th best in MAISA but don't be surprised if they put up a fight to qualify out of the Prosser. | First time ever winning the Szambecki! Will be very tough fight for last two spots out of MAISA |