Annapolis Yacht Club is pleased to announce an opening for a Junior Sailing Director position. As AYC nears the opening of the new main clubhouse and two new facilities (Activity Center and Sailing Center), the position of Junior Sailing Director is available to oversee the operations of the nationally recognized Junior Program. For more information on this exciting opportunity, and to see the full job ad, click HERE
AYC was founded in 1886 as an informal canoe club. Today the Club's mission is to encourage and support a wide range of boating activities and to maintain facilities for the recreational and social use of its 2000 members. Members and guests enjoy the spectacular view from the Clubhouse deck from where they can see all the Club's facilities on Spa Creek in Annapolis Harbor.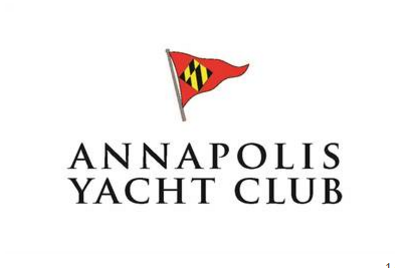 The Annapolis Yacht Club is a full service, year-round premier private yacht club that provides high-quality programs for its members. These include sailboat racing, cruising for sailors and power boaters, a vigorous junior sailing program, fun and educational winter activities, social events, and first class dining and banquet facilities.
AYC is a prominent fixture in Annapolis, is a good corporate citizen, and provides select opportunities for non-members such as its Junior Sailing program. In addition, AYC's Race Committee supports club racing and world-class regattas and international championships. AYC members are pleased to welcome these competitors and other visiting yachtsmen to the Clubhouse and sailing facilities.
About the Annapolis Yacht Club Foundation
The Annapolis Yacht Club Foundation (AYCF) was established by the Annapolis Yacht Club to provide an opportunity for its members to act collectively to foster local excellence in national and international amateur sailing competition, contribute to maritime-related charitable and educational organizations in the Mid-Chesapeake Bay region, and support charitable and educational activities undertaken by the Club.
Community Outreach
Annapolis Yacht Club has been a gathering spot for its members for over 130 years, and it also has served many decades as a beacon of generosity throughout Annapolis and its surrounding communities.
Throughout the holiday season, AYC's Thanksgiving Food Drive feeds dozens of local families, while the Club members' participation in the Salvation Army Angel Tree program provides toys to about 150 local children. AYC is about much more than just donating money and toys — the Club's members donate ideas and elbow grease toward the Club's philanthropic endeavors, and Club staff take a hands-on approach to distributing toys to the children at Salvation Army.
AYC is devoted to giving back to the people in the community living with developmental and physical disabilities. The Club hosted Warrior Sailing Program participants for a three-day Basic Training Camp in September 2016 and 2017, helping introduce wounded, ill, and injured military service members and veterans to the sport of sailing.
Annually, AYC hosts Chesapeake Region Accessible Boating (CRAB) for the CRAB Cup, a regatta featuring sailors who suffer from developmental and physical disabilities. AYC hosts the regatta and handles the operations so competitors can enjoy spirited competition free of charge. The winner receives the coveted Don Backe Memorial Trophy, named in honor of the founder of CRAB.
The Club members and staff at AYC take pride in giving back to the community — not just as a buzz phrase, but as a way of demonstrating what it means to be a good neighbor and promoting the sport of sailing.