By Steve Shaw
A full moon weekend at one of the most iconic places in the world to sail; this was the recipe for the 2022 Ultimate 20 North American Championships held at Richmond Yacht Club on San Francisco Bay. The heat wave that was cast upon northern California made for a pleasant few days leading up to the regatta.  Conditions come race days made for perfect sailing with 15-25 knots of wind and sheltered just enough under Angel Island to make a fairly calm racecourse.  Our team of Ryan Janov, Tim Porter and Steve Shaw made a decision early on that we wouldn't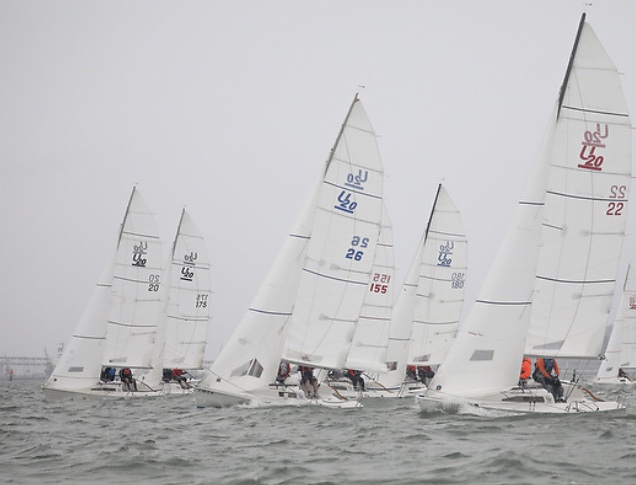 let our lack of knowledge about the currents dictate our course strategies too much and that we would pursue watching the wind on the water instead.  The first beat of the first race is when this played out and we learned to shift our focus after going around the windward mark 3rd behind Mark Allen (26) and Scott Hester (226) who went left early.  From that point on we recognized that we wanted to start in the lower half of the line and get to the left side of the course where there seemed to be more wind.  Once around the weather mark, downwind became quite fun with knowing there was more breeze on that side of the course and we could just set the kite and let 'er rip.  With boat speeds consistently in the double digits, we perched ourselves in the back corner of the boat and watched the spray go by.
For FULL RESULTS GO HERE
Once back on land, the beautiful new Richmond Yacht Club facility and staff made for great camaraderie and post race chalk talks.
Lessons learned along the way.
I learned early on that when you travel to a big regatta, it helps tremendously to be able to get on the water early and acclimate to your surroundings.  Our trip across country was uneventful enough for us to arrive Tuesday morning for a Friday race day.  An hour or two on the water Wednesday allowed us to get used to sailing in and out of the harbor and asses our rig set up with brand new sails.  Thursday our third crew Ryan flew in from Southern California and we immediately headed out on the water to tune with Travis Gregory (222) and his crew.  We found that our set up in two boat testing was good so went back in to try an older jib and see if we could be as competitive.  An observation I made in our two boat testing was for Travis to sheet the jib a bit harder and change his main trim to a slightly eased mainsheet and more centered traveler.  This allowed him to stay fairly equal with us in height and speed when we came back out to line up.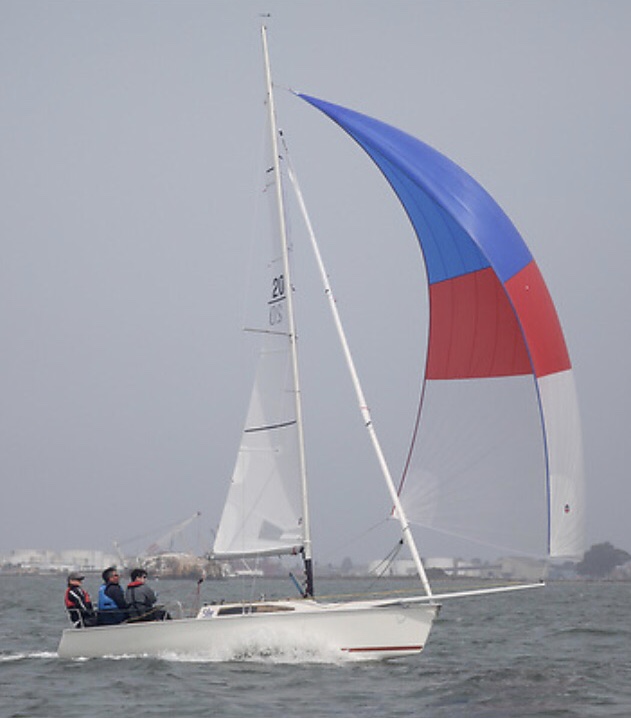 As the regatta approached I sat my team down and we decided who was going to do what so there wasn't anything to figure out on the water.
Ryan, the foremost crew was in charge of the big picture and figured out our best strategies to get around the racecourse.
Tim, my trimmer was in charge of making sure the sails were in the right spots and would go up and down cleanly.
Steve, with the tiller in hand had the duty of strictly watching and feeling the attitude of the boat in the waves and staring at the tell tails.  I'm guessing I looked outside of the boat less than a dozen times during the regatta.
'Trust' was the motto for the weekend and it worked!