By Taylor Penwell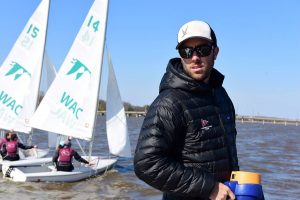 Max Kurland is in his second season as the head coach of Washington College's sailing team after four years of being assistant coach. During his time as an assistant coach, the team competed in both the fall and spring MAISA Co-Ed Dinghy Championships each season, qualified for the 2012 Atlantic Coast Championships, and reached the 2012 and 2014 ICSA Co-Ed Dinghy Semifinals and the 2012 ICSA Woman's Dinghy National Championship Semifinal. Kurland sailed for the College of Charleston before transferring to Washington College for his junior and senior years. During his time on Washington Colleges sailing team he competed in the 2010 and 2011 ICSA Co-Ed Dinghy National Semifinals, helped WAC win the Team Race Challenge and finish first in A Division at the Kings Point Dinghy Open, and placed second in A Division at the 2010 Atlantic Coast Tournament.
-Where are you from Max?
I grew up ski racing in Woodstock, Vermont with my sister and two brothers. When I was 14, we moved to Sharon, CT. Now I live with my elderly grandfather in Chestertown, MD.
– How did you get into sailing? How old were you?
When I was 8 years old my family began spending summers in Weekapaug, Rhode Island. My parents signed me up for Beginning Sailing. We started out the first few classes with 5-6 kids in a Beetle Cat with the instructor letting us take turns driving. From there, I began racing Optimists before aging out at 15. I raced for the Hotchkiss Sailing Team in 420s until moving on to the College of Charleston followed by a transfer to Washington College, where I spent nearly every weekend for the next two and a half years racing for the Washington College Sailing Team.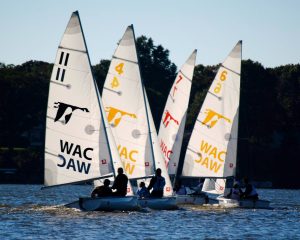 – Why did you choose Washington College?
I really began college sailing at the College of Charleston, but I felt I was not seeing enough time on the water, so I left the team and focused on my education. After a few years, I felt like something was really missing. I decided I needed to refocus, so I moved in with my grandparents in Chestertown, MD and transferred to Washington College. The college had a nationally competitive but very small sailing team where I knew I would see time on the water against the best colleges in the nation.
-What was your experience in college sailing?
I can't say enough about my experience sailing for Washington College. I joined a team of 7 student athletes coached by Josh Putnam. I was immediately tapped as the heavy for the team, which is interesting considering I was only 155 pounds at the time. During my year at Washington College I went to 22 regattas and sailed in barely half of them due to consistently light winds. But I grew to love the traveling and, when the wind did kick up, I had an absolute blast. The year culminated in sailing for an All-American Honorable Mention Skipper at Charleston in the College Sailing National Semifinals. Over the next year and a half as a crew I sailed as far north as Bowdoin in Maine all the way down to Eckerd in Tampa. My final regatta was another College Semi Finals, this time in Long Beach, CA.

– How did you get involved in coaching for the WAC sailing program?
It was the summer after graduation. I was still living in Chestertown, MD when I got invited to have drinks by the head coach at the time, Josh Putnam. He had a part-time assistant coach who was not able to much traveling, so he asked me to join up as an assistant coach and split time between helping out in practice and taking spare sailors to intermediate level regattas. Over the years, I took on more and more in the office and on the water. When Josh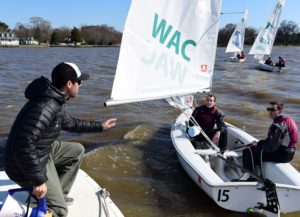 moved on, my old skipper Conner Blouin came on as head coach for two years and really kick started the program and reinvigorated the team with a new culture of sailing. After coaching for two years, he got an offer from Saint Mary's College of Maryland, so I applied to be head coach and got it!
– What were some of your takeaways after your first year as a head coach?
The biggest takeaway is just how much work goes on behind the scenes to make college sailing happen on the both the local college level, as well as all the work done by the ICSA to coordinate regattas all over the country. As assistant coach I spent maybe 30 hours a week in the job, as head coach, that number more than doubled.
– In your mind, what are the most important things a good head sailing coach should possess?
A head coach in sailing really needs endurance. The school year is long, and if you don't have an assistant coach (as was my case during my first year) you are going to be spending 12-15 hours on the water per week, as well as driving 8-15 hours to a regatta and coaching all day Saturday and Sunday. But you aren't in it alone, you have a team of sailors with every step of the way. It is a very rewarding experience.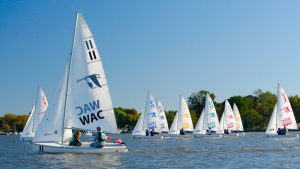 – What do you look for in a college sailor?
I look for a student who understands the sheer time commitment required by the nature of college sailing and has the drive to succeed sailing against the best schools in the country. The student should be level headed but a fierce competitor. Sailing experience is secondary for crews, we have taken walk-ons that have never stepped in a boat and turned them into all-American level crews within a few years.
– Tell me what the highlight of the past few years have been since you've become head coach?
Traveling with a group of young sailors and seeing them grow both as sailors and young men and women. The students aren't just sailors. As coach, I spend nearly every waking hour every weekend interacting with the students.
– Where do you see WAC's sailing program in the coming years?
With the recent increase in frequency of coach turnover, I seek to bring stability to the growing sailing culture at Washington College. We are one of the smallest teams in the country, but not for long. By the end of my time at Washington College, I aim to see a ranked team of 20-30 competing on the national stage.
– When you are not coaching college sailors, what are some activities you like to do?
I keep a pretty active life. During the winter I spend most of my time hunting waterfowl on the Chesapeake. There are few better places to do it in the world. When I find my self in the right place, I spend as much time on the slopes skiing as possible. In the summer, I coach the junior sailing racing team at Rock Hall Yacht Club when I'm not racing myself.

– What kind of sailing do you do mostly now?
Most of my personal sailing time is devoted to the family log canoe, the Silver Heel. For the last ten or so years, I have moved up from main trimmer, to boardman and jib trimmer, and finally to skipper. She carries a crew of 12-15 and we race all over the eastern shore. When I'm not sailing on the Heel, I'm either working on her at home or towing her up and down the shore.
– What draws you to Log Canoe sailing and what sets it apart from other sailing?
The big thing with log canoeing is the comaraderie and sheer adventure of it all. It is just you and 12 others, most of whom have zero real sailing experience sailing up and down trying to keep some of the least balanced boats in the world upright. The Silver Heel has masts upwards of 50 feet tall, but the boat itself is only 7 feet wide! You can imagine how even the slightest screw up can lead to major issues.
– Which do you prefer, pancakes or waffles?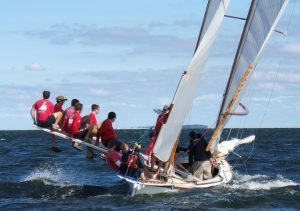 That's easy. Waffles. Only idiots choose pancakes.