The Columbia Sailing Club, located on Lake Murray, is organized as a nonprofit corporation under the laws of the State of South Carolina, and is committed to providing educational and training programs to the community on all aspects of sail boating. The Club is also hiring a Head Instructor, Summer Instructors, and an Optimist/Open Bic Coach! To learn more CLICK HERE
Club activities include sailboat races, regattas, race management training, youth sail camps, boating safety, first aid and a host of other activities that promote the sport of sail boating.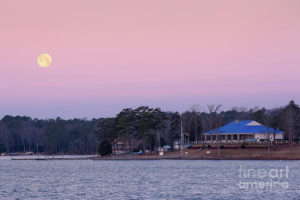 Lake Murray is a man-made lake of 78 square miles with 520 miles of shoreline, a length of 41 miles and an advertised width of 14 miles The lake is contained by a large earthen dam which was the largest in North America at the time it was built in the1920s.
The Club's facilities include a well-protected marina, 4 launching ramps, a gin pole, and other sailing-related amenities. The marina, shown below, has 100 berths for sailboats from 22 to 33 feet in length. Land parking slips accommodate an additional 100 boats.
People have great things to say about this program, and there are wonderful instructors returning for 2019!!!
Parents Testimonial:
Finding fun, safe, outdoor activities for our child has been one of the top priorities for us as a family and sailing is a sport you and your family can easily participate in 365 days a year.   When she is on the water, our child is out of the house, off all electronic devices and can now move a sailboat across the lake with her friends with confidence.  We can't wait to see what this summer brings!!
Thank you Columbia Sailing Club for giving our child the opportunity to try a new sport and make new friends on the way!
Returning Instructor Bio: Brooke Hagler 

I grew up on the ocean and upon coming to college, I realized just how far inland University of South Carolina was located. I came across Gamecock Sailing Club during a student organization fair and joined even though I had never been on a sail boat. Through teammates and coaching at Columbia Sailing Club I learned the ropes of sailing and then racing. During my third year of school I became certified as a Level 1 US Sailing Instructor. Over the past two years I have used this to further my knowledge and love of the sport, while also instilling the passion of sailing in other people. I love getting to teach kids because they absorb the information. The smiles that come across their faces while being able to sail by themselves or with their friends pushes me to be the best instructor I can be. It's never to late to learn something new and discover a new passion.
Club History:  The first sailing club on Lake Murray was established in the 1930's, but dissolved when the winds of war blew across the world; however, two of its commodores would later become founding members of the Columbia Sailing Club, George Sumner and Jim Haltiwanger. Sumner also led a Sea Scout troop and among his students was Crawford Clarkson, father of 2016 commodore Andrew Clarkson. Jim Haltiwanger, father of 2011 commodore Will Haltiwanger, wooed his bride Sallie with moonlight sails on his B Scow "Spray".

Sumner's lake home was aptly named "Hickory Dock" and two doors away lived another sailing enthusiast, Robert H. "Bob" Webster. Other sailors, including Ben Knowlton, moored their sailboats in the Sumner/Webster cove, which became a focal point for Lake Murray sailing activities.
The founding of the Columbia Sailing Club on July 17, 1957, occurred on the back porch of Martin Jones' home at 630 Pickens Street and Bob Webster was elected chairman. Charlie Craig offered his lake home as headquarters for the club's first major regatta on Labor Day weekend and twenty-five boats participated in what became a laborious drifter. For that reason, CSC's annual regatta was shifted to May in hopes of more favorable breezes. Some 19 members paid dues of $5 per quarter and there were no initiation fees. Zan Heyward, Jr., chairman of the 1958 regatta, arranged with Alex Crosswell to use his cottage and ramp for the event. While only four out of town sailors participated in the 1957 races, word of CSC's hospitality began to spread.
The Crosswell home, two points up the lake from the present CSC site, stood duty again as regatta headquarters in May 1959; however, the single ramp proved insufficient to meet the demands of the crowd, as skippers showed up from Savannah, Charleston and Augusta. One day of rainy weather, with red clay mud tracked on the Crosswell carpet, somewhat marred the weekend, but media coverage was superb and the Columbia Record printed a two-page spread. Sailboat racing had arrived at Lake Murray.
Meanwhile, Bob Webster and his daughter, Sally, happened one day to sail by a piece of land near the dam that appeared to be an island. Bob inquired into the property at SCE&G and found it did not exist on their maps. It had been intended as fill for the construction of the dam, but was left when workers ran into hefty boulders. Webster paid the power company one dollar for a lease to CSC for the "erection of a temporary judging shelter for sailboat races." It was on this tenuous lease that the club functioned until the spring of 1977.

With great optimism—especially since the lease contained a provision through which SCE&G could call for its land back, in original condition, upon 30 day notice—CSC put in a crude road, cleared land and built a small clubhouse, designed by Reid Hearn, fabricated by a Savannah firm and arriving on a flatbed truck. A construction loan was personally secured by the flag officers because the bank was uncertain about lending money to an entity called a "sailing club." It was generally understood that the lease would one day have to be replaced with a more business-like arrangement and, in April 1977, each member was assessed $100, 20 life memberships were sold for $1,200 each and CSC purchased the "non-existent" land from SCE&G.
The Columbia Sailing Club Ladies Auxiliary was organized in October 1967 and raised money for the construction of the covered patio and grill on the west end of the building and for construction of the bathhouse. The Auxiliary was organized to "aid Columbia Sailing Club in their projects," and has proven to be an invaluable partner in the growth of CSC. Other gifts have included VHF communications; an ice maker, refrigerator; chairs and other furniture; the CSC burgee which flies from the yardarm; and other equipment. The Auxiliary also plays a major role in the social activities of the club and is regularly responsible for planning parties, regatta registrations and lunches and a Co-Ed Sailing Clinic. In 2001, the Auxiliary established its own Outstanding Service Award, named after Jessie Helms in honor of her years of service and Rebecca Dotterer was its first recipient. In November 2007, in an effort to be more inclusive of current and potential membership, the Auxiliary officially changed its name to the Columbia Sailing Club Auxiliary.
CSC has always been recognized as a club capable of hosting top-flight competition and has displayed outstanding teamwork in hosting some of yachting's most distinguished events. The first Midlands Regatta was held in May 1960 and has occurred every year since. We were the hosts of the South Atlantic Yacht Racing Association (SAYRA) Championships in 1962 and 1972. For many years E-Scows from all over the country were hauled to Lake Murray for the Easter Regatta. In 1987 this event officially became the J-24 Easter Regatta, with more than 30 boats participating from as far away as Canada. In addition, we regularly host regattas for Lasers, Y-Flyers, Lightnings and provide equipment and facilities to support LMYRA events and regattas. Modern day sailing at CSC is a far cry from the first regatta with its handful of Sailfish, Lightnings, Y-Flyers, Hamptons and many other boats of forgotten classification.
Webster struck the deal in the autumn of '58, if I recall correctly.   These photos were probably taken in December '58 or January of '59."
~ John Wrisley 11 Feb. 2009
CSC race committee work is legendary among sailors, as acknowledged by the World Jollyboat Association which asked Jack Helms to run its world championships at Nag's Head, NC. Jack and his CSC committee of John Wrisley, Bob Armstrong and Martin Jones ran a perfect five-race series without a protest. SAYRA named its Outstanding Service Award after Willard Davis. Staton Peele served on the USYRU Championship Committee—the pinnacle of men's sailing in the U.S. Yacht Racing Union — and, in his honor and memory, the USYRU Sportsmanship Award (USYRU is now USSA) has been established for the Mallory Cup Finals.
When the back cove mooring facilities were developed they were expected to be sufficient for many years, but by 1983 it was time to expand. Members approved a plan to increase capacity to 94 slips and the construction took place in 1984/85. Although they were forced to moor elsewhere, boat owners continued to pay their slip rentals to help finance construction. In 1985, members approved spending $35,800 for the acquisition of 3.58 acres of adjacent land to provide additional land parking and in 1988, the entire dock system was replaced at a cost of $107,000—a sum of money that would have staggered the imaginations of the Lake Murray sailors of more than 30 years ago.
Although he was not a sailor, Fred Fetner's devotion to the club far exceeded his job as caretaker and a huge void was left when Fred and Ruth retired in 1988. In October 1991, our need for a Resident Manager was filled and our CSC family grew with the addition of James and Betty Dedmon. James (more affectionately know as "Judge"), a retired magistrate judge, came to us from Allendale. That same year, our facilities continued to grow with construction of the Resident Manager's 1050 square-foot home with the "million dollar view".
With the 1996 Summer Olympics just down the road in Atlanta (and the sailing venue located in Savannah), Columbia was targeted as a prime training site by several countries in many sports. During 1993, 1994, and 1995, Columbia Sailing Club played host to the Russian Olympic Sailing Team with Joe Waters serving as one of the coaches for the Russian team and John and Rebecca Dotterer and Bill Freeman serving on the Olympics Race Committee.
In 1996 and 1997, extensive research was conducted regarding the long-range plans of every aspect of the club and a subsequent capital improvement plan was developed and set into motion. The Long Range Plan was ratified by the membership in 2000, with a financial strategy that will support major improvements, including new docks and ultimately, a new clubhouse.
1998 can be best described as the "Year of the Youth" with great emphasis given to our younger sailors. New emphasis was being given to our younger sailors, several Opti's were purchased, and the CSC Youth Program was revitalized. CSC's Youth can now be found on the scratch sheet of many out-of-town regattas. As the new millenium approached, we looked back at our 40+ year history and recognized the need to honor our past before moving forward. With that in mind, the Lifetime Service Award was established and its first recipient is Mrs. Jessie Helms.
In 2000, the major point of business off the water was the ratification of the long-range plan with a financial strategy through the year 2008 that will support major improvements at the club including new docks and ultimately, a new clubhouse. On the water, while big boat racing remained strong, dingy racing made a resurgence with the introduction of MC Scows and the formation of Fleet 65 chartered by Robert Key, Craig Milling, and Frank Pierce.
In 2002, SCE&G began lowering the lake level to elevation 345 MSL for work on the dam. Permits were obtained and a 45 boat "temporary" mooring field was installed in front of the club. Remaining boats were stored on land and the back cove docks were removed. Since the lake level remained at 345 MSL for the entirety of 2003, we took advantage of the situation and installed a new Number One Ramp with a width of 30 feet and a length of 200 feet.
In 2004, we broke ground on a youth clubhouse and began improvement of the back cove and installation of a new dock system. The north slope of the basin was steepened and rip rapped to remedy erosion problems and create more fairway in the basin. A professionally designed, commercial dock system was then installed to the delight of the patient members who had spent the last two years on moorings or jack stands. Of course, the big challenge in the project was working with Mother Nature as the lake level had to reach 351 MSL before the docks could be attached to the pilings. After a couple of months of rain dances, the southeast was served up four hurricanes that supplied sufficient rain to fill the pond to the required level. The ribbon was officially cut on the new docks on Sunday December 19, 2004.
In 2005, our first female Commodore, Sarah Weiss, took the helm and re-focused CSC on youth programs. With a financial commitment from CSC, 14 Optimists were bought by the club and parents, with an agreement to make the Optis available for five years at the summer camps. The momentum was rolling and our youth traveled to many regattas over several states. Six of our active youth won awards at the 2006 SAYRA meeting, and our youth sailing team continues to grow. The Wallace Wilkins Youth Clubhouse was finished in November 2005 in time for the Midlands Regatta. The Junior Sportsmanship Award was created with Windy Key as the first recipient.
In 2006, a land use plan and preliminary floor plan for a new clubhouse was presented and the membership authorized the officers to borrow up to $800,000 for construction of the building. Our 50th anniversary in 2007 marked the end of one era and the beginning of another. On June 26, our beloved clubhouse was demolished to make way for a new 4700 square foot club house with an additional 2700 square foot covered porch. Construction was also completed on the new 400 square foot bath house located on the north side of the back cove.
In 2008, we held the official "Commissioning" of the new clubhouse. Our Fleet Surgeon, Dr. Ed Schlaefer, in attendance for the commissioning, was also at the 1961 dedication of our first clubhouse by Commodore Ed Bailey and South Carolina Governor E.F. "Fritz" Hollings. Our bylaws were revised to re-affirm our commitment to "further interest and activities in sailing in Central South Carolina" and to further provide public access to educational events each year on such topics as sailing, weather, hurricane preparedness, protection against lightning and other natural disasters, navigation, rules of the sea and training for DNR boater licensing.
In 2009, following several years of construction, the Club resumed its normal atmosphere and everyone settled into having fun and enjoying the camaraderie. It was a pleasure to have the focus of the club return to sailing. With heavy hearts, we mourned the loss of our Fleet Surgeon, Dr. Ed Schlaefer, and our longtime Resident Manager, James Dedmon. We were so blessed to have these two fine gentlemen with us for so long.
In 2010, Mike Lambert, joined the CSC family as Resident Manager. Dinghy racing returned in 2011 with a renewed interest in Sunfish with an average of 20 boats on the starting line for the Summer Series. New front docks were installed in 2012, just in time for two major national regattas held in 2013, the US Sailing Championship of Champions and the San Juan 21 North Americans. In 2014, we added Ultimate 20's to the Easter Regatta, and an agreement with the Gamecock Sailing Club to use CSC boats and facilities.
In 2015, CSC was host to the U.S. Junior Women's Doublehanded Championship, the Ida Lewis Trophy, which featured 78 young women from around the country competing in 420's. Club members provided housing and transportation for all of the competitors. J70's were included in the Easter Regatta for the first time.
The history of Columbia Sailing Club appears to be measured primarily in events and construction. The substance of CSC, however, has always been its members.