Redwood City, CA,  –Friday August 9
By Charles Barclay
Race Day 1:  For complete results click HERE
The US Sailing Chubb Junior National Championships draws sailors from all regions of the country (Area A through Area L).  The "Chubbs" refers to the title sponsor Chubb Insurance, which likely handles your home yacht club's insurance.  The other major US Sailing championship event is dubbed the "Youth Champs" which is held in June (New Jersey this year).  The Youth Champs and Chubbs bookend national level youth championship sailing in the US.   Unlike open class championships, these events require qualifying either by resume, or by placing 1st or 2nd in regional qualifiers or as alternates should someone be unable to go or qualify for multiple events.  Area H (Hawaii) Laser sailor, Max Roth, has qualified in both the C420 and Laser for several years.  C420 sailors Jack Egan and Jack Plavin (Area J) from San Diego are at their 3rd Chubb event.  Sailors can qualify when they are 13 and become ineligible the year they turn 19.   There are 93 competitors in three disciplines.
Peninsula Youth Sailing Foundation (PYSF) agreed in December to host the 2019 Chubbs, a major undertaking for any club let alone a community sailing center.  Tremendous volunteer effort is required, and money.  This is a large budget youth sailing event.  Junior Olympic and smaller C420 class championships have budgets in the $15-25,000 range.  The Chubbs are north of $80,000 with much more in-kind contributions.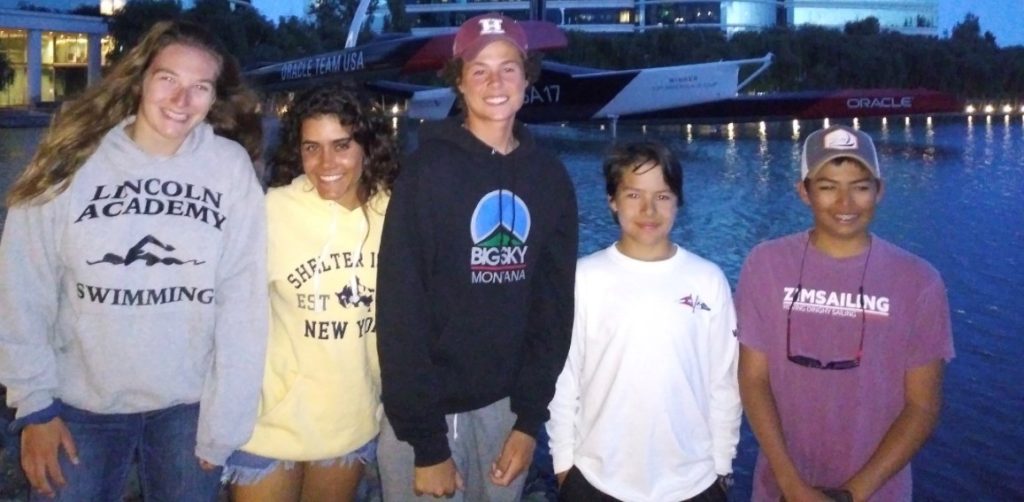 PYSF is in Redwood City, California operating out of Westpoint Harbor.  Sitting amid a technological center with glassy buildings and sprawling campuses of Google, Informatica, C3AI.  Oracle's campus is just to the south and clearly visible.  Area A sailors Isabelle Alex, Hayden Earl (Stage Harbor Yacht Club), and Ella Beauregard and Hamilton Barclay (Southport Yacht Club) visited the Oracle building and monster tri that won the 2010 America's Cup with their host family.  There are century old salt fields to contrast the tech buildings on the other side of the marina.  There is no clubhouse for members to frown at you for interrupting games of bridge or walking in wet clothing.  PYSF is building a sailing center out of containers.  The first container arrived last month.   The regatta compound has a slight industrial feel to it with mostly parking lot and no grass.   This is a young sailor's venue with a wide concrete launch ramp, unglitzy marina, and a lot of room to set up.
Mountains on either side of the gap the Golden Gate Bridge spans force wind down to the shallow southern reaches of South Bay.  The coaches tell the sailors to prepare for 25 knots.  The wind has been in the high teens since Wednesday but an ebbing tide and wave train makes it look like its blowing 25.  Spinnaker capsizes are common, it has been trapeze weather.  The sailors that compete in light air venues are clearly at a disadvantage.
Historical trophies are awarded for the top single-handed (Smythe), doublehanded (Bemis), and triple-handed (Sears).  Many familiar names are on these trophies from decades near and far.  There are shipshape and sportsmanship awards too.  Club Directors are almost as proud when their sailors are named on these as the primary trophies.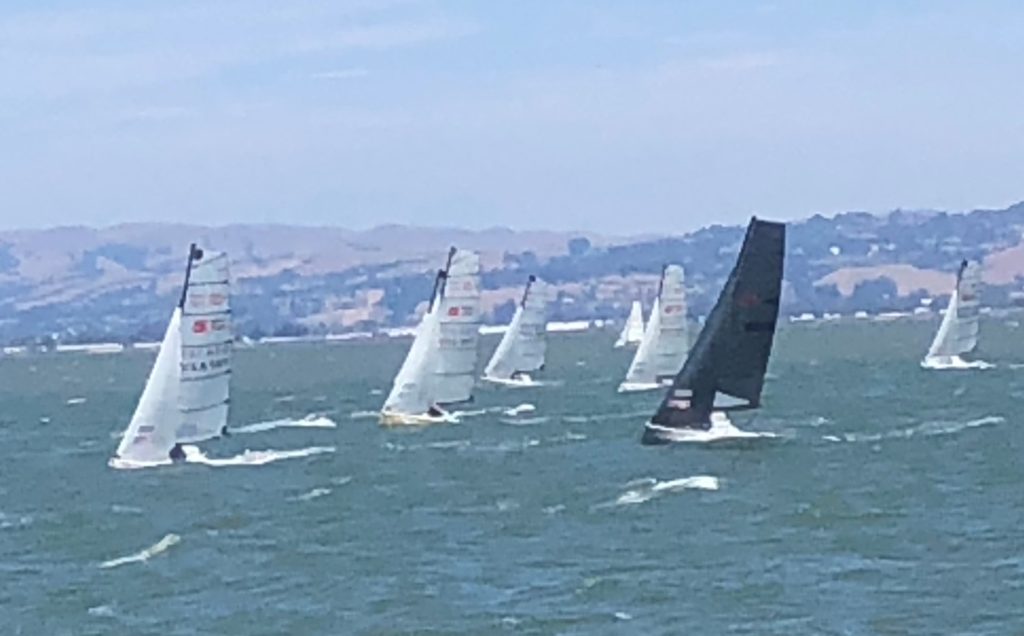 US Sailing provides the coaches.  This is different than the Youth Champs where you may bring your own coach.  Coaches are top notch:  Rich Feeny, US Sailing's Youth National Coach, and Olympic 470 Gold medalist Kevin Burnham for the C420 sailors; Mike Scott for the triplehanded teams, and Adam Corpuz Lahne and Hannah Tuson-Turner for the Laser Radial fleets.   Parental interaction is limited at the Chubbs.
Sears Cup triple-handed teams compete in the Open 5.70 this year.  New England Ropes is a sponsor of the event and each boat gets a new NER line package with new sails purchased by the owner for the event.  The 5.70's are capable of speeds in the mid-high teens.  According to Andrew, the class rep, "you need to drive the waves and surf these without digging the bow in the next wave."  Sage advice.  Generous owners jumped at the chance to loan their boats to the young sailors.  US Sailing's Youth Championship Committee Chair, Matt Dubois said, "This is the first sportboat used for the Sears Cup.  It is not their grandfather's sailboat."
Day 1 Racing was held Friday August 9.  The Sears Cup sailors have a separate racecourse further north and closer to the San Mateo bridge.  The boats that went left and center left after the start appeared to have smoother water which helped upwind speed.  The port tack approach seemed to work with the offset mark providing enough time to extend the pole and hoist promptly.  Area J sailors from Balboa Yacht Club David Wood, Daniel Pegg, and Kenny Sherb sailed consistently well posting a 1,3,1 to take a 5 point lead over the team from Chicago Yacht Club and an 8 point lead over the sailors from Hawaii's Kaneohe Yacht Club.
In the Bemis and Smythe, sailing on the same course, left paid early, then right as the current slackened.  The steep waves made full extension on the trapeze dicey at times.  California sailors are also dominating the C420 fleet with last year's 3rd place team of Jack Egan and Jack Plavin (1, 4, 2, 4) of San Diego Yacht Club holding a 4 point lead over Newport Harbor's Morgan Pickney and Nathan Sih (2, 1, 1, 11).
In the Smythe, Daniel Escudero (2, 1, 2, 2) of Area D's Atlantic Yacht Club is 1 point ahead of local sailor Caleb Yostov (1, 3, 1, 3) from San Francisco Yacht Club.  The top women's sailor is Emma McInnis from Corpus Christi sitting in 11th.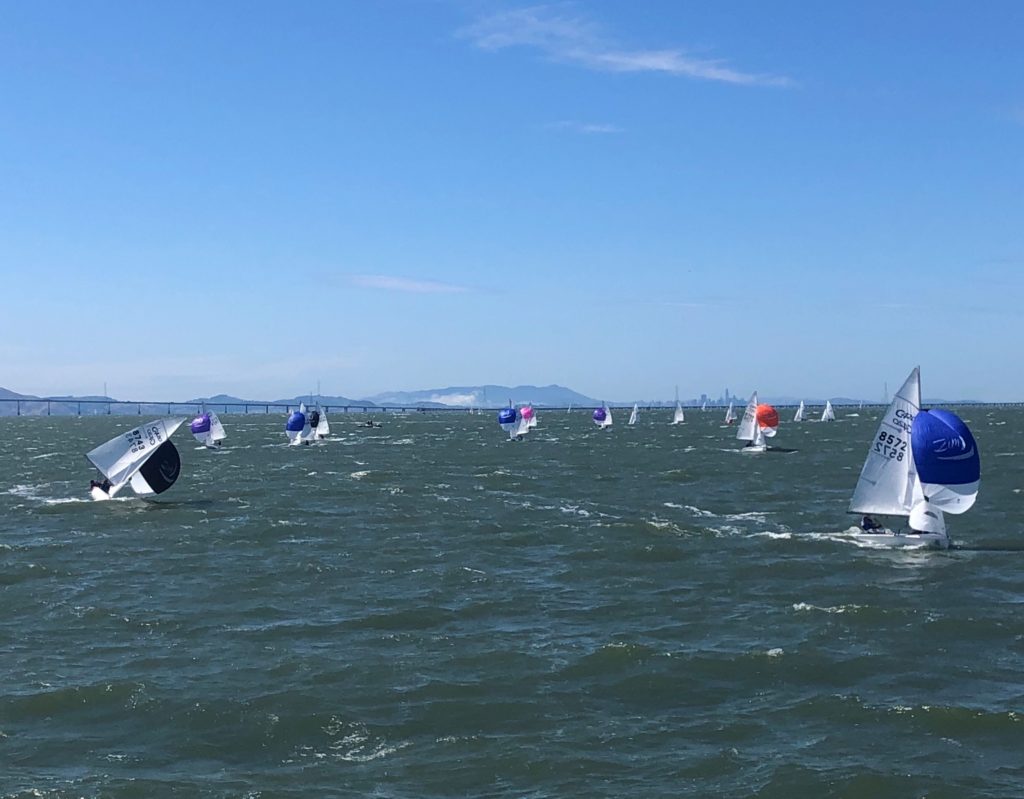 There will be two drops when the sixth race is completed.  Racing continues with the wind expected to drop a notch today and back up for Sunday's finale.
Charles Barclay is a US Sailing Level 3 Coach, RO, JIT, and father of one the competitors.