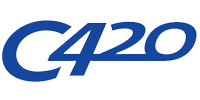 PRESS RELEASE – FOR IMMEDIATE DISTRIBUTION
North Kingston, Rhode Island, December 21, 2015
As the largest North American youth-oriented, double handed class the Club 420 is a key entry point to a lifetime sailing for many juniors. The boat offers more learning opportunities than any other doublehanded boat. Over 5,000 Club 420s are sailed in youth, high school and collegiate programs all over the United States, Canada, Mexico and the Caribbean.
In addition to organizing national level and regional events, the class invests in its community through the creation of on-line learning videos which are freely available. We encourage sailing schools, high school teams and all others use these valuable resources are encouraged to utilize these training vehicles.

The class also invests in high caliber coaches for regional regattas and other events throughout the year to help bring the expertise of those coaches to hundreds of youth across North America.
We would like to show you what it's like to sail a Club 420 in a new video produced for the class by Chris Love Productions. Filmed at our National Championship at Sail Newport earlier this year, we believe it shows the excitement and scale of the class and of the community behind the class. We hope you enjoy it:

For a listing of our 2016 events go to our calendar here.
About the Club 420 Association – The Club 420 Association was established in 1980 to promote, foster, encourage and sponsor one-design sailing for youth sailors. The Association annually sponsors a North American Championship, US and Canadian National Championships as well as regional and team racing championships across North America while promoting the class to all ability and experience levels of youth sailing.
For additional information please contact the C420 class at www.C420.org or John Vandemoer, Class Executive Director, [email protected]