On January 20th, 108 sailors from eleven different countries still had no idea where in the Western United states they would race the 2017 DN World Championship, set to begin in two days.
"Welcome to Iceboat racing!"


An unseasonably warm weather pattern overtook the Midwest and turned most of the frozen lakes in the region to mush a week before the event was set to begin. Most iceboaters pray for a late January rain, we call it the Great Zamboni, but nobody likes to see three days of rain and seven days of temperatures in the mid-forties before a big event. Warm rainwater creates huge holes in the ice and turns the surface into a slushy, wet mess. It's the equivalent of racing F1 cars on sandy track littered with potholes big enough to pull off tires. DNs thrive in a frictionless environment, but when pushing through soft ice, things get real slow, real quick.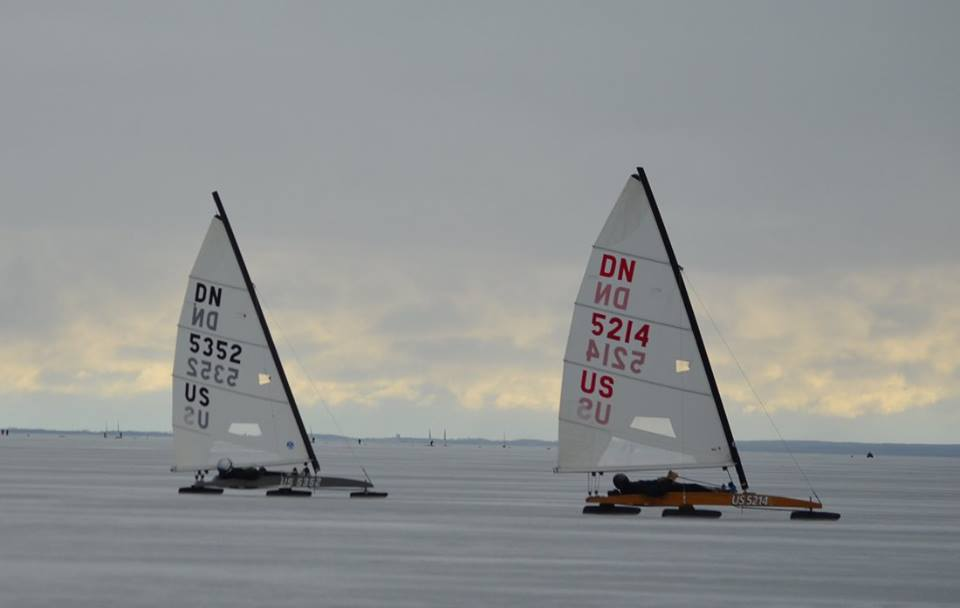 By the 20th, competitors recognized that the most probable location for the regatta would be near Madison, Wisconsin but could be as far north as Lake Superior. Sailors on the Eastern Side of the United States started their drive West while competitors flying in from other countries waited for news in their stateside hotel rooms. Regionally, dozens of sailors were frantically test sailing all the lakes in the region looking for any sheet of ice that could accommodate 50 boats flying around a one mile long course at 50 mph. The temperature was still pretty warm so event coordinators pushed the first day of racing back 24 hours. The hope was that a forecast below freezing that night could harden up what ice there was. By noon the 21st, event coordinators called the event on for Lake Kegonsa, just south of Madison. The fleet was on the move!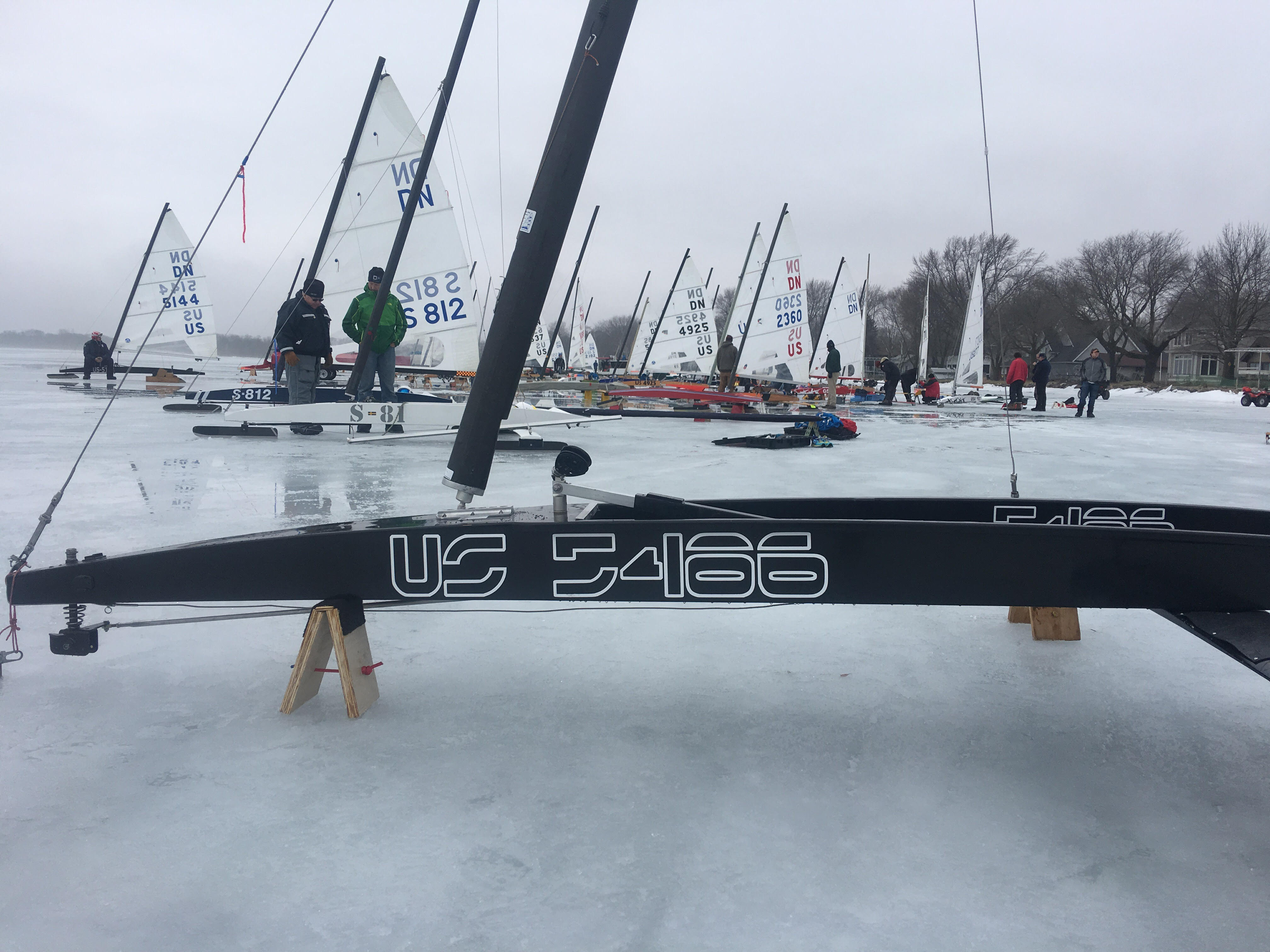 If you find yourself unfamiliar with the humble little DN (Detroit News), don't worry. Most of the sailing community hangs up their sails for the winter and finds something warmer to do. For those of us that iceboat, we often find ourselves referring to summer racing as a way to pass time until we can get to 'real' sailing. The DN is a wooden, 12ft long, 100-150lb, DIY developmental class designed to hurtle a sailor around the ice at speeds up to 60mph (2-4 times the average windspeed). This community of competitors is filled with some of the most technically minded sailors in our sport.  Names like Harken, Struble and Gougeon (West System Epoxy) permeate the sport's history. Each home-built boat has its owner's unique interpretation of go-fast techniques much like the Moth, 505 or A-class cat fleets. Sailors spend hours honing the runners (skates) to achieve optimum profile for the ever-changing ice condition. They constantly adjust settings to make the boat bend and respond to changing conditions. Unlike soft-water boats, where you can adjust most settings on the fly, DN racers only have a mainsheet and tiller once they leave the starting blocks. If the boat is set up too stiff it can be a wild ride, if you play it safe and sail the boat loose, you find yourself lacking enough power to keep up. It is without question the development-based culture of this design and thrill of the speeds that keeps sailors coming back year after year. Why else would somebody travel thousands of miles (from as far as Russia) to freeze their butts off on a frozen lake for a chance, and I stress the word chance, to get a couple races in?
The night of the 21st, sailors collected at a local DN racer's business for a meet and greet, skippers meeting and the ceremonial singing of National Anthems. Sailors laughed and cheered as competitors sang their hearts out in a show of pride and community. It was refreshing to see such camaraderie between sailors from such vastly different cultures and communities.

The morning of the racing brought a flurry of commotion while competitors prepped for the day's events. Some were still arriving from their travels while others were frantically testing their equipment for that last ounce of speed. Some sailors dragged multiple sets of runners and sails out to the course, others ran as simple a program as they could. The Ice had hardened significantly from the day before but 30% of the course was still covered by sticky patches of slush and there were marked holes everywhere. The breeze wasn't forecasted to breach seven knots and after some laps around the course it became clear that this was to be a tough regatta.
The first three races of the day were qualifiers for Gold, Silver and Bronze fleets. Those whi have a lower international rank have to sail hard to qualify for Gold fleet. After everyone is seeded the race officials initiate scored racing. The regatta is considered complete at three Gold races with no more than seven races per fleet to be sailed during the event. A forecast of light air and potential snow over the next three days meant that there was little time to fix boatspeed problem. Each sailor knew the winners could very well be decided by the end of the day.
The first race of the day was sailed in sub-optimal conditions for high speeds. In six knots of breeze the Gold fleet left the line for a three lap race in intense, challenging conditions. Those that spent the extra time with their alignment and runner selection immediately showed speed. Sailors that were able to sail around the slush (much like big waves) and keep the boat going were able to stretch their legs and extend. The rest of the fleet piled into the first mark as best they could but a huge, soggy patch at the windward mark made transitions to the downwind challenging. Boats that could carry speed through the turn would make gains on the downwind, those that tacked short of the layline paid a terrible price. Carol Jablonski, from Poland, was first around the windward mark and he never looked back. The ten time world champion put together the perfect picket fence and ended the day with a four point lead on Matt Struble. Silver fleet sailed in similar conditions, but the top sailors in each race swapped a significant amount more than was usual. A local sailor, Tim Sugar, was able to string together two wins in race three and four ending the day tied for first. Bronze fleet sailed most of their races in the lightest winds of the day splitting the fleet into those who could get top ten finishes and those who couldn't. By the end of the third race, Chad Coberly held a three point lead on second place before the sun got too low to continue racing.
The second day of the event was forecasted to be quite light and in a rare show of skill, the weathermen were right. Sailors walked their boats out to the starting line and waited for any sniff of breeze to try new settings. A sucker puff would show up every hour or so and cause a flurry of movement, but by 3:30pm it became clear sunset was going to be the only event of the day. Sailors packed up and made the long walk back to the staging area, pushing or pulling their boats along. The fleet derigged in the pits and sailors walked around sharing beers and jokes. You can't bring this fleet down.
The forecast for day three was punctuated by a thick coat of rain and snow, followed by more light air. During the night, Madison saw 4-6 inches of heavy snow as the fat lady belted out her best. There would be no suitable lake in the Madison area and little possibility of race-worthy ice in the greater Midwest. Event organizers sent racers to several different lakes on the outskirts of the weather system to test sail whatever they could find. Meanwhile, competitors packed up and traded stories at a local bar that became the event's unofficial home base. By mid-day, it was clear that no lake within one day of travel was suitable for further racing and it was announced that the 2017 DN World Championships was concluded. Not one person expressed dissatisfaction and you could see, it was smiles all around. The heart of an iceboater hopes for the best but accepts the worst. Each race sailed was fair and well-run; the fleet was happy.
Congratulations to Carol Jablonski for winning Gold Fleet for the 11th Time, Tim Sugar for 1st place in Silver fleet and Chad Coberly for a convincing win in Bronze Fleet. Full results HERE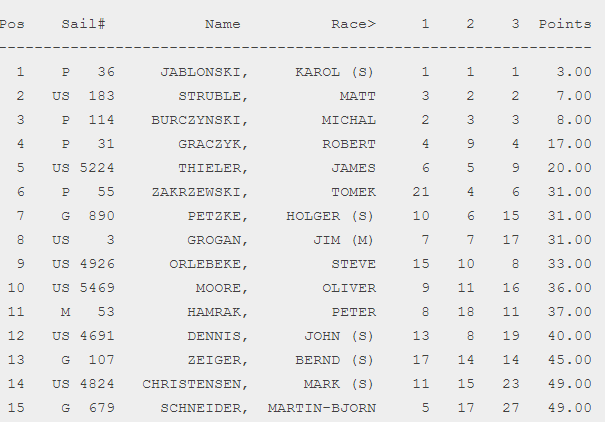 Two days later the same fleet of sailors, including most of the international competitors, descended on Peshtigo, Wisconsin to do it all again for the 2017 DN North American's. Nothing can crush the spirits of these sailors. The ride is too good, the community is too strong and there is always better ice around the corner.
Results, pictures, video and more information on the Class or event can be found on the DN North America website NA.IDNIYRA.org