LIMASSOL, CYPRUS, August 25, 2018 — 120 of the top Optimist sailors in the world converged this week on the southern coast of Cyprus at the Famagusta Nautical Club to compete in the 2018 Mediterranean Optimist
Championship. Since Famagusta is hosting the 2018 World Championship next week, this regatta for many is serving as a "pre-World Championship" event. The Mediterranean Championship is it's own stand-alone competitive event, it should be noted, and has been held in Limassol in 2017, and 2016 as well.
Cyprus is a beautiful island south of Turkey in the Mediterranean, and a member of the European Community. It is an independent republic and the 3rd largest (and 3rd most populous) island in the Mediterranean. For you history buffs, did you know that Richard I (the Lionheart) was married here in Limassol in the 12th century to Berengaria of Navarre, forced to stop here on his sail to Acre during the Crusades? He did!
Back to Optimist sailing. Featuring 11 races (2 throwouts) over 4 days in excellent but warm sailing conditions, this event offered fantastic sailing and competition; consistent WSW winds and perfect sailing waters greet sailors almost every day. The venue is quickly becoming a go-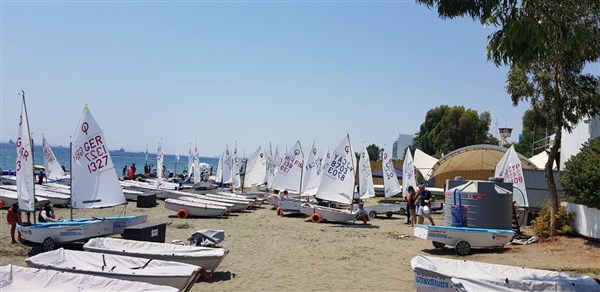 to place for one-design sailing and racing.
The US team arrived in stages, with Thommie Grit, and Tommy Sitzmann making it in time to do the entire regatta. Coach Pilo Rocha greeted them and helped sort out charter boat tuning and gear set up, and they were ready to go! They were followed by Ryan Satterberg, and finally Peter Foley and Stephan Baker. For four of the team, this is their first world championship, and they are treating it as a once-in-a-lifetime experience. For Stephan Baker, he's been here once before, and last year he finished 5th overall, the best finish for an American, ever, in the Optimist World Championship. The US team has found success in team racing, having won the Team Race World Championship the last 2 years in a row. Exciting days ahead! Said Coach Pilo, "The Mediterranean Championship was a great event to test the racing area for Opti Worlds. We had medium wind conditions out of the South/South West about 8 to 12 knots picking up to 16 knots during late in the afternoon. We had small choppy waves similar as Biscayne Bay. There is no tide and almost no current, just a little bit because of the wind coming from the same direction every day. Looking forward for a great Worlds Championship!!"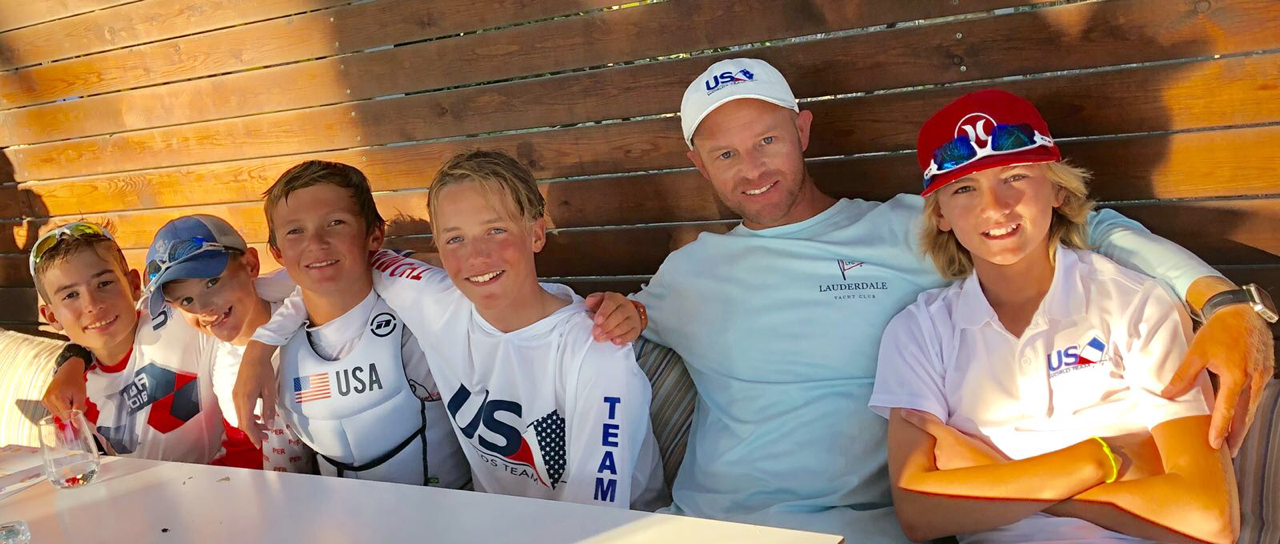 In the end, team USA member Tommy Sitzmann sailed an incredibly consistent Mediterranean event and represented the United States on the podium, finishing second overall. Winning the regatta was super-fast Malthe Ebdrup of Denmark (who actually came to the USA this summer to sail and finish 2nd overall in our National Championship), and third place was Jedtavee Yonguennarn of Thailand. Full Results HERE. (note, cumulative results are not updated yet with the last 3 races).
Congratulations Tommy, and best of luck to Team USA at the World Championship, and World Team Race Championship next week!!! The US team is supported by USODA, US Sailing, a dedicated and talented Coach Pilo Rocha (Lauderdale Yacht Club), and most importantly by Team Mom/Administrator Andrea Foley along with a host of caring, proud, and excited team parents. Enjoy Cyprus!!