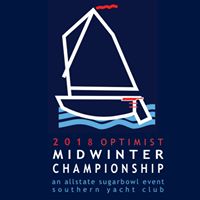 24 November 2018, New Orleans, LA – They say that back in the early 70's,  Times-Picayune columnist Betty Guillard coined the term "Big Easy" to contrast life in New Orleans to life in the "Big Apple", New York City. What a fitting term for this great city, and also one for the 2018 USODA Optimist Midwinter Championship.
With Event Chair Duff Friend's steady and experienced hand at the wheel, the regatta went off without a hitch, despite some light & fickle wind and a massive dock/bulkhead construction project underway at Southern Yacht Club. Club members and race administrators were cool,

organized, friendly, accommodating,  and, well, just plain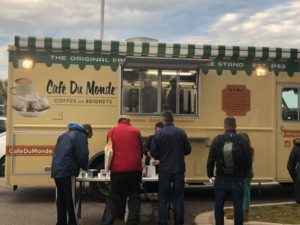 nice. Hospitality? Heck yes! Competitors arrived on Friday morning to find the Cafe du Monde Beignet Bus on station to deliver their hot coffee and world-famous Beignets to an adoring crowd…. gratis! We also had a marvelous Thanksgiving dinner in the palatial club dining room on the third floor Thursday evening, the Saints won (I believe our third place overall finisher, and Saints fan, was at the game..?), and Sail1Design is here to report that all is well in New Orleans at the Southern Yacht Club. They made a very Big regatta… look very Easy. Pass a good time!
The RC PRO Todd Fedyszyn was able to eek out five races in the first two days of sailing to complete a qualifying round, not an easy task when one considers one race actually means three races.* Conditions on both days found a wavering easterly shifting a bunch, with normal Lake Ponchartrain chop. The 2018 Opti Midwinters also served as the USODA Spring Team Qualifier, which added interest, competition, and nervousness, so the racing was very competitive and tight.
After the preliminary results were in, complete with a drop, the fleet headed into the final day hoping to hold on, or move up in the standings. As it is in sailing, and life, sometimes you have great wind and luck, sometimes not. A NW wind brought in some moist air on Saturday morning, and also heavy fog that was so thick at times, it would have made Jean Lafitte smile. While this former Maine resident felt right at home, it was not a great forum for Optimist

Sailing. Eventually the skies cleared and the wind stayed…. long enough for one Gold race. The other fleets were not so lucky. They started, but never completed their race, and the RC wisely abandoned racing for the day and allowed all to head in. That last Gold race provided lots of nervous excitement, and shuffled the Gold fleet a bit. When the results were finalized, Tommy Sitzmann emerged at the finish with a 6th, good enough to claim the title of 2018 Midwinter Champion. He was followed by Lauderdale Yacht Club teammates Jack Redmond in second, and Saints fan Gil Hackel in third.
Southern Yacht Club and USODA, thank you! Go Saints!
*USODA normally splits large fleets (in this case 234 competitors) into divisions. Division splits change from day 1 to 2 to allow different sailor combinations in the fleets. Each division (in this case 3 divisions of 78 boats) then must have 5 races each to allow for a discard, and then a final fleet division into Gold (championship), Silver, and Bronze fleets. So, 5 races in the qualifying round actually means 15 races total.
TOP 10 OVERALL:
1. Tommy Sitzmann, Lauderdale YC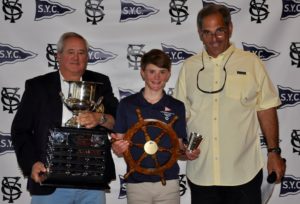 2. Jack Redmond, Lauderdale YC
3. Gil Hackel, Lauderdale YC
4. Griggs Diemar, Coral Reef YC
5. Jonathan Siegel, Coral Reef YC
6. Sebastian Spinelli-Sax, CERT
7. Katharine Doble, California YC
8. Samara Walshe, Edgartown  YC, LISOT
9. Freddie Parkin, Coral Reef YC
10. Johnny Ciffolillo, Key Biscayne YC, RIOT
Final Gold Results
TOP GIRL
– Katharine Doble, California YC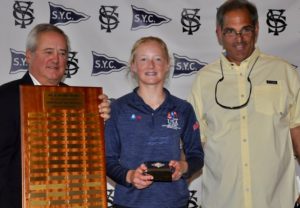 BLUE FLEET WINNER
-Gil Hackel
WHITE FLEET WINNER
-James Pine, Lakewood YC