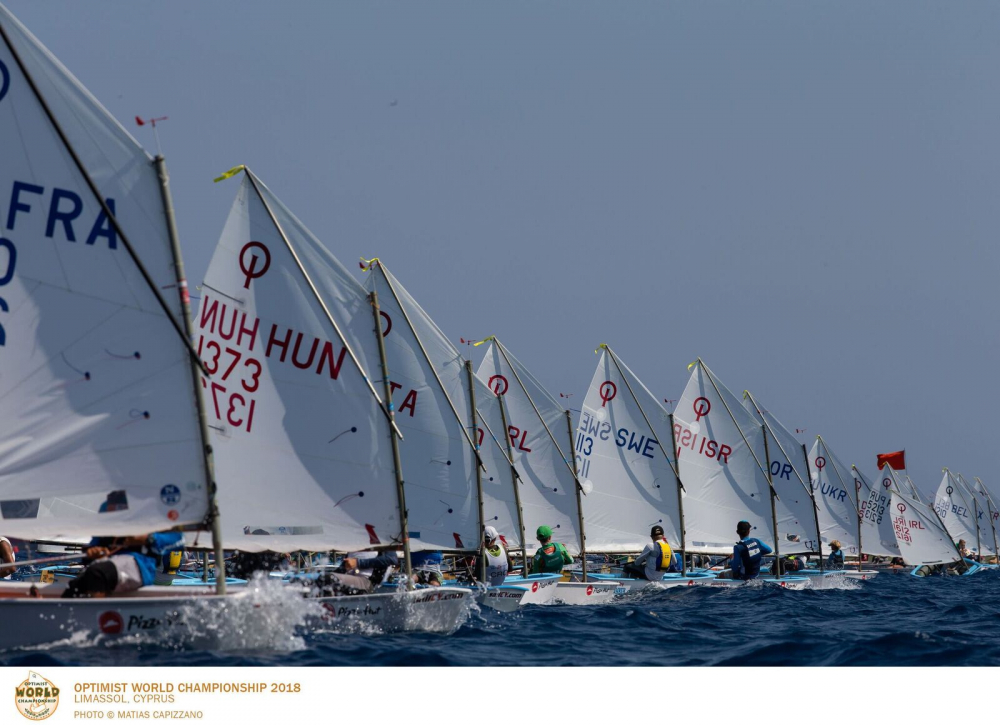 Limassol, Cyprus, September 5, 2018 — The curtain has finally closed on a long, grueling, but very successful Optimist World Championship. Straight to the point,  Italian Marco Gradoni, the defending world champion, sailed brilliantly and was absolutely dominant at the worlds most competitive Optimist event. He won 9 of the 11 races; hats off to Marco, what a performance!!
For everyone else, the regatta was an intensely competitive battle over 6 days of fleet racing, separated by 2 days of team racing. (Thailand won the Team Race Worlds, see article HERE. ) The 265 competitors sailed in rotating fleets for the first 3 days of the event, and based on those results, were then divided into Gold, Silver, Bronze, and Emerald fleets for the final 3 days. Famagusta Nautical Club was a wonderful host, and provided beach-front access to the sailing venue on the Mediterranean Sea. This was a parents, spectators, and fans-of-sailing paradise!
Team USA was comprised of Thommie Grit (USA-113), Tommy Sitzmann (USA-115), Ryan Satterberg (USA-112), Peter Foley (USA-114) and Stephan Baker (USA-111). This team was coached by Lauderdale YC Optimist Coach Pilo Rocha.  The US Optimist class selects it's 5 World Championship representatives from the results of the USODA Team Trials, another very competitive and intense process. So, getting the chance to represent the USA at the World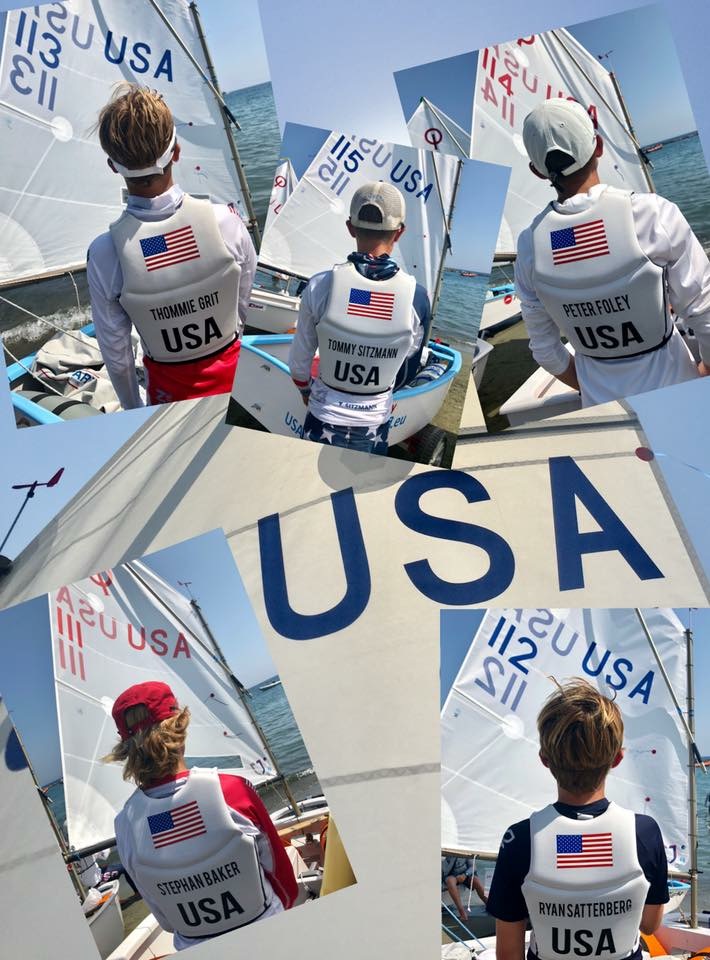 Championship in and of itself is an incredible achievement. Their sail numbers are given in order of their finish at the team trials, and Stephan Baker was Team USA's only returning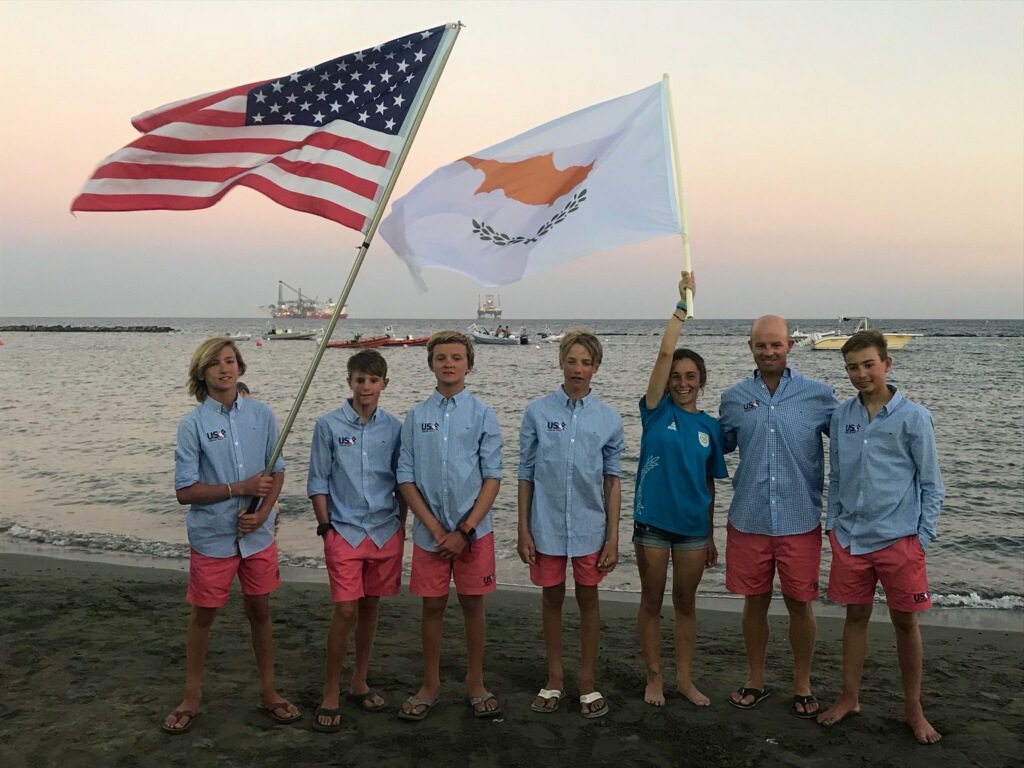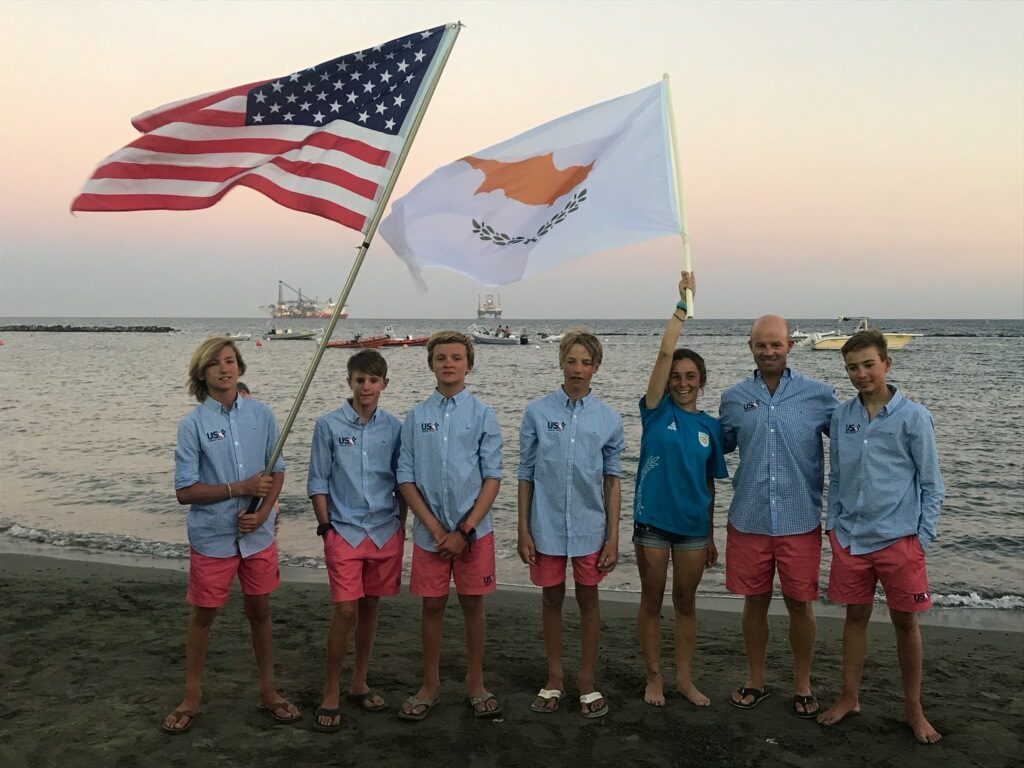 competitor; last year this phenomenal sailor finished 4th overall at the Worlds. Would he best himself this year? After the qualifying series, three American sailors, Peter Foley, Tommy Sitzmann and Stephan Baker, earned places in the Gold Fleet. Thommie Grit had some tough races and found himself in Emerald, and Ryan Satterberg found himself in Bronze. Both sailors kept working hard, and Thommie ended up finishing 4th overall in Emerald, and Ryan was 12th in Bronze. It was great to see these tough competitors and world-class sailors continue to compete and do so well in the final days of racing.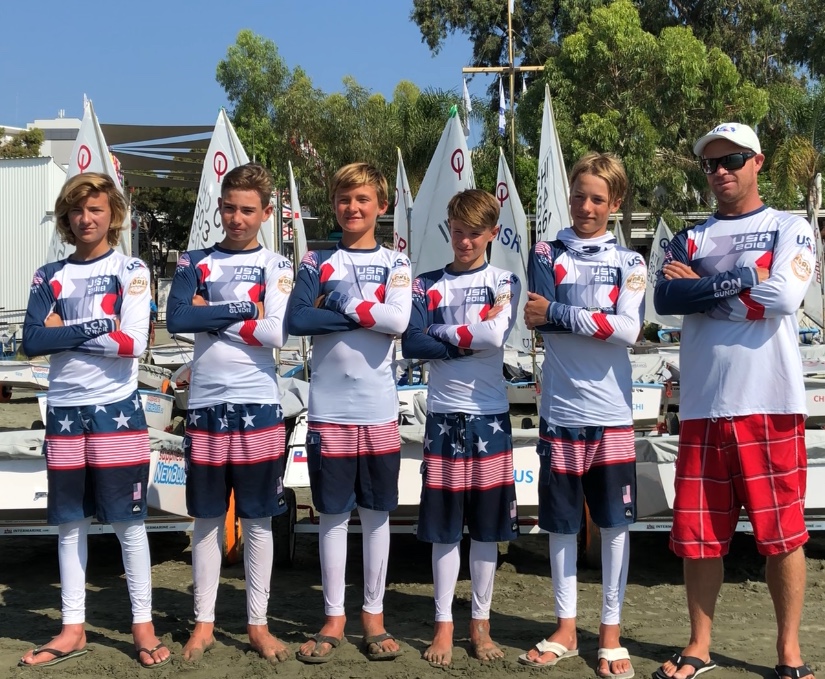 The Gold fleet Americans really shined this year, with Peter Foley (4 top-10 finishes), Tommy Sitzmann, and Stephan Baker all in the mix; in fact, Tommy Sitzmann and Stephan Baker battled it out with the worlds best at the top of the leaderboard, with great success. Tommy ended up 5th overall, and  Stephan launched to 2nd overall on the last day with a stellar Baker-esque performance, indeed besting his past result in 2017, winning the last race by a wide margin. This is a great achievement for both of these sailors, and for US Optimist Sailing as it continues to grow in the competitive International Optimist Class (IODA). Looking at the Nations Cup results (see below), one can see just how competitive this class is, and how many countries are involved at a very high level.
Thanks to team parents, Coach Pilo Rocha, and the USODA for their work in supporting Team USA!!
Top 10 Overall in Gold Fleet:
1.  Marco Gradoni, ITA, 11pts.
2.  Stephan Baker, USA, 44pts.
3.  Panwa Boonnak, THA, 48pts.
4.  Richard Schulteis, MLT, 69pts.
5.  Tommy Sitzmann, USA, 71pts.
6.  Mic Mohr, GER, 75pts.
7.  Dimitrios Bitros, GRE, 95pts.
8.  Iakovos-Dimitrios Deses-Ntentopoulos, GRE, 99pts.
9.  Malthe Ebdrup, DEN, 114pts.
10. Melker Brenton, SWE, 127pts.
Gold Fleet Overall Results
Silver Fleet Overall Results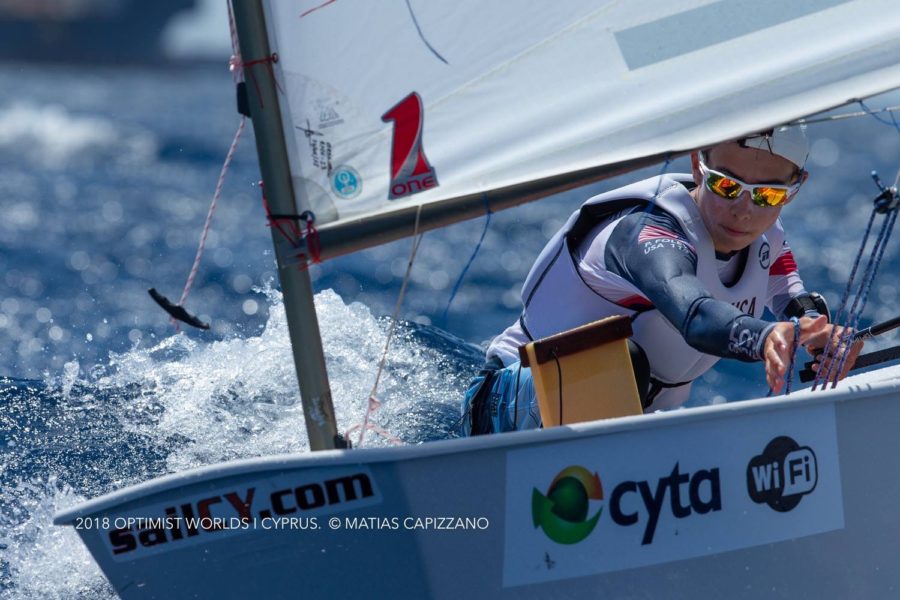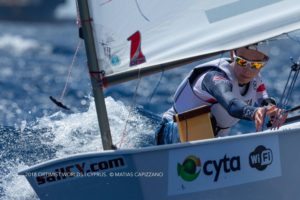 Bronze Fleet Overall Results
Emerald Fleet Overall Results
Correction: An earlier version of this article stated that these were the best finish positions for Americans at the Worlds. That information was incorrect! Apologies for the error. Thanks to Morgan Reeser for setting the record straight:
Optimist Worlds Winners
1966 – USA – Doug Bull
1969 – USA – Doug Bull
1970 – USA – James Larimore
Optimist Worlds Bronze Medalist
1976 – USA – Allen Lindsey
I applaud USA's 2018 Opti Worlds results, however out of respect to Doug Bull and James Larimore, and Allen Lindsey, it is worth noting that even Stephan Baker's 2nd Place this year is the fourth best US result ever in the Optimist Worlds, and is worthy of a printed correction.