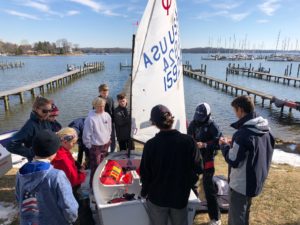 This spring's clinic was great! Despite cold temps, we saw a lot of improvement out there, and we hope that everyone learned at least one valuable thing. Our Optimist coaches Jordan, Sam & Maddie, former Opti stars themselves, were impressed with sailing, and appreciated the fact that we had a very attentive group. These 3 young coaches were very successful on the Optimist circuit at the national and international level, and continue to do great things in

the sport of sailing. They very much enjoyed a chance to give back a little bit, and I hope this was valuable for our clinic attendees. We are planning our Fall Clinic already, and hope to see you again. If you have any feedback or ideas on how things went and what we can do better, please let me know.
Saturday, we began the clinic with a lengthy dry-land rigging session with our Optimist stars. shared the secrets and rigging tips that made them so successful. On the water, we had a nice light/medium northerly and worked very hard on shifting gears in the Optimist. The box drill worked out really well, and we saw great improvement in sailors ability to shift gears, mark-to-mark, in the Optimist. Lunch de-briefs provided a great time to look at video and study sail trim and technique. We then had a mini-fleet race regatta of 5 races, and the competition was incredibly tight, with 7 of the 9 competitors finishing at least one race in the top 2!!! Wow!!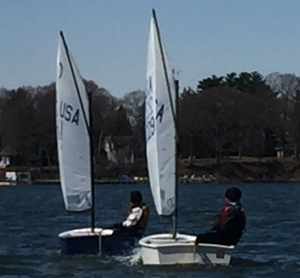 Sunday was windy and cold. After spending some time on heavy weather boat tuning, we headed out to do the triangle drill, stressing clear air, fleet position changes, and boat tuning. Sailors did an incredible job and showed marked improvement. We then went in for lunch and more video analysis from the mornings training session.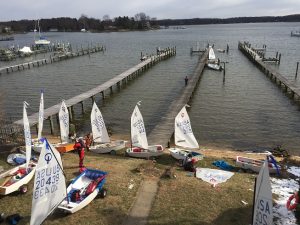 In the afternoon, after going  over team race strategy & tactics, we had an incredible team race tournament, right off the dock with parents watching only 30 feet away from the action!! It went down to race 7, with Team Blue winning the best-of-seven series 4-3!!
My general takeaways:
Study. You need to understand the mechanics of the Optimist rig, how your sail was designed, how it should be rigged and trimmed. Once you do, then improvise and learn what works better for you. This is time consuming, but worth it. Build your own tuning guide!
Prepare. For regattas, always spend time preparing your hull, rig, lines, and foils. Never enter a race with an unprepared boat. Fix items BEFORE they become a problem, and keep up with new rigging/spar/sail/foil trends.
Sailing Observations:

almost everyone needs to work on weight trim gear shifting. Too many times I saw sailors too far back in the boat, and not moving in wind strength changes
tuning. LOTS of improvement here, especially during the square drill, but still more improvement needed. You need constantly to re-think your sails tune as the wind strength and course (upwind/downwind) changes.
clear air. Too many times boats were content to sail in bad air; work hard to free your air up!
Focus always. Make sure you finish the race, and the day, with the focus with which you started. This is often aided by having the correct sailing gear/clothing, the right nutrition and hydration.
Saturday Tacking

Saturday Race Commentary

Saturday Race Commentary 2

Saturday Race Start

Box Drill #1

Box Drill #2

Box Drill #3

Sunday Upwind Practice

Sunday Triangle Drill

Sunday Stadium Team Race!