Next in Line, By Chris Klevan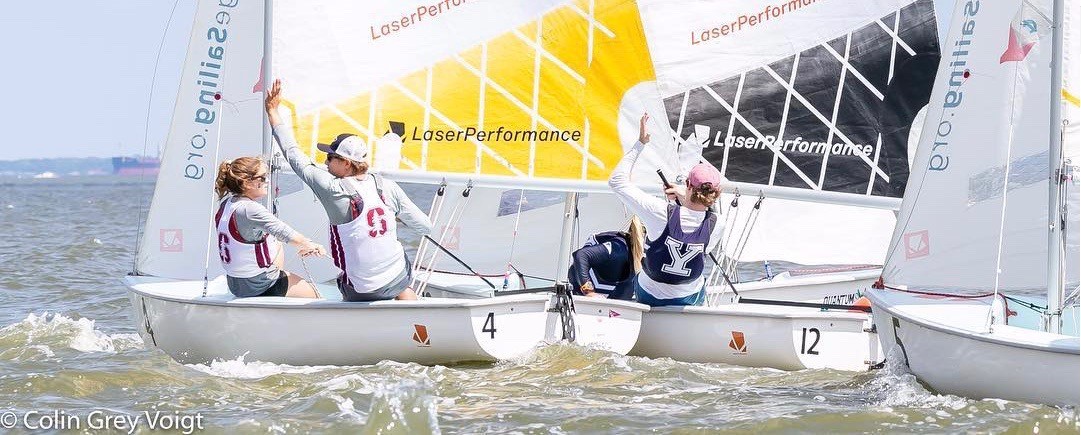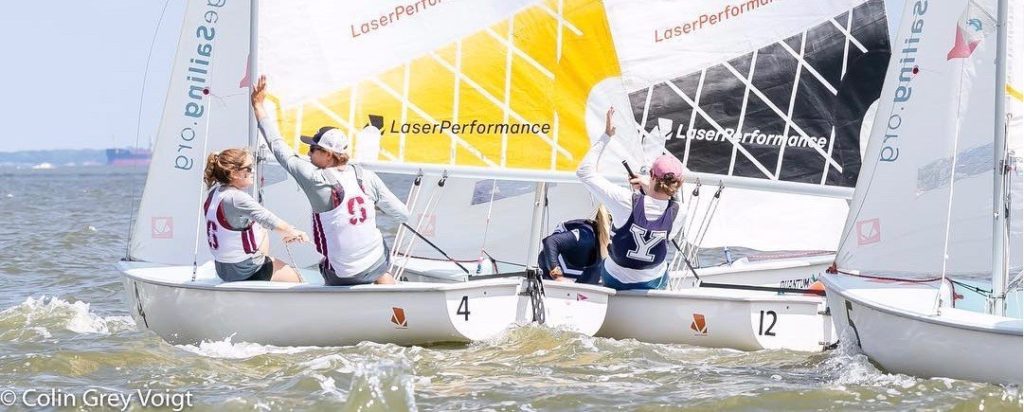 To see the ICSA Team Race Pre-Season Rankings complete with Coach Panel Analysis, CLICK HERE
If fleet racing is a zen-like endeavor where sailors compete mainly against themselves while the opposition is a secondary consideration, team racing is a one-on-one match where your squad must work together in perfect harmony to take down the opponents. It is match racing multiplied by three.
To see the ICSA Team Race Pre-Season Rankings complete with Coach Panel Analysis, CLICK HERE
The top team race teams have a star, an elite sailor that has the speed and boatlhandling to hang with the best and the leadership to boost younger, inexperienced teammates. The final-four teams have two of these stars and a third experienced skipper that has battled along-side the other two drivers at the highest level. The championship caliber teams have the full package. They have a superstar, the have a sneaky speedster, they have a scrappy team racer and 3 or more mechanically sound crews that know where to look and make their drivers omniscient.
The best teams, year after year, however have an institutional wisdom passed down from generation to generation, not facilitated necessarily from the coaching staff, but from alumni skippers and crews that have competed at the highest level and continue to get involved with the team. These practice sessions with the best of yesterday lead to the conversations needed to take a step above the teams who are only just ready now.
That's what we are trying to find in previewing the 2019 Team Race season. This is not a ranking, it is not just a list. This is an in-depth prognostication of the 16 teams that show potential, the 8 who have a leader, the 4 that have two and the teams that have the full package and, therefor a legitimate shot at winning the 2019 Laser Performance Team Race National Championship.
The 2019 Laser Performance College Sailing Team Race National Championship will be held in Newport, Rhode Island, May 25-27.
2019 will be a year in transition. 14 of the sailors who appeared on the rosters of last year's final four teams, Charleston, Georgetown, Hobart and William Smith (HWS) and Roger Williams, have graduated. Exactly half the players from the final round of the national championship last year.  Only Georgetown and HWS bring back more than half of their finals roster. The Marlow Ropes College Sailor of the Year and two time defending Team Race Champion, Stefano Peschiera is gone. The runner up and only other 2018 college sailor of the year finalist, Greiner Hobbs is gone. 4 of 6 of last year's great Roger Williams team has graduated. 4 of Charleston's championship 6 are now just Cougar fans. One of Georgetown's boats from last year's team has graduated, the same is true of HWS.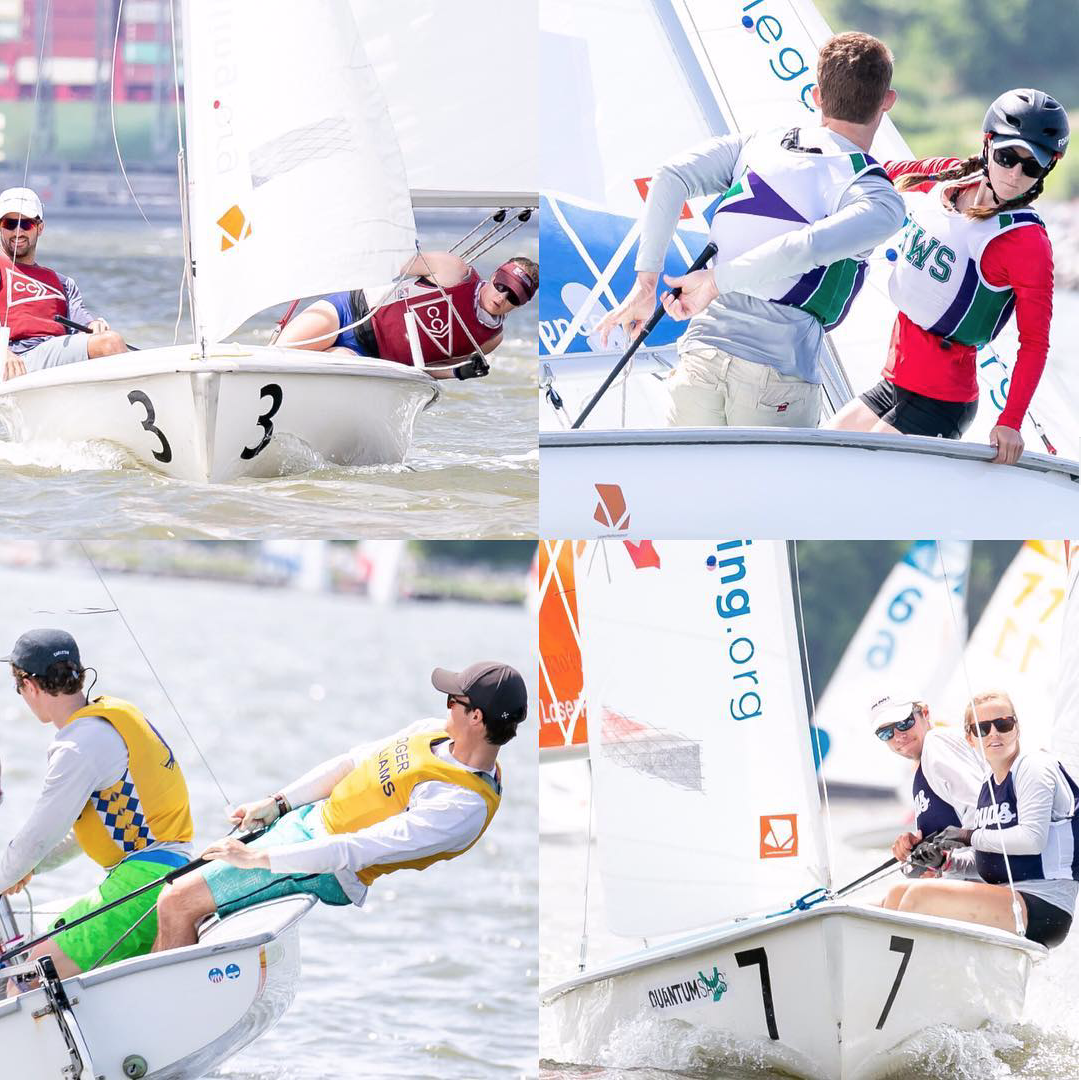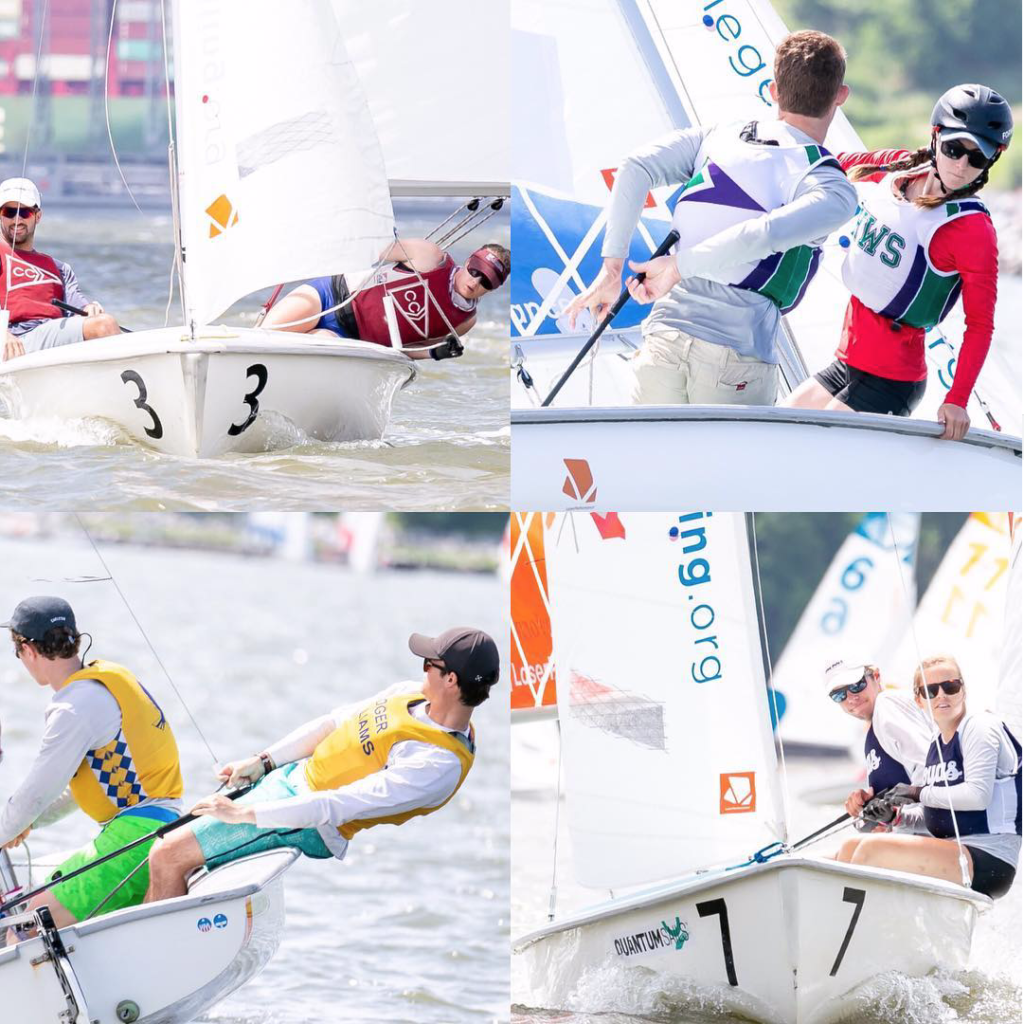 The question this year will be who will fill the void? Which role players will step into the spotlight? Which number two players of last year will be stars? What crews who have been waiting in the wings are ready for the big time? Which stars can carry their team there?
Charleston is now the two-time defending champion and are looking to three-peat. This year's team will be radically different. The good news? They still have Augie Dale and Katie Lounsbury who are perhaps the fastest boat in the nation. Augie and Katie tend to smile as they navigate the course about a knot faster than everyone else. The pressure will be on even more as the competition grinds their teeth looking to be the first team not named Charleston or Yale to win since Roger Williams did it in 2011. In 2012  Zeke Horowitz and Charleston won the Wood Trophy. In 2013 Graham Landy and Yale were champions… and again in 2014 and 2015- completing the three-peat. In 2016 Yale won again behind the prowess of Ian Barrows. 2017 was Charleston and Stefano Peschiera's year and 2018 Charleston repeated thanks to the addition of Lounsbury and Dale.
However, there is some bad news. Peschiera graduated, as did Elizabeth Pemberton, Grace McCarthy and Christoph Killian- all two-time team race national championship and All-Americans. What is left from that elite team is Mr. Dale, Ms. Lounsbury and a series of question marks.
Dale and Lounsbury did not appear much last fall, only sailing four collegiate regattas. Despite sailing a relatively sparse season, Dale and Lounsbury did win A-Division at the Coed Atlantic Coast Championship (also known as the Coed Showcase Finals), reminding the nation that they are still one of, if not the best boat in the nation.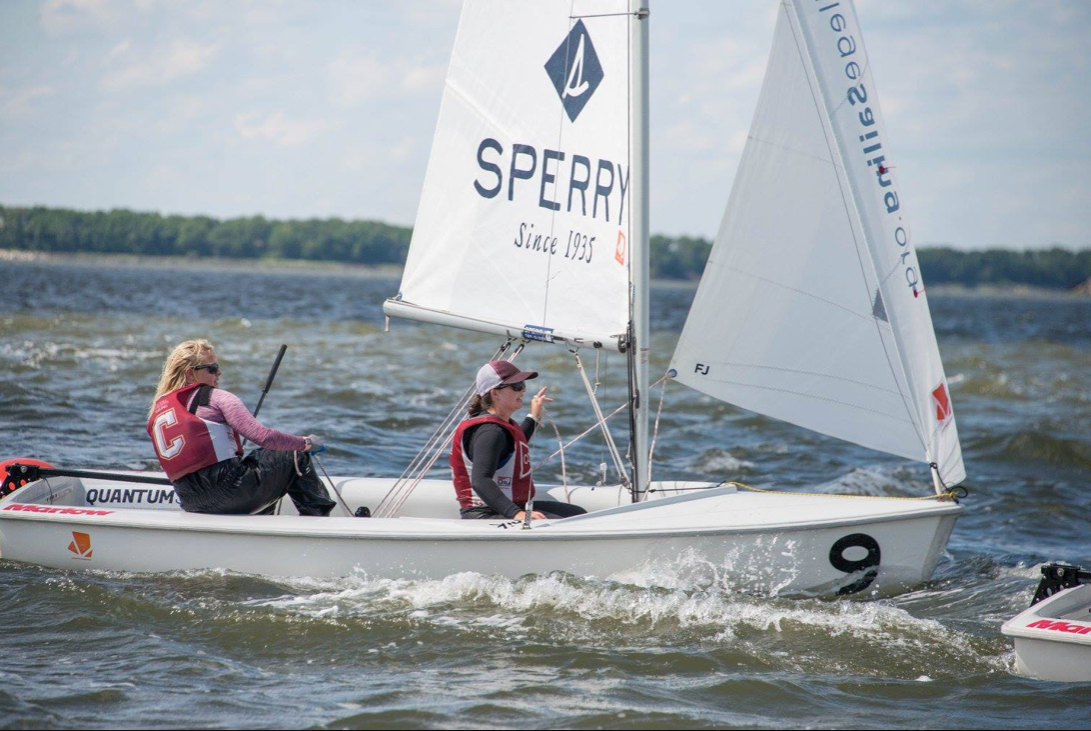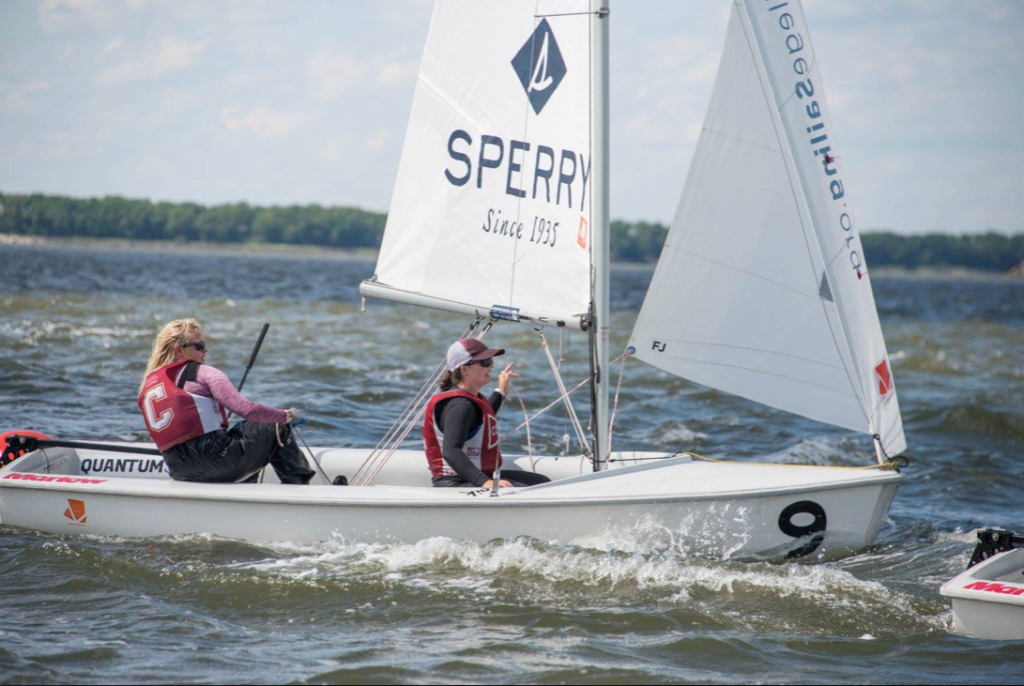 It will be interesting to see who fills the presumptive gaps in the Cougar's roster. Charleston's B-Division throughout the fall season did not quite impress. Jack Brown has been the most consistent starter with Oliver Parsons and Payton Alexander also getting time on the tiller. However, all of the aforementioned names are inexperienced due to the stalwarts the Cougars had the fortune of starting consistently in years past. Do not be surprised to see Women's phenom Alie Toppa spending some time with the starting team race unit as she's as fast as Dale. It is not hard to imagine regatta wins where Toppa and Dale simply sail away from the competition.
With that said, despite the prowess of Dale, Toppa and Lounsbury, there may be too much uncertainty to expect anything near to the success Charleston has earned the past two years. Therefore, this is the paragraph where we count Charleston out, as we've done at some point or another both of the past two springs, months before the Cougars prove all the critics wrong and walk away with the Wood.
Roger Williams, like Charleston, graduated 4 of the 6 sailors that sailed throughout the 2018 season. Last year's Roger Williams team never finished outside the top-2 at any team race regatta and were consistently the #1 ranked team. Those four graduating sailors, Mack Bryan, Martim Anderson, Rebecca Anderson and Michael McBrien were each 2018 All-American selections. What remains now from last year's team is senior All-American Jennifer Agell and senior Connor Harding.
Agell is as solid as they come and, coupled with Harding, represents the core of this new and uncertain team. Harding was crucial to Roger Williams' success last season. He, sailing with McBrien, turned himself into one of the best third skippers in the nation- the scrapper behind Anderson and Bryan's speed and refined boathandling, a critical role for any team with championship aspirations. This year, Harding with have to remake himself yet again- this time as one of the best team race boats in the nation, period. He can definitely get there. He's made the requisite steps towards that lofty goal in the fall, culminating in an A-Division win at the Schell Trophy, New England's fall championship.
The question looming over this year's Roger Williams team is not in Harding. The signs point to Harding filling some of the voids left from last season. Harding is a presumptive All-American. The bigger questions that need to be answered is who else will step up to fill the other holes left by those in the 2018 graduating class.
Like Charleston, there's been little room for any one but last year's starters. However, in order for Roger Williams to be as great as they were in 2018, a solid practice squad was more than a prerequisite. Harding and Agell stand as one of the best team race boats in the nation. Last year's 4th and 5th boat will now be their 2nd and 3rd. With coaches and team race world champions, Amanda Callahan and Colin Merrick at the helm, expect any early season issues due to inexperience to be quickly resolved. It wasn't too long ago that Harding, Anderson, Anderson, Bryan, Agell and McBrien were unknown variables. Expect Roger Williams to be a player this year.
Hobart and William Smith (HWS) fell short last year against Charleston in a race in which they were winning with a 1-2 half way up the final beat of the final flight of the regatta. Closing out that race would have dramatically changed the finish of that event. It would have given HWS a share of the lead and the tiebreaker over Charleston and the first Team Race championship since 2005. However, they failed to balance the final cross of the beat and an experienced Charleston capitalized on the mistake sending HWS home heartbroken.
Since then HWS has graduated their best boat in Haley Okun and Greiner Hobbs. Like Charleston now, HWS is left trying to fill some very big shoes. Unlike Charleston, however, HWS still has most of their pieces in place.
HWS Head Coach Scott Ikle had the following to say about this year's team:
"The Key for HWS returning to the final  four this year will be to quickly identify the third skipper/ crew combination that works best with Charlie/ Lindsey and Hector/ Maya.  All the successful team race teams have competitive practice squads.  For us, who do the starters have the confidence in from the practice squad to get the job done?  The quicker we can figure that out, the more time they will have to work together.  Plus, Charlie and Hector will have to step up and be great mentors, because whomever wins the starting role is going to have a lot of pressure on their shoulders and they need to know that  their  teammates got their back."
This team was close enough to win last year. But this year is a different team. It remains to see if Guzman can elevate to the superstar level, if Charles Miller can assert his will on the league and who not featured on last year's roster will step up to round out the starting 6. With that many question marks expect HWS to take a step back. But then again, not many teams fight like Ikle teams. Miller and Kloc had a great fall fleet race season and Guzman and Maya may be as quick as anyone on any racecourse. If that foursome can find a third boat that improved as quickly as Miller and Kloc did last fall when the pressure was on, expect this team to surprise the doubters.
Georgetown has the full package it seems. They lost a senior skipper, Roger Dorr and crew Meaghan MacRae- one of the best crews in the nation. However, Andy Reiter '19, who looks to try to fill the shoes left by Dorr, has to be considered one of the most improved sailors after this latest fall season. Reiter sailed over Logue at the War Memorial Regatta (MAISA Championship) and won B-Division. Reiter also competed at the US Sailing Team Race Championship in Cleveland, Ohio last fall and didn't just hold his own, his team finished 5th overall. If he continues to improve at this same pace he might not only effectively replace Dorr, he might be an upgrade besides two of the best sailors in the nation in Segerblom and Logue.
"We are excited to begin team racing this spring and try to win a national championship. We have been close the last three years – making the final four but just missing out," said Georgetown Head Coach, Mike Callahan.
Callahan continued to say, "We lost Roger Dorr and Meaghan Macrae to graduation so that is a significant hit. Andy Reiter will be a big key to our team. He has steadily gotten better and this fall he had the chance to sail at big events and did really well."
"He had been behind Roger Dorr and Campbell D'Eliscu for the past three years so it's his time to shine. We will have a starting team of Andy with Sean Segerblom and Will Logue. For crews we have Rebecca Fung, Caroline Teare, Haley Shea and Claire Mohun and others. Those four crews are extremely talented and good enough to be All-Americans and will be a huge help."
"The key to any good team race team is to have a 2nd team that's equally as good. While our depth isn't what it used to be we will have Jack Reiter, Andrew Person and Noah Kelleher pushing for starting spots. We don't feel any added pressure to win but we do remember well the disappointments of finishing 2nd, 3rd and 4th the last three years so we all want to end the season on top."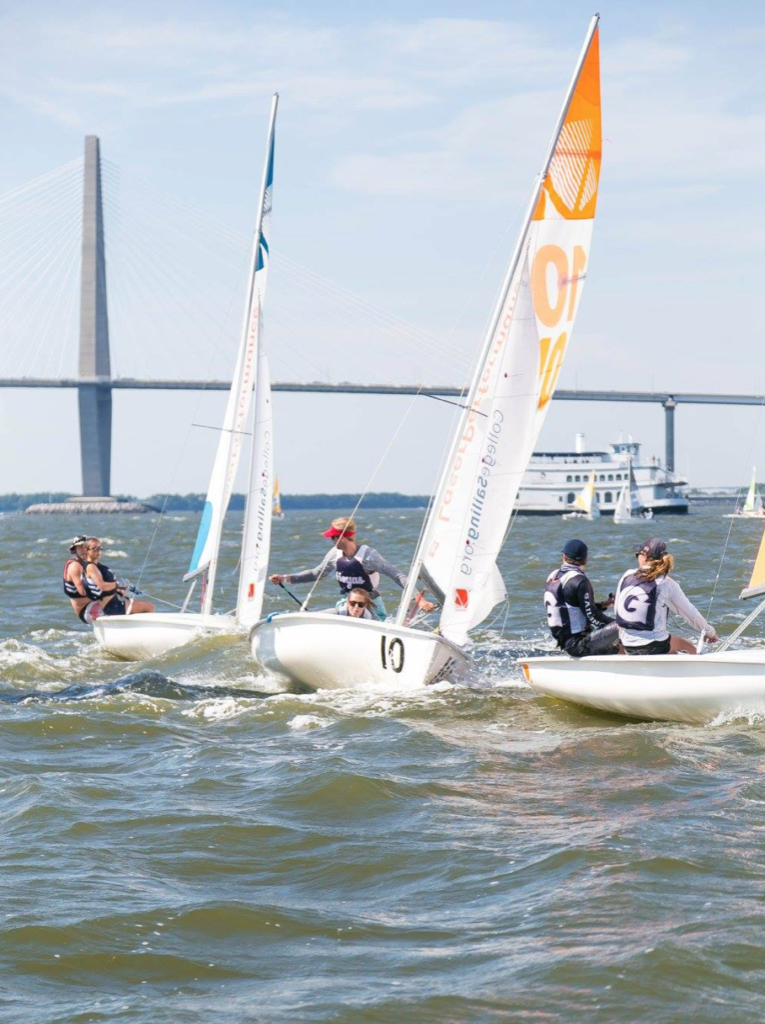 With the development of Reiter, the fact that Logue and Segerblom should elevate their game going into their Junior years and the experience of Rebecca Fung, Caroline Teare, Haley Shea and Claire Mohun, the Hoyas seem to have a headstart on the rest of the nation. Another empty trip to the final four seems unlikely for this now seasoned group
Stanford is even more talented than they are young. The Cardinal was the first team out in last year's championship, a particularly impressive accomplishment due to their youth. True, they'll graduate and lose their best sailor and team leader, Will La Dow. Without the seasoned veteran, we can only guess at this team's ceiling. With either sophomore, Jack Parkin or freshman Wiley Rodgers joining the starting group of Romain Screve and Jacob Rosenberg, this team could develop into a dynasty the likes of which we haven't seen since Graham Landy graduated from Yale.
"We are definitely excited about the coming team racing season," said Assistant Coach, Clinton Hayes.
Like with Reiter of Georgetown, the US Sailing Hinman Team Race Championship suggested that this Stanford team is ready for the big leagues. Finishing 7th overall at the US Team Racing Champs, Stanford looked like one that could beat any team there- they proved that by going 3-0 against the eventual regatta winners.
"The Hinman certainly hinted at the potential of the team but we are well aware that last years national champions almost won the event so there's definitely still a lot of work to do. We're a young team in general with no senior drivers and 2 sophomores drivers but most on the team have had significant nationals experience already," continued Hayes.
Mr. Hayes went on to say, "Our leaders on the team are our captains, Jacob Rosenberg and Meg Gerli who will both contribute a lot. Multi time All-American and Senior crew Kathryn booker will also make a huge contribution both in leadership and sailing talent in the boat with Jacob."
"2018 All-American Taylor Kirkpatrick '21 is very talented and will likely sail with Jack Parkin. Finally on the crew side freshmen Sammy Pickell has had some good results with Romain Screve and will be very fast. We also have a bunch of hard working heavy air crews so we'll see who rises to the top and sails in those windy afternoon races in Newport," finished Hayes.
It seems likely that Stanford will jump into the final four and, if they live up to their potential, challenge Georgetown for the championship.
For Yale, last year championship finished on an uncharacteristically lackluster  note and a 7th place on the final standings. The Bulldogs seemed to have the full package last year with a top-5 skipper in Nic Baird a freshman phenom in Shawn Harvey, an experienced veteran and 2-time college team race champion in Malcolm Lamphere. Not to mention one of the best groups of crews in the nation, led by NEISA crew of the year, Graceann Nicolosi.
However, Norfolk was unkind to the Bulldogs as they struggled to hang in the flat shifty conditions that favored the ultra quick. 7th is a perfectly respectable finish, but not for a team that had it's eye on its 4th Team Race title in 5 years.
This year will be different. They lost Lamphere and Knapp, two great leaders, but the continued development of their young core in Harvey, Loiacono and Lingos Utley coupled with the elite abilities of Nicolosi and Baird should allow Yale to step back into the final-four, if not the championship conversation. Moreover, Lamphere's presumptive replacement, senior Nick Hernandez is coming off a stellar fall season where he was, with Harvey, one of the best B-Division skippers in the nation.
Bowdoin's fall season may have surprised some. Those in the know, however, realize the Polar Bear's recent success has been a long time coming. The efforts of head coach, Frank Pizzo is obviously paying dividends.
"There is a different level of drive in this group compared to previous years," said Pizzo. "Our team is pretty quick and we will need to continue to develop our speed to be competitive.  If our speed continues to be an asset, our ability to win in play 2 will be a strong sign for how good we can be."
Matthew Kaplan, alongside Christian Filter, Matt Safford and Alden Grimes, look to lead Bowdoin to their first team race nationals appearance and if they're able to do so, Kaplan looks to be Bowdoin's first All-American.
"Our crews will be the piece that will benefit us the most this spring," concluded Pizzo. "We know the conference is highly competitive."
Dartmouth's Big Green have their guy in Christopher Williford. Williford, now a Junior, has been one of the fastest sailors throughout his collegiate career. However, to pull this team out of NEISA and into the top-8 Williford will need to be dominant. He can be.
For Dartmouth to elevate to the final-4, Williford will need some help. This is where things become less clear for Dartmouth. The the Schell Trophy, New England's championship regatta, Jack McGraw '20 and Alyssa Berger '19 sailed well, helping the Big Green to a second place finish. Cole Harris, a freshman could be in line for some playing time despite an up and down fall.
Stay tuned for part 2 of the Team Race Preview where we will dive into eight more teams!