Seabrook, Texas – April 26, 2021
The 2021 KO Sailing Optimist Team Trials was held at Lakewood Yacht Club with 203 of the top Optimist sailors from across the country.  James Pine of South Carolina Yacht Club finished in first place with Gilman Hackel of Lauderdale Yacht Club in second place and Fynn Olsen of Miami Yacht Club in third place overall.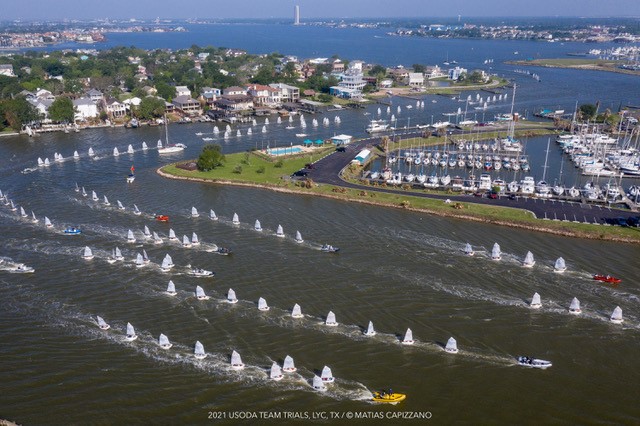 Twelve races were completed over four days, April 22-25, on Galveston Bay in a full range of conditions.  A late Spring cold front kicked off the event with breeze building to 20kts from the north and chilly temperatures.  By the final race days, a warm southeasterly pattern set in for sunny days and breeze of 12-15kts.  The full range of conditions proved the ideal competition setting for sailors contending for international teams and regattas around the world.
"Lakewood Yacht Club provided an excellent regatta experience both on and off the water for the sailors", said Erich Janzen, United States Optimist Dinghy Association Board Member and father of Maddie Janzen, top girls division finisher in 11th place overall.  "The Race Committee put in a hard four days for top-level racing."
The pre-regatta highlight was an evening coaches regatta raced in the Lakewood Yacht Club's fleet of  RS21s.  The camaraderie and friendly competition between teams was the perfect way to start the event with sailors cheering for their coaches.
Full results are here: