By Staff writer Amelia Robinson
Belmont Harbor, Chicago, IL, July 7, 2023 – Despite several postponements and complications, this past weekend the C420 class was able to show out for an incredible display of skill and expertise.
With varying winds favoring N/NW/W and the choppy conditions of Lake Michigan, a few boats struggled to navigate the rough waters. However, these experienced sailors persevered and managed to give an impressive performance with intense competition throughout the entire weekend.
As spectators looked across the gorgeous view at the Chicago Yacht Club, they could see ​​Freddie Parkin and Asher Beck (Riverside) dominating the regatta, placing first in 5/7 races, allowing them to place first overall with a lead of 8 points.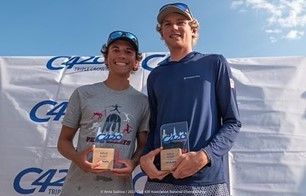 Freddie Parkin and Asher Beck
The battle for second place was much closer between Richard Sykes/Annie Sitzmann (NB4T) and Morgan Pinckney/Piper Blackband (NB4T, BCYC, NHYC, BYC). However, an 8th place finish in the second race set Pinckney/Blackband back enough for Sykes/Sitzmann to triumph in the end with a 3-point lead, leading Pickney/Blackband to claim a third-place finish.