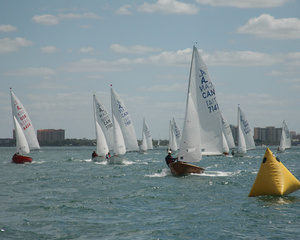 The Albacore is one of many dinghies from the desk of Uffa Fox. Designed in 1954, this class has active fleets in the US, Canada and England. With over 8,000 boats worldwide the Albacore is clearly one of the most popular dinghies available today. Loaded with features, the Albacore boasts quality workmanship and strong class association support. Few centerboard sailboats available today are as versatile as the Albacore.
Yacht clubs, sailing schools and community sailing clubs have long chosen the Albacore for their junior and adult training programs. In fact, many of the top sailors in North America learned to sail in an Albacore.
The United States Albacore Association supports Albacore Fleets and activities here in the states. Sanctioned events run from March until October. The class association provides a lot of benefits including a regularly published newsletter, seminars, regattas (including regional, national, North American, and world championships), and support of local fleets. Another benefit of a strong class associations is a strong market for used boats. The United States Albacore Association is dedicated to keeping the Albacore sailing fun and affordable.
Here's the Class Website: