By Airwaves writer Zach Brown (please add your comments in our online forum at the bottom of this article.)
The announcement of the new Collegiate 420 by Laser Performance sprung an interesting discussion about the many boats available to collegiate sailing programs around the country. There are more dinghy manufacturers and more boat options than ever before. This article will discuss the current landscape of boats sailed at major programs, the increased fleet options available, and whether or not there is a competitive advantage to owning a specific fleet of boats.
The Current Landscape
Presently there are five doublehanded dinghies in college sailing: FJs, 420s, Fireflies, Techs, and Larks. Each boat is unique and teaches different skill sets that are all valuable to becoming a well rounded and successful sailor. The Holy Grail, also know as the perfect dinghy for all intercollegiate programs, simply cannot exist because not all sailing venues are the same. The best boat to sail on a small river or lake is not suitable for a choppy open water venue.
FJ
The FJ is the most common college sailing dinghy. Roughly fifty-four percent of programs own a fleet of FJs. Light teams weighing less than 260 pounds gain a significant advantage in soft winds. Strong winds favor a heavier combined crew weight of approximately 295 pounds. Bigger skippers benefit from balancing more weight aft in the boat, which pops up the bow and increases upwind and downwind speed.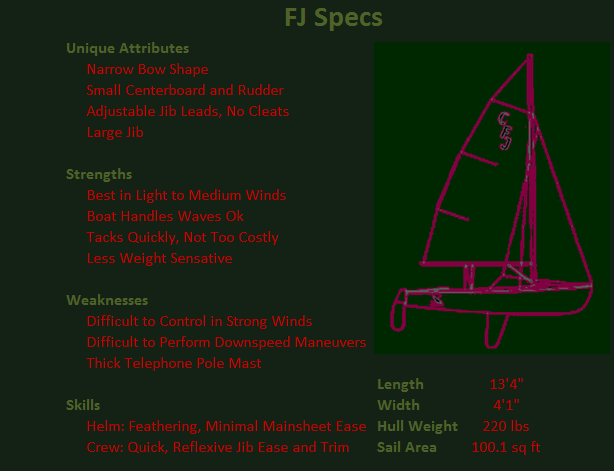 Club 420
The Club 420 is the second most sailed boat of college sailing. Approximately forty-three percent of all programs throughout the country own a full fleet of 420s. The 420 has a very flat aft hull surface which dictates the quirks associated with the boat. While the flatness aides in stable planing, it makes sailing the boat over 275 pounds rather difficult in light winds due to all the wetted surface area. A light weight team of 255 pounds will have a speed advantage in less wind, but the very large centerboard powers the dinghy up dramatically in breezy conditions requiring much more crew weight. Schools must attend regattas sailed in 420s with a range of crew sizes to compete in varying wind velocities.
Firefly
The Firefly is a popular British University boat that has finally made its way into the American college sailing scene with a few modifications including a gnav strut kicker for the boomvang and a reef point so it's easy to reduce sail area in windy conditions. Although Fireflies are currently only sailed at MIT on the Charles River in Boston, don't be surprised to see more fleets popping up at universities limited to flat water shifty venues.
The deep hull is a fully rounded surface which makes it possible for heavier teams to be equally competitive with smaller ones in light winds. The tapered mast depowers the mainsail in heavy breeze so larger teams do not gain a relative advantage. Quick crew work is a requisite for the firefly because tacking is fast and favorable. The Firefly is the ultimate short course team race dinghy that gets around the race course easily in light winds and rarely has kinetics rules violations.
Tech Dinghy
Even though it's only raced at MIT and UW Madison, the infamous Tech Dinghy is a staple for the NEISA and MCSA districts. This simple design created in 1935 has set the technology curve in college sailing multiple times; first with the introduction of fiberglass boat building technology in 1953 and now in 2012 with its 6th generation creation of an all carbon boat. Over 2000 people are introduced to sailing through the Tech Dinghy every year. The indestructible Techs are a flat water venue dinghy suitable for singlehanded or doublehanded racing. The boats are easy to tack and great for light wind shifty conditions.
Techs are famous for equaling the playing field of college sailing because everyone has the same boat speed and there is no benefit to sailing light. It is almost a rite of passage in NEISA to have a mental breakdown in a Tech on the Charles River due to the competitive nature of Techs and the challenging venue of the River. Overcoming the challenge of the Tech Dinghy teaches sailors plenty of lessons that are valuable for the rest of their sailing career.
Some new designs for MIT's 6th generation Tech Dinghy include: increased sail area to 84 sq ft, mainsheet controlled from mid boom instead end of boom, ease of planing, greater speed that exceeds FJs and 420s in many conditions, and ease of recovery after a capsize with minimal water to bail.
Lark
The Lark is only raced in college sailing regattas at Tufts University in a suburb of Boston, but Wesleyan University in Connecticut and many British Universities sail the boat as well. The Lark is incredibly similar to a Firefly with its hull shape, bendy rig, and ease to tack. The Tufts Larks could not suit Mystic Lake better with its extra large square top main sail and carbon rig making it easy to get races off and have productive practices in shifty unreliable wind conditions. An ideal flat water venue dinghy, the Lark is one of the fastest boats in college sailing. Because the Lark accelerates so quickly and speed almost doubles, sailors can sometimes chase a filling puff instead of waiting for it to arrive.
The Changing Landscape
College sailing equipment is changing rapidly due to the design of new boats and emergence of more boat builders. The sport is improving from the increased focus of boat builders like Laser Performance, Rondar Raceboats USA, and Zim Sailing. The battleground for these manufacturers takes place on the price, durability, quality, service, and suitability of the boats.
Laser Performance
Laser Performance produces the majority of college sailing boats through the traditional offering of the Club 420 and the FJ. Over the last few years Laser Performance has committed considerable resources redesigning the 420 for increased speed, performance, and durability while maintaining the price point. The exact release date for the Laser Performance Collegiate 420 hasn't been released yet, but it has been confirmed that St. Mary's College will host the 2014 ICSA Coed College Sailing Nationals in this new dinghy. Features of the Collegiate 420 include a core layer in the hull and deck that makes the boat twenty pou
nds lighter and significantly stronger with a closed forward bulkhead. Other small changes include inboard jib leads, an integrated bow bumper, and new fittings.
Rondar Raceboats USA
Rondar Raceboats has been making high quality boats since 1964. Their success is well known in non-college sailing classes such as the 505, Firefly, Viper 640, and the K6. This long established "new comer" to college sailing offers sailing programs the choices of the Rondar 420, the Firefly, and the Tech Dinghy. The Rondar 420 is similar to the Collegiate 420 with two forward bulkheads, a fully cored hull, and resin infusion. Although initial pricing is slightly higher than the mainstream brands, Rondar's representative claimed the "whole life" costs of their boats are considerably cheaper than any of the current choices. MIT has bought into this idea with a fleet of Rondar 420s, 20 Rondar Fireflies, and a new fleet of Rondar made Carbon Tech Dinghies.
Zim Sailing
Zim 420s and FJs are another new comer to the college sailing scene. Zim has already made its way into the hands of many schools including Columbia University, Fordham University, SUNY Maritime, University of Connecticut, and University of New Hampshire. SUNY Maritime coach Russ O'Reilly has been pleased with the boats, the service, and the price of his Zim 420s. O'Reilly specifically noted that the service was top notch with each boat assembled, tested, and inspected by a team of Zim builders.
Competitive Advantage?
With five unique college boats available now, new boats coming in the near future, and three different boat manufacturers, fleet selection become harder for some college sailing programs. Clearly there is a competitive advantage to owning some FJs because the majority of college sailing interconference regattas are raced in FJs. But, that does not mean every school should have a full fleet of FJs. Selecting the proper dinghy based on the conditions of a program's venue is the top priority. Supplementing the fleet with a group of at least six other boats is a great way to diversify and properly prepare for each weekend's regatta.