Balance, we all need it to help us perform daily tasks so of course, we need it for sailing! Recently, my husband and I started sailing a new sailboat the RS 500, and we will be traveling to England at the end of summer to compete in the RS 500 Worlds. This is a doubled handed single trapeze boat. So first time in the boat the other day I was getting to test out my balance skills using the trapeze. Fun time, but now time to work a little more on tho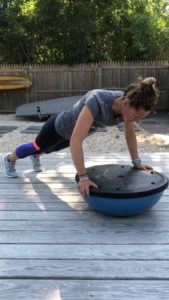 se balance skills! Getting sailing the other day lead me to create a new balance workout. No matter what boat we are going to be stepping into we will need to have balance and stability. These two factors are critical to our performance out on the water. By having strong balance and stability, you will be able to make more precise movements out on the water making gains and improving your skills. Time to get working on that balance!
For this workout, you will need a BOSU ball and dumbbells. The BOSU ball is a great fitness tool to use to help improve your balance skills. Check out the video below with all the moves for the workout.
Warm Up with Dynamic Stretching (5 minutes)
Core Activation:
Plank (45 seconds)
Single Leg Squat (30 seconds each side)
Shoulder Taps (45 seconds)
Split Lunges (45 seconds)
Repeat 3x with 30 secs between each set
The Workout:
1. BOSU Pushup – 15 reps
2. BOSU Balance Deadlift – 5 reps each side
3. BOSU Ball Ski Moguls – 20 reps
4. BOSU Plank Up Downs – 12 reps
Repeat 3x with 30 secs between each set
1. Plank with Flying Plane Arms – 12 reps each side
2. Single Leg Bent Over Row – 15 reps each side
3. Curtsy Lunge With Oblique Crunch – 12 reps each side
4. Weighted Single Leg Deadlift – 12 reps each side
Repeat 3x with 30 secs between each set
1. BOSU In and Outs – 20 reps
2. BOSU Weighted Alternating Lunges – 20 reps
3. BOSU Alternating Knee to Elbow – 20 reps
4. BOSU Weighted Squats – 20 reps
Repeat 3x with 30 secs between each set
-Cool Down with Foam Rolling and Static Stretching
For more information on fitness for sailing contact rachel@sail1design.com. Also check out Sailorcise on Facebook, Twitter, and Instagram for daily tips on fitness, nutrition, and sailing.