RS Sailing would like to introduce the development of their latest sailboat, the RS Quest. Designed by RS Sailing and Jo Richards, the RS Quest is a 14' 1" dinghy developed for use across all sailing programs across North America.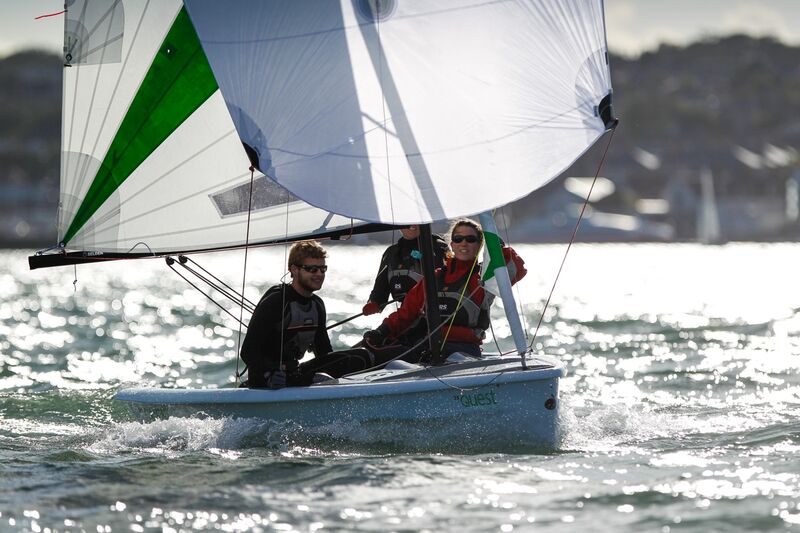 RS Sailing have been aware of a potential opportunity to get more people afloat through programs such as Learn To Sail and courses offered at Community Sailing Centres and are confident the RS Quest, seated between the RS Feva and RS Vision within the RS range will do just that, providing a sailboat for beginner programs right up to spinnaker improvement programs. Current sailboats used for programs of this nature require a level of upkeep so developing a sailboat requiring less maintenance and providing more versatility across all levels of sailing is the next logical step.
The RS Quest has been developed based on the following requirements from a range of Programs currently running in North America:
To have a capacity of four people, enabling the introduction of basic sailing techniques with both students and an instructor on board
To be a versatile dinghy that can easily cater for a whole range of sailing courses, from 'Learn to Sail' to 'Racing' and 'Advanced Techniques'
To be light enough in weight that youth sailors can manoeuvre the boat with confidence and ease on and off the water
To have simple and effective control lines to meet beginner needs right through to advanced sailing techniques
To offer both a asymmetric and symmetric spinnaker for versatile use in enclosed waters
To include additional storage space for longer journeys
To offer light sheet load with approximately 11m2 in the main and jib sail area, putting a focus on enjoyment for youth sailors
To be easily reefed
To have the ability to be easily recovered from capsizes
To include adjustable toe straps for the varying size of sailors
The RS Quest has already undergone intense testing with the first prototype having been tested by a range of sailors over the past couple of weeks. In true RS development fashion, styling has not gone amiss. Features such as a pivoting mast and the ability to be set up for both symmetric and asymmetric spinnaker sailing are just two features that have been included, and demonstrate RS to be once again leading the way in design and development.


Features of the RS Quest include a self-draining cockpit, and a super stable hull to give maximum security and feel ultra safe. The feel of the boat is considerably larger than its size with a large cockpit for up to four people, great for training and family. The RS Quest has been designed for maximum strength in all high load areas of the deck and hull. The rig can be set up for both symmetric and asymmetric sailing – perfect for confined sailing locations and for conducting relevant spinnaker courses. The hull offers plenty of dry storage and removable thwarts and seating, as well as adjustable toe straps for versatile use.
The rig is a two-part aluminium mast, with a sealed top mast for buoyancy aiding recovery and reducing inversion. To aid the rigging process, the mast foot is on a pivot, making it easier and safer for one person to rig. Externally running halyards make for easier use and hassle free replacement as well as control lines on the boom designed for simplicity. The square head main has buoyancy in the top of the sail drastically slowing down the time it takes to invert, taking into account the varied ability of its potential sailors. Reefing on both the Dacron main and the jib is in its simplest form: slab reefing on the mainsail and roller reefing for the jib.
The RS Quest foils features a GRP pivoting centreboard and aluminium rudder blade. A cast rudder stock with a lock on the tiller for holding the rudder up and down is combined with a protective mechanism that will release on contact with the ground.

Alex Newton-Southon, Managing Director, Operations and Technical of RS Sailing commented; "We are extremely privileged and excited to be working on this project with Sailing Programs in mind in North America. It's a new area of the market we are yet to explore and hope to provide sailing to lots more sailors, both young and old in the future with this development."
http://www.rssailing.com/us