As the GPYC celebrates its 100th year of existence, there has been even more emphasis in providing exceptional service and state-of-the-art amenities for our members and their guests in order to meet their needs and changing lifestyles.
NewsFlash: GPYC is hiring a full-time Junior Sailing Director!
You can consider the Club to be your "home away from home," which offers something for everyone. The clubhouse grounds include a state-of-the-art swimming pool, tennis, paddle tennis, and a bowling facility. Our 268-well secured harbor, business seminar services, affiliate fitness and golf club partnerships and exceptional dining cuisine along with magnificent views of Lake St. Clair, are just some of the amenities GPYC has to offer.


There are a lot of exciting changes going on in the sailing world here at the Grosse Pointe Yacht Club! If you have been at the club recently, you may have seen one or more of the five high school sailing teams that are now sailing out of the club…in fact we are hosted the MISSA Mallory Qualifier this past weekend. There were 20 teams from all over the midwest and the top two teams moved on to the national championship for fleet racing. Our two J 70's from last year have inspired others to start a new one design class in Detroit. Fourteen new owners have agreed to buy and race this new boat on Lake St Clair. We will have a fleet of over twenty boats sailing out of the Grosse Pointe Yacht Club for the Bayview One Design regatta which is the first weekend in June. Please swing by the club to see all the spring sailing taking place!
We also have some great enhancements to the Junior Sailing Program this summer. We will offer new courses while keeping the ones that have worked so well over the years. We will have a learn to sail program in Optimist for the younger sailors and learn to sail in the 420 for the teenagers. Adventure sailing will be a new program designed for teenagers that want to just have ur new refurbished J 22's. Grosse Pointe Yacht Club should be proud to have the best in sailors and coaches and we will work hard to stand out at all our local regattas. The last week in July will be exciting with our two day regatta follow by a US Sailing Junior Olympics at our club July 29/30 and 31st.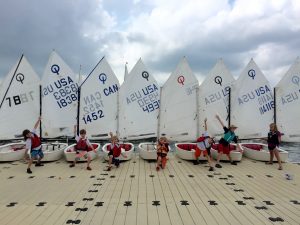 I am happy to announce that we have hired Eliza Schuett to run our race team this summer. While our primary focus will be on the local events I have tasked Eliza with coordinating and executing a plan to inspire and teach our young sailors to take their sailing skills to the next level whether it be a veteran racer, or a child who has just starting racing but has the passion for more.
NewsFlash: GPYC is hiring a full-time Junior Sailing Director!
We are in the final stages of finalizing our new travel policy which thanks to the support of the Yachtsman Fund will offer a generous coaching fee reimbursement for out of town regattas that it do not make financial/logistical sense for the club to send one of our coaches to. In the meantime, If your son or daughter wishes to race in an out of town regatta, please call me ASAP so that I can help facilitate options for coaching.