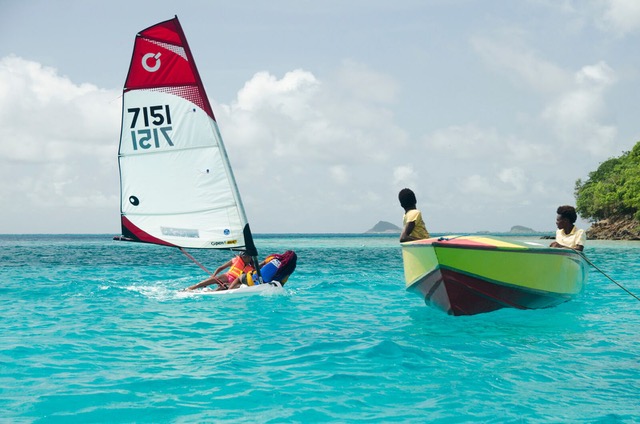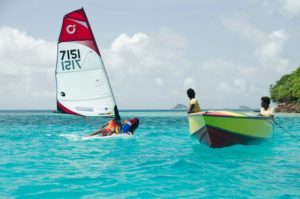 Bow Sailing is a non-profit organization based out of the Virgin Islands whose mission is to empower local Caribbean youth through sailing and mindfulness life skills. The meaning of the organization name comes from the word "bow," meaning the front of a boat as well as a sign of gratitude. Bow Sailing seeks to merge together both the sailing and the mindfulness components of the word.
Bow Sailing was started in April of 2017 by founders Tyler Rice and Liz Nurse as a mindful charter boat business. The business offers yoga, meditation retreats and opted for drinking smoothies onboard instead of painkillers. They hosted mindful retreat charters and coached kids sailing on their home island of St. Thomas in the US Virgin Islands. They found that they were able to make the largest impact working with children, and decided to make a big shift in their focus. Tyler and Liz say this shift was "one of the most rewarding decisions we've ever made."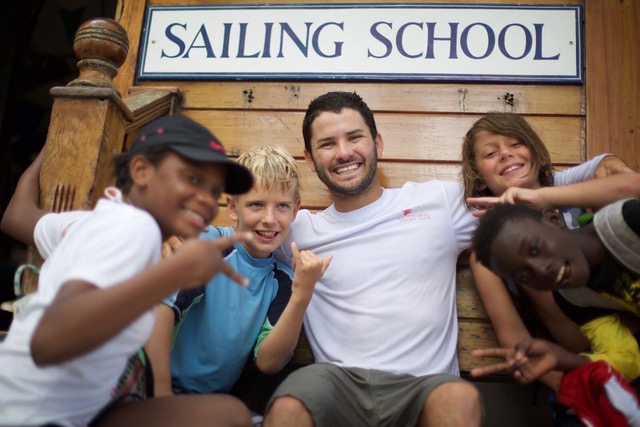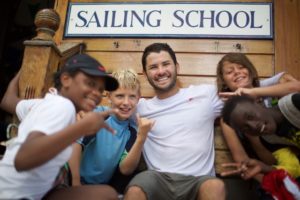 Founder Tyler Rice with students
When asked how youth sailing was started, Tyler said "we saw a couple of young local kids sailing an optimist while in Union Island in the Grenadines two years ago. The sailors were using the optimist to dive for sea eggs that they would eat. They didn't know quite how to rig up the boat but they loved sailing for the love of being on the water and where it could take them. It was only natural to teach them how to rig up the boat and give them some tips on how to sail upwind. One thought led to another and quickly we were planning another trip down to work with a whole group on Union Island, which resulted in camps on three more of the islands and before we knew it we had a program desired by islands all over the Caribbean."
Tyler and Liz ran with the idea and saying, "we recognized that there were so many locals throughout the Caribbean with the desire to experience the ocean and sailing but were missing the resources, (either boats, coaches, or funding) to make that a reality. We believe that a love of the ocean and knowledge of sailing is a birthright of anybody raised on an island. We also believe that if you are surrounded by water, you should at least have the opportunity or invitation to experience sailing." They enlisted the help of friend William Torillo as the head photographer and media creator to help spread their organizations story.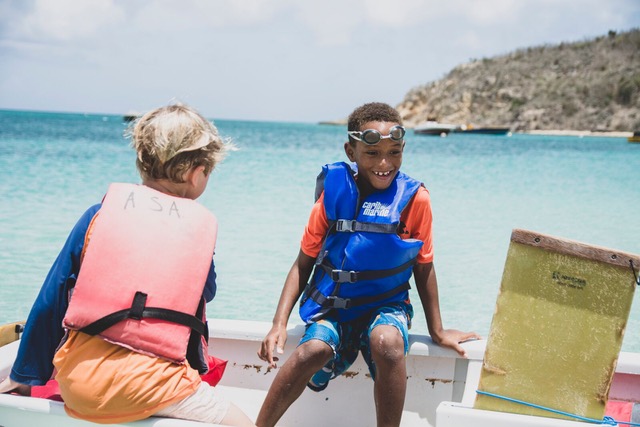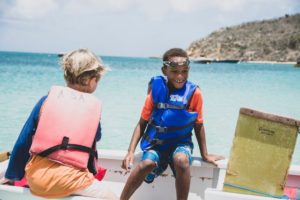 Bow Sailing has made an impact on these islands so far,
-St. Thomas, US Virgin Islands
-Jost Van Dyke, British Virgin Islands
-Virgin Gorda, British Virgin Islands
-Anguilla
-St. Vincent
-Mayreau
-Union Island
-Carriacou
Utilizing the communities resources, if the island has a sailing club or available dinghies, the sailors will borrow them for the duration of the camps. Sometimes if the island doesn't have the boats, they will source them from a nearby island and transport the boats from island to island. The distinguished instructors and coaches are drawn from a network of friends from all over the world who take the time out of their busy schedules to give something back to others. Everyone involved works together to provide the coaching and resources required, as well as the food and shelter for staff. The programs use optimists, 420s, lasers, sunfish, picos, open bics, hobies and IC 24s for boats.
"We've been very lucky to be invited to run these programs by each island, and everyone wants to see the coaches and kids succeed." – Tyler Rice
Bow Sailing believes that mindfulness is an integral part of life and especially competitive sports. The main components of mindfulness that we teach are the ability to be present and focused, as well as the practice of connecting with gratitude.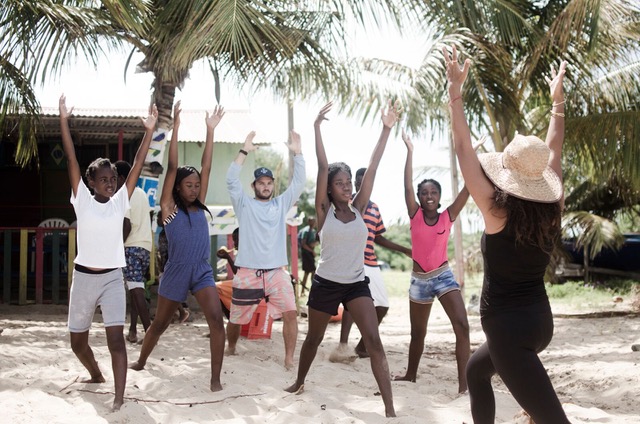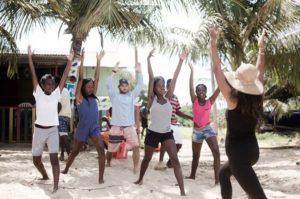 Liz Nurse teaching mindfulness practices with students
"We start each morning and afternoon session with a mindful practice of some kind- whether it's yoga, meditation, or tai chi. We are strong believers that the sport of sailing teaches mindfulness by increasing awareness of the elements, the water and the wind, along with becoming more present and focused to feel connected to nature and purpose." – Liz Nurse
The importance of eating well is something the camps stress for a clear and focused mind. During their Anguilla camp this summer, the Four Seasons Hotel and Resort gave a lot of support by sponsoring the program and also organizing a career day at their resort. The career day provided an amazing opportunity to feed the sailors nourishing meals and demonstrate the importance of fueling our bodies so that they can succeed in sports and life.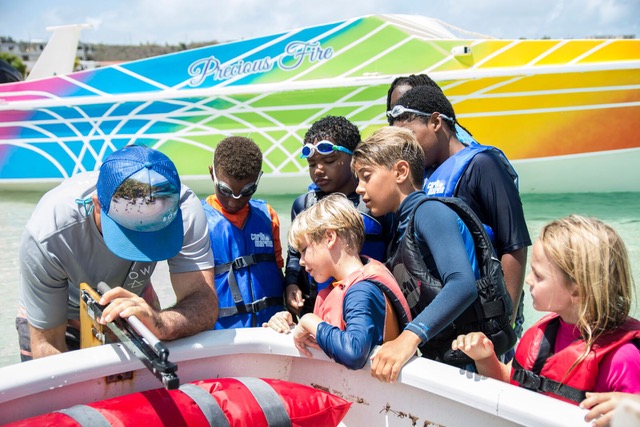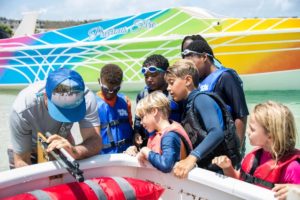 When asked if they could have any three things for Bow Sailing, Tyler and Liz listed,
1. A home base on St. Thomas
2. A staff dedicated to the mission
3. A Bow Sailing camp in every Caribbean territory each summer.
The plan for the home base in St. Thomas is to offer sailing as a school program for local public schools. Schools will have designated days for after school sailing where students will have the opportunity to go through a semester long learn to sail program and from there have the option join the weekend race program is they desire. From here we hope to grow to a point where sailors have opportunities to travel with the sport of sailing. Even if it's as close as Puerto Rico or down island, these travel opportunities open the doors and minds in monumental ways. Watching a sailor that normally wouldn't have even experienced sailing, grow through this program and get recruited into an American University because of sailing would be a dream come true for Bow Sailing.
How can someone get involved in Bow Sailing?
Write us a note at [email protected]
How can someone donate to Bow Sailing?
Send us a donation at Paypal or Venmo or write us a check! For more information email Tyler at [email protected]
Check out more at Bow Sailings website, http://bowsailing.com