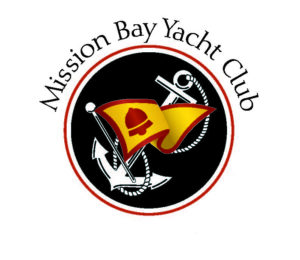 Mission Bay Yacht Club in San Diego, California is a top-notch small boat club with a growing footprint, even with the challenges of 2020. It has been previously named by US Sailing Association as the "One-Design Yacht Club of the Year," and we took a deeper look into what makes MBYC such a special place by talking with its General Manager, Jason Proctor.
History 
It was a humble beginning on Crown Point, but it was Tom Scripps and Leo Carroll, the first handicappers, and a few others whose ideas for handicap and one-design racing grew into the highly refined programs and facilities enjoyed today. Their foresight and enthusiasm have helped to produce world and national championship sailors in many classes.
The early sailboats had to be flat bottomed to maneuver in the shallow water of the Bay. The Flapper, a 12-foot catboat, was the first class to race at the club. A variety of boats, including some from San Diego Yacht Club, formed a handicap fleet and raced when the tide permitted. By 1931 the Skimmer was the hot boat in this area.
Mission Bay Yacht Club has a strong tradition of Corinthian sailboat racing. This is encouraged by Club sponsored regattas throughout the year. You will find national champions and novices alike competing in their regattas. Mission Bay Yacht Club's ideal location makes it a favorite venue for national and world championship sailing regattas.
Jason Proctor – General Manager 
Jason Proctor is the General Manager of the Mission Bay Yacht Club. Jason's introduction to the water was spending time on a little lake north of Boston where he used to sail a Sunfish. When Jason first got to San Diego in 1999, he was working in the golf industry as an assistant General Manager for a club. Jason was looking for a change and signed on with MBYC in 2008.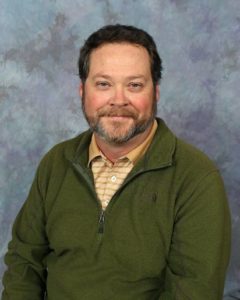 One of the main problems he had to address when he came onboard was MBYC junior sailors moving to the other clubs as they progressed. Jason worked with the Waterfront Director, Chris Wright, and other active club members to grow the footprint of the junior sailing program in all aspects. To get more kids of all ages interested, they prioritized instilling the love of sailing by having adventure days, making it fun, and having picnics. They decided to focus on the entire experience besides only the racing. They take great pride in the continuously rising junior participation since 2008.
Junior Sailing 
MBYC summer camp consisted of roughly 100 kids each week with students in smaller groups with staggered start times taught by a staff of around 15 coaches. They were able to run this past summer's camp almost as normal minus the use of double-handed boats for instruction unless the sailors were from the same household. By bringing people in every half hour, the sailing program was able to operate with smaller numbers, but it led to a better quality of coaching. Their impressive coaching staff has also been a factor that has led to this success.
Jason credits much of junior programs success to Chris Wright who was incredibly proactive and participated in every zoom call that US Sailing had to offer about how to meet the challenge of continuing sailing education with the pandemic.
Club Sailing and Regattas
In addition to the junior classes, MBYC has other small boat classes such as the Finn, Snipe, Laser, Lighting, Multihull, Solings, Sunfish, Victory, Lido 14, MC Scow, Sr. Sabots, and Thistles.
MBYC is a club that is certainly more family-friendly than others and has a big sense of volunteerism. On their volunteer days, they get regularly get 200 members coming down to help out.
The clubs have weekend series for all one-design fleet members along with Thursday Night Club racing in which every fleet gets one start. The club consistently hosts Championships for different classes each year. Last year they were scheduled to host the Lighting North Americans, Thistles Midwinters West, Lido 14 Nationals, Victory Nationals, F18 North Americans. The club has a great turnout for member volunteers for supporting the events. The club scheduled a bunch of make-up regattas postponed due to the pandemic.
Another huge draw for MBYC is the facility. It is a great place for families to come and enjoy. Situated on the sandy beaches of Mission Bay, families can feel safe letting their children run around, enjoy the private beach and BBQ areas. They recently finished a remodel of the junior sailing building and signed a 25-year lease for an extension on the property and by the end of 2021, they will be starting on a a remodel the main clubhouse.
The facilities are impressive with around 400 boats dry stored, and a sizeable marina to accommodate 18ft to 55ft boats. MBYC is very active socially, hosting club parties once a month for its members and encourage people to get involved. If you are looking to get more into sailing just head to the bulletin board – where people are always looking for crew of all skill levels.
MBYC currently has around 900 club members. They have had success using learn-to-sail classes for getting social members more involved to convert them into full flag members. The club also hosts a number of different social committees for all sorts of activities and interests.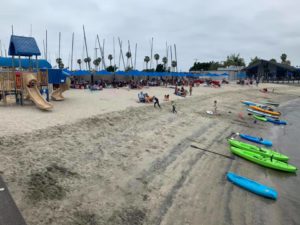 MBYC has been adjusting to operating with the pandemic. Once California lifted its recreational boating restrictions, they saw a huge increase with activity, which also helped to support the restaurant that was carry out only for much of the year.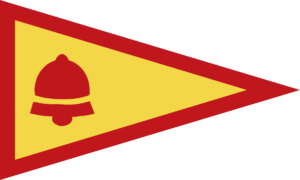 You can find out more about Mission Bay Yacht Club and membership with the links below.
https://mbyc.org/index.cfm?ID=1