By Airwaves writer Tyler Colvin
"The thing that is great about sailing is that it is a lifelong sport."
If I had a dollar for every time this has come up in conversation, especially when I bring up I am a sailing professional, I wouldn't be sailing other people's boats anymore.  While this cliche is borderline overused, it is a cliche for a reason.  Sailing indeed is a sport that is enjoyed at a recreational and competitive level by people of all ages and socioeconomic backgrounds.  Why it then, that sailing participation is is at a 30 year low?
Nick Hayes, statistician and author of Saving Sailing, presented researched that showed from 1980 to 2009, there was a drop from 12.5 million sailors to below 2.6 million.  Over the middle of the 2000s, specifically from 2004 to 2012, searches involving sailing dropped over 40%.  During this same time period other recreational activities such as surfing and skiing had consistently strong participation numbers (Nevin Sayre).
The argument can be made that during the late 2000s, the Great Recession could have played a part in the drop of Google searches, however that doesn't account for the slow drop in participation through the .com boom and economic strength of the early 2000s.  It is a fundamental change of the demographic; specifically the lack of retention amongst young sailors, that has driven this drop in numbers.

Figure 1: Sailing Participation distribution.  From Nevin Sayre Inspiring More Kids
Looking at this graphic from Nevin Sayre (Vineyard Haven YC Junior Program Committee) from his talk, Inspiring More Kids, at the US Sailing Leadership Forum 2016, we can see this decline into the mid 20s.  Participation doesn't start to rebound really until the late 30s, early 40s.  From both a financial perspective as a business, but as an overall sport, this is concerning for yacht clubs, boat clubs, community sailing centers, etc.
If we assume that at 8 years old, the average age of a child starting in beginner Optis, we have reached about 100% saturation of the kids who would sail, the fact that we are down below 20% by age 16 is troubling.  By this graphic, half of the kids sail Optis for 2 years do not return for beginning FJs/C420s.  This is not a localized problem, but a nationwide problem that junior sailing directors have been trying to address for the past few years.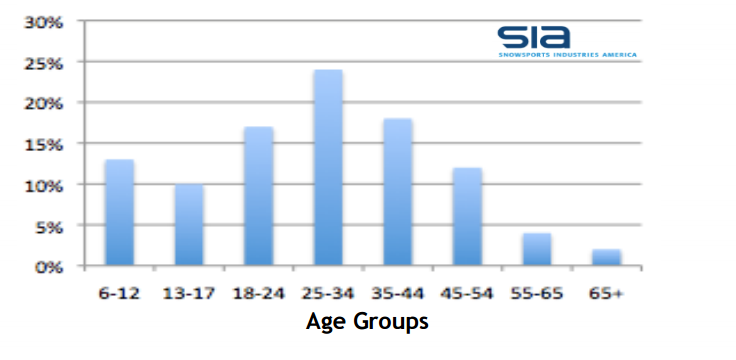 Figure 2: Snowsports Participation. From Snowsports Industries America
Here we see a breakdown of snowsports participation by age group from the Snowsports Industries America.  Instead of a steady decline from a young starting age onward, we see a rise in participation among young adults (aged 25-34).  The percentages assume a different saturation rate among the population, but regardless this is a stark difference from the exponential decay seen in the sailing participation graph.
Seeing these numbers, we have to ask, what is different about sailing and snow sports? Starting at a beginning level and activity standpoint, both are relatively expensive.  Between lessons and equipment, you can spend thousands of dollars on either.  So putting socioeconomic standing aside, what else differs?
For anyone who has been through a junior sailing program or sent their child through a junior sailing program, you know the structure of Beginner Optis, Intermediate Optis, Opti Green Fleet, Opti Champ Fleet, C420 Intro Race, C420 Race Team, etc.  This is how programs have been structured for decades, and is how US Sailing, as a national organizing body, has focused instructor training courses.  Instructors are typically former racers or college sailors.  From a young age, junior sailing has been presented and taught as a competitive sport for which the end game is to go to regattas and compete, often in very large fleets.
Skiers and snowboarders have a different experience.  Very few skiers or snowboarders ever compete in a race or freestyle competition.  In fact, according to the US Snow Sports Association, there were 185,521 entries in all disciplines of competition out of a total of 17.5 million participants.  That is roughly 1% of all participants actually competing.  Many ski patrollers and ski instructors have never raced; participating on a strictly recreational basis before becoming an industry professional.  Everyone skis or snowboards because it's fun.

It is not too far a leap to get from over-competition in youth sailing leading to a drop in participation in later years. Sailing programs tend to glorify the several young sailors out of a big group that go on to the next level, whether that be national teams or prestigious college teams.  Meanwhile, the kids who do not wish to compete, or are just not successful, get washed out the back.  If sailing is meant to be a lifelong sport, shouldn't we be measuring success by the retention of sailors we have from beginning sailing onward?
The advent of alternative sailing programs is a movement that is starting to take hold in the industry.  Not only do program directors see a lot of potential dollars in retaining even a fraction of the participants we lose every year, but it's important as a sport that we remember why we are in the industry to begin with.  No one who is in the sailing education industry is doing it for the money.  Everyone genuinely loves the sport.  In order to help more people enjoy the sport, in fact making these "lifelong sailors" that I hear so much about, all aspects need to be addressed.  Kids need to have the option to go out and cruise around if they so choose.  We need to give them the tools to do as such.
"There is nothing- absolutely nothing- half so much worth doing as simply messing about in boats."
–The Wind in the Willows