When:
February 19, 2020 @ 21:56 – February 23, 2020 @ 22:56
2020-02-19T21:56:00+13:00
2020-02-23T22:56:00+13:00
Where:
Royal New Zealand Yacht Squadron
Waitemata Harbour
NZL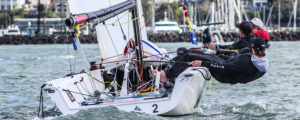 EVENT DETAILS
Start Date
19 February 2020
End Date
23 February 2020
ISAF ID
NZL202002HIK
Venue
Waitemata Harbour
Country
New Zealand
Entry Name
Rochelle Seagar
Entry Address
Royal New Zealand Yacht Squadron
Waitemata Harbour
Tel
+64 9 360 6809
Fax
+64 9 360 6802
Email
rseagar@rnzys.org.nz
Website
The Royal New Zealand Yacht Squadron will host the 2020 HARKEN Youth Match Racing World Championship from 25 February – 1 March 2020.
The competition will be sailed in Elliott 7's by a crew of four or five providing the weight does not exceed 350kg. The boats are modern, fast and reliable and are purpose designed and built for training and for match racing.
Skippers will be seeded into a round robin or divided into groups based on World Sailing's Match Racing Rankings and the event will consist of a round robin, Semi Finals, Petit Final and Final.
Up to 14 skippers will be invited by World Sailing. World Sailing's Member National Authorities (MNAs) may apply for an invitation for up to two skippers of their nationality by sending a completed Request for Invitation Form to matchracing@sailing.org no later than 1 November 2019.