By Airwaves writer Elizabeth Dudley
We are right in the middle of the spring sailing season, and even as I sit in the warm Maryland weather of March, I can still remember the cold New England spring practices and regattas. The ones where you arrive on site and all you think is, "Really? Why do I do this to myself!?" The air is cold, the water is probably colder, and you are tasked with keeping yourself warm and functional for entire days.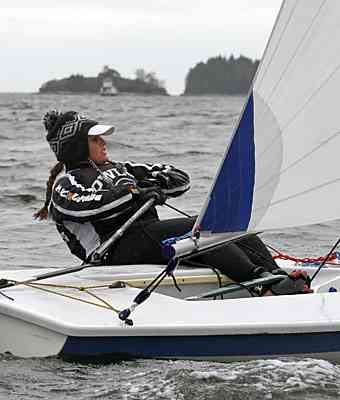 Photo taken from the Bowdoin (brrrr!) College Sailing Team Web Page
Out of necessity, everyone eventually comes up with some sort of system for keeping their extremities in a condition that allows you to feel them and know they exist. So I thought it would be fun, interesting, and helpful to pool together the survival tactics that sailors swear by and I think I have been able to put a pretty solid list together.
The one key thing that most people mentioned was the thin line between warmth and mobility. An easy way to make sure you will be warm all day is to literally wear everything you own. Or at least everything you can fit in your gear bag. And while this idea is warm in both theory and practice, it is not practical if you intend on doing anything that requires movement.
As one sailor put it, wearing too many layers makes you feel like the little brother in "A Christmas Story" when he falls down in the snow and is unable to get up without the help of his brother Ralphie. The last thing you want is to flip on a cold, blustery day, and not be able to get you and your boat out of the water because you cannot touch your arms to your sides.
This restriction of mobility will also make you colder in the long run. Movement is key to keeping your blood flowing and your body working so that you stay warm. Staying mobile is often hardest to remember in between races, out on the water.
It does not take much movement to keep the blood flowing. Many choose to employ the "penguin shrug" which, as it sounds, is simply putting your hands by your sides and shrugging your shoulders. Others like to jump up and down, run in place, or do some jumping jacks. If you feel yourself start to get cold, start moving.
Another important thing to remember is that the human body automatically works hardest to heat your core. So if your core is already warm, then your body can focus on the extremities that seem to get so cold so easily. The best advice I've heard for keeping you core warm is to wear vests. As an extra layer they are very warm and as they do not have sleeves, they do not restrict your movement in anyway.
Your core is important to keep warm but so are your hands, feet, and head: the places that heat escapes from the fastest. And of those three, your head is probably the easiest to keep warm. Many sailors swear by the double hat: the baseball cap underneath with a wool hat overtop (one with the tassels so you can tie them under your chin for extra warmth). With this, the top hat gets wet while the bottom one, and your head, stays dry. From experience, I cannot say this is true 100% of the time, but it is a system that works better than others. Neck warmers and face masks are also absolutely key if only to protect yourself from that first cold wave to the face.
How poor your circulation is will dictate the ease by which you keep your hands and feet warm. For your feet, the important thing to remember is not to wear too many socks; tightness around your feet will cut your circulation off and make your feet cold. Most people recommend one pair of thick wool socks or two pairs if your socks are thinner. But for your feet, less is certainly more. Then comes the question, Aigles or Neoprene boots? Is there a difference?
Hands are arguably the most difficult part of your body to keep warm; they are the one thing constantly exposed to cold water and cold, wet lines. The type of glove you decide to wear is very much a personal decision. But many people do like the glove liners underneath a dish glove. The thin dish gloves you can buy pretty much anywhere tuck easily into a dry suit wrist seal. Thicker ones, like the William Sonoma gloves, don't tuck as easily but are thicker and so provide more warmth. People also like the Atlas gloves that you can find in most hardware stores that come in all thicknesses, including the lined lobster gloves. But for those and the other thicker dish gloves, a word to the wise, they will reek after one day of sailing if you do not take the time to turn them inside out and dry them out. And even then, they will never smell good.
Overtop of all these layers, most people where a dry suit. Theoretically, you and your layers stay dry. Although I have heard arguments for the wet suit. In those things, apparently even sopping wet, you are still warm.
But the majority of people go with the dry suit. And between that and your layers, you can be so warm that you will sweat. If you are moving all day, this sweat will not be a problem; your body will not cool down and so neither will the sweat. But if you have off sets or down time, that sweat will get cold and so will you. For this reason, it is smart to have a second set of everything and, although a pain to do, change in between sets. Now you are completely dry and warm, and while you are out sailing, your now sweaty, cold gear will have a chance to dry. It took me far too long to learn that and I am very happy now that I did.
Some other tidbits I picked up along the way are:
·

Putting Vaseline on your cheeks to decrease the wind and cold chapping.
·

Girls, take your earrings out. Metal gets cold easily and then so will your ears.
·

Hand and foot warmers are always good to have on hand.
·

Stick a fleece neck warmer between you and your lifejacket to warm your hands between races.
Please feel free to leave comments under this, I would love to hear what others do to keep themselves from freezing. Good luck this spring and stay warm!