A high performance import this class has one of the most exciting and fastest growing catamaran one-design racing fleets in the world. The F-18 is raced with a crew of two and a spinnaker for down-wind performance. It's fittings, hull design and sail shape are the results of the latest developments in sailing technology. A strict "box measurement" allows manufacturers to develop catamarans so that they are price competitive, but at the same time give them the freedom to continually develop higher levels of performance. To sum up, weights allow better and fairer racing between crews, with more ladies getting involved, both as crews and helms. The number of manufacturers keeps sailing costs to the minimum, and the ability to buy spares and sails from any manufacturer, as long as they measure, also keeps costs down.
Length: 18′
Beam: 8′ 6″
Mast Length: 29′ 6″
Main Sail Area: 183 Sq. Ft.
Jib Sail Area: 44 Sq. Ft.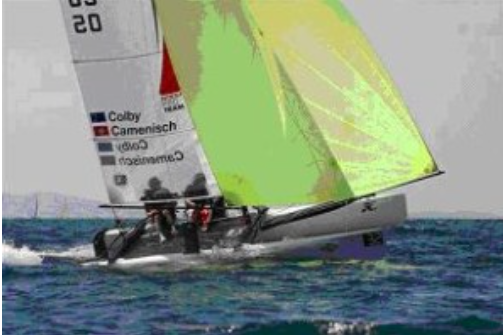 Spinnaker Sail Area: 225 Sq. Ft.
Weight (with spinnaker): 397 lbs.
Hull Construction: Fiberglass/Foam Sandwich
Class Association: https://www.f18-international.org