Designed by Farr Yacht Design, Ltd., built by U.S. Watercraft, administered and marketed by Stagg Yachts Inc. – there is no better pedigree for a modern offshore one design. These are the people that brought you the Mumm 36, and then the Mumm 30 and Corel 45 – three of the most successful yachts of the decade. They are defined by what you, the owners wanted in your racing boats. It can be summed up in one sentence…
If that's the kind of sailing you're looking for, come to the team with a track record for providing it. Following on from the success of the Mumm 36, then the Mumm 30 and Corel 45, is the Farr 40.
Fast
When you are talking fast, you have to be talking Farr. The man and his team have dominated international yacht racing for the last two decades, it's as simple as that.
User Friendly
Sailing the Farr 40 is a lesson in how advanced technology can yield simplicity of function with high performance. From the carbon fibre, runner-less rig, through the clean deck layout and elegant interior, you will appreciate the care, thought and attention to detail that has gone into this yacht.
Great Value
At $347,492 (ex sails and electronics), the boat is better than good value, it's great value and your investment is protected by the One Design rule which ensures healthy resale values.
One Design
From the beginning the Farr 40 has had a set of strict one design rules in place. Managed by Stagg Yachts Inc., they are rules designed for owners, for fair and even sailing. Your needs and suggestions are reflected in the rules for example, having an owner driver rule. Should an owner not wish to drive then he may nominate a Group 1 (Amateur) driver who also has to meet other stringent Class criteria and be approved by a Class review panel. This rule is one example, others are the limitation on professional crew members to four and predetermining owner's weight so that an owner does not need to weigh in.
Class Association
Any one design needs a strong class association to promote its interests and to protect its One Design. The Farr 40 Class Association ensures that the class is run according to the consensus of the owner's wishes that there is a cost effective, fun racing circuit.
A Modern Grand Prix-Type Yacht
The yacht was designed to offer fast, exhilarating, cost controlled, fun sailing for owners driving their yachts. It was designed to be fully compatible with the IMS rule and highly competitive yet has not exploited current formulation in directions that encourage better handicap at the expense of speed. This results in a concept that has lighter displacement, higher stability and more sail area than is typical in present IMS optimised boats. These attributes ensure a boat that is safe, fun and one with exceptional performance relative to it's size. A true Grand Prix boat, and one which should remain competitive in an every changing rating rule environment. Despite these concessions for performance over handicap, the yacht's record under the IMS rule has been most impressive. Hull No 1 owned by Dr Steve Garland was named the top IMS yacht at Block Island Race Week for 1997 for winning its very competitive IMS class and Hull No 2 owned by Ken Bruneflod was second overall IMS in the 1997 Round Gotland Race. The simple rig and efficient interior also make the boat competitive under the popular CHS rule. Sailing World named the Farr 40 overall "1998 Boat of the year" Judge Betsy Alison said "The boat is awesome to sail".
Fast, user-friendly sailing in a value-for-money one-design with strong class support and proven winning performance in handicap fleets. Easy enough to say, much harder to do. Many elements need to come together to make the formula work, to make the concept real. You need the design skill and knowledge to make the boat both fast and easy to sail. The manufacturing skills to construct it to high levels of quality and consistency – and to do that at the right price. Then you need the management team with the energy and commitment to make it all work. With the Farr 40 the proof of all this is right there in front of you.
loa 40.72'
beam 13.22'
sail area 1,109 ft²
spinnaker area 480 ft²
hull weight 10,902 lbs.
crew weight 760kg
# of boats built
active US fleets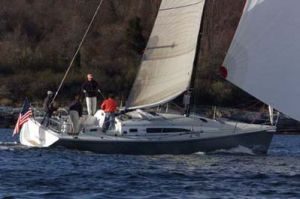 Class website:
http://www.farr40.org/