by Emily Shanley-Roberts, Tufts University Class of 2018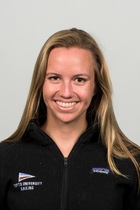 As I enter my last season of college sailing, I'd like to share the story of why my skipper has always helped me down the dock – and why, above all else, I continue to compete in college sailing. My competitors have, without knowing, enabled me to compete with their camaraderie and support; this is my thank-you to you all.
I was born with a spine that curves in-and-out, side-to-side, however it pleases. It is the worst-behaved thing about me. This curvy, nonconforming piece of equipment is the first symptom that was noticed; it brought me to orthopedists and physical therapists for much of my young life. As I got older, my symptoms were exacerbated by years of ballet, injuries, and wear from athletics. My back pain grew to my shoulders, my knees started to age way too quickly, and I became exhausted. Halfway through high school I began to rely on daily physical therapy to continue to be able to compete at my beloved sport. For a while, it worked. I did not anticipate that my pain would get worse.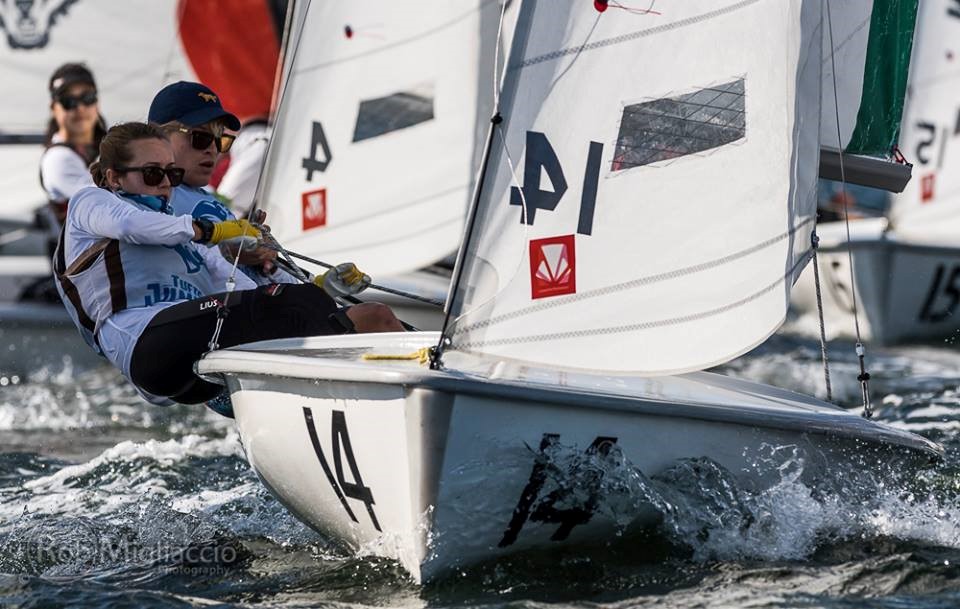 When I began sailing at Tufts, I wanted to be the golden child, the great investment of Ken Legler's coaching. I tore my MCL in practice and sailed through it. I spent days in pain and didn't know that others around me felt it too – I did not know that it was okay to take a break. I continued to do physical therapy, trusting that I just needed to repair my muscles. By May 2015, the pain was so bad that I could barely walk. After each race at team race nationals, my skipper would pick me up out of the boat, carry me to a chair, and set me down. Again, I thought that a summer off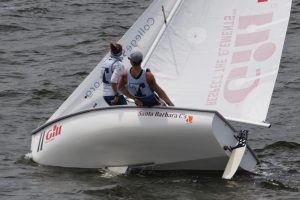 would do the trick. Rest and rehabilitation. I just wanted to sail. I just wanted to have a chance.
This summer, after my sixth national championship and third dislocation of my shoulder, I realized that this was more serious than just a couple of tired muscles and a screwy back. A series of MRIs and tests told me that I had two options: sitting out my senior year as I got surgeries, or managing the pain to be with my friends. My genetics dictate that I'm 'loose-jointed' with tendencies to swell up like Violet Beauregard in Willy Wonka and burn through cartilage like a blowtorch on North Field. Every missed step takes off my kneecap, every improper roll-tack pulls my shoulder out of alignment, and the chronic pain leaves me exhausted.
Discovering that I was not going to "get better" was less remarkable than the simultaneous discovery that some of my friends hurt too. Pain is common among athletes, with a spectrum ranging from muscle soreness after competing to debilitating chronic pain. As I've become more comfortable with communicating my limitations, my teammates have stepped forward to help me continue to succeed and to communicate their own limitations. The latter has helped me to feel accepted when I otherwise feel so very different from them. I am privileged to be able to help them manage their pain and let them know they're not alone.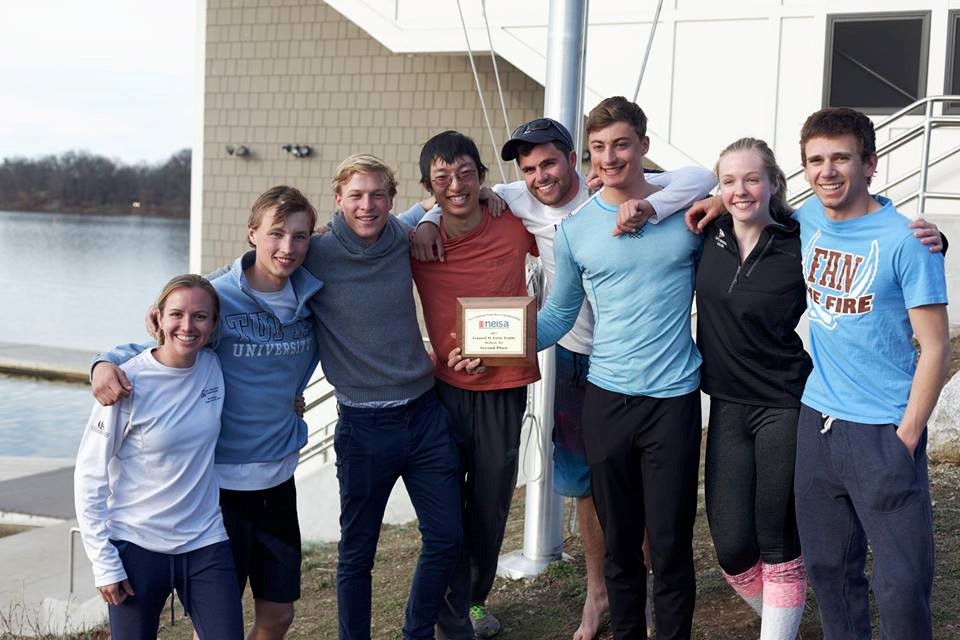 The support of my teammates and competitors has allowed me to continue to compete in this sport. I only hope that in sharing my story, I can help others to communicate their limitations and begin a conversation about how to succeed as a team. Just last week, a skipper crewed for the practice and then came over to where I sat, resting. "I get it," she said. "My knees hurt a bunch and I only crewed for one day. You do this every day. Do you want ice?"
Moments like that define our team. Some of us cannot lift boats, so the others lift the boats. Ken won't sail me when it's breezy (unless it's a championship), so this weekend I'll coach the team race team. Moments like that define my experience of this sport, as well: I have friends around the ICSA that help me up the dock and fellow crews with whom I'll trade kinesio tape and advil. If it weren't for moments like these, I wouldn't make the decision each weekend to throw all my energy into competing. The friendships I've made over the years make that decision every morning – that trade-off between comfort and excitement – easy. Despite how I feel at the end of each day, I choose to get back in my boat and compete for the most supportive team I could ask for against the friends that I hope to have for life. After all, the beauty of college sailing is that my limited ability does not limit my ability to compete and succeed – it just presents a different challenge.